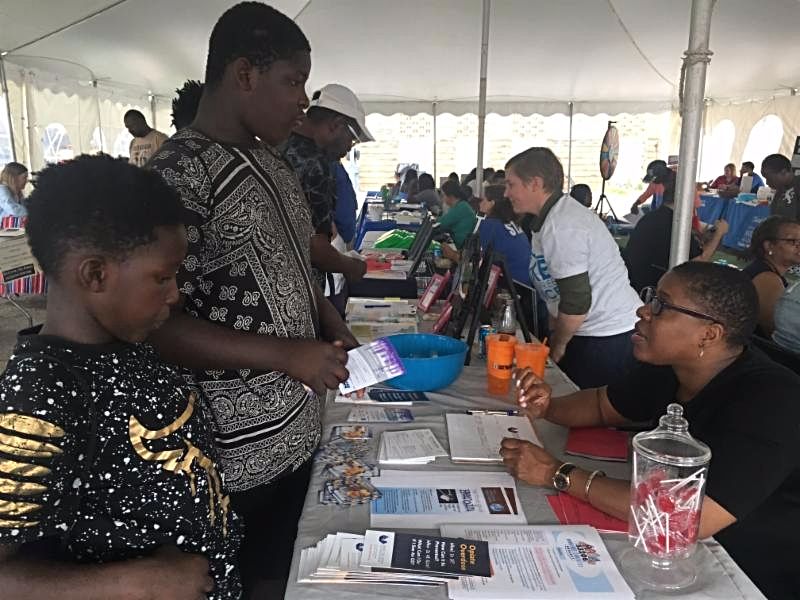 As 2017 comes to a close, we wanted to share with you some of the highlights of our year. The Public Policy Institute's prevention team has been working hard to promote the positive message that preventing negative behaviors is far more effective and beneficial than trying to stop them once they've taken hold.
Although our community is facing so many challenges, we're encouraged by how warmly this message is received. But perhaps most of all, we are so grateful for our amazing partners throughout Southeastern Wisconsin who are doing such important work with at-risk youth, families, and adults. We're feeling optimistic about 2018 because we know that our coalitions are built with strong, energetic, and innovative partners who are always willing to get involved. Thank you.
Here are some of the highlights of our year:
Youth Justice Milwaukee Launched to Provide a Community Voice
In March, the Youth Justice Milwaukee coalition was launched to provide a voice for those who have been impacted by the state's youth justice system. One of its founding members is Jeffery Roman, the Benchmark Coordinator for the Milwaukee Brighter Futures Initiative at the Public Policy Institute. 
Realizing that Wisconsin's youth prisons Lincoln Hills and Copper Lake are too dysfunctional and harmful to be reformed, the coalition is calling for them to be shut down and replaced with more effective community supports with a track record of success.
April 29 Drug Take-Back Event Collected 161 Pounds of Unwanted Meds in West Allis
The Milwaukee County Substance Abuse Prevention Coalition (MCSAP), coordinated by PPI's Kasaundra Brown, has been working hard to educate Milwaukeeans about the importance of getting rid of unwanted and unused medications in the home. MCSAP partnered with Children's Community Health Plan, West Allis-West Milwaukee Community Coalition, and the West Allis Police Department on an April 29 Drug Take-Back Event, which collected an astounding 101.7  pounds of pills and 61.3 pounds of cream and liquid medications. Statewide, a record-breaking 66,000 pounds of unwanted medications were collected and disposed of during the April 29 Drug Take-Back efforts.
Youth-Focused Let's Be Blunt Campaign Promotes #WeedFree Living
The second phase of MCSAP's Let's Be Blunt campaign launched this year with a youth summit that provided education on youth substance use and abuse to more than 80 attendees. Participants also brainstormed anti-marijuana messaging targeting youth, which resulted in the #WeedFree campaign on Milwaukee County Transit System buses, social media, and local media this summer. The messages generated more than 2 million impressions this summer, and counting! The campaign continues as yard signs are being distributed to MCSAP partners, schools, businesses, and other interested locations.
Lean Dangers Get Attention
Partnership for Success Coordinator Deavon Collins has been doing constant outreach with youth and young adults to increase their awareness of the dangers of prescription drug misuse and abuse. She has partnered with the Milwaukee Health Department and UW-Milwaukee on resource fairs and after-school events. Collins is especially concerned about the dangers of "Lean," a dangerous concoction made up of an opioid drug mixed with Sprite and grape Jolly Rancher candy. In addition, Partnership for Success coalition members Safe & Sound created a video, "Don't Fall for the Lean," which has had more than 550 views on YouTube.
International Overdose Awareness Day Recognized
MCSAP sponsored a heartfelt gathering at Kosciuszko Park on August 31 to mark International Overdose Awareness Day, which brought together overdose survivors and their friends and families, as well as loved ones of those who were lost to overdose. "There is not one single person who is a lost cause," Certified Peer Specialist Laura Haas from the United Community Center told the crowd.
Tobacco-Free Alliance Targets LGBTQ Community
Throughout the year the City of Milwaukee Tobacco-Free Alliance, coordinated by PPI's Anneke Mohr, has been raising awareness of how the tobacco industry has been targeting LGBTQ consumers, with terrible health consequences. The alliance worked with the UW-Milwaukee Drag Show, which was attended by more than 2,000 people, who were treated to a viewing of Lady J's PSA, "Smoking is Such a Drag." In addition, the alliance worked with PrideFest Milwaukee to provide four smoke-free areas at the festival. The alliance also screened three videos to more than 35,000 PrideFest attendees.
53206 Drug-Free Communities Project Expands Reach
The 53206 Drug-Free Communities Project is continuing to build relationships in the Amani and Harambee neighborhoods. In July, the 53206 Drug-Free Communities Project, along with Safe & Sound, sponsored Pulling Together for Peace and Solutions 2017, which covered the most pressing issues facing those neighborhoods, such as health care, employment, housing, and safety. In September, John Eshun became the project's new coordinator; Public Ally Joshua Jenkins came on board to focus on underage alcohol abuse in the 53206 neighborhoods. The project recognizes that reducing youth substance abuse is a strategic way to reduce crime.
Youth Advocate for Tobacco-Free Lives
As part of the City of Milwaukee Tobacco-Free Alliance's work reaching out to young people harmed by tobacco, Neu-Life Community Development FACT Movement youth created a video to raise awareness of Milwaukee youths' easy access to tobacco products, especially candy- and fruit-flavored products that appeal to young people. The video has been shared with retailers at the city's  License Division Pivot Program trainings and when meeting with state and local leaders such as Rep. Evan Goyke, Sen. Chris Larson, and Milwaukee Common Council members Robert Bauman, Chantia Lewis, and Cavalier Johnson. In addition, intern Brittany Goodridge conducted 30 retail assessments to better understand how local retailers are selling and marketing tobacco products. Her findings will help inform local policy solutions to address youth access to tobacco.
Alliance for Wisconsin Youth Grows
The Southeast Region of the Alliance for Wisconsin Youth, which promotes drug-, alcohol- and tobacco-free youth leadership, has added three coalitions—the West Allis-West Milwaukee Heroin/Opioid Task Force, Healthiest Greenfield Coalition, and Walworth County Drug & Alcohol Coalition—as well as a new Prevention Coordinator, Jazzmyne Adams. PPI Deputy Director Kari Lerch is the Southeastern Regional Prevention Center Director of AWY.
Healing the Trauma Throughout the Community
The Public Policy Institute is proud to partner with the City of Milwaukee's Office of Violence Prevention on its efforts to address and alleviate trauma throughout our community. The city was awarded a five-year, $5 million Resiliency in Communities After Stress and Trauma (ReCAST) grant from SAMHSA to create a focused response to Milwaukee's trauma. PPI has hired Jeremy Triblett as ReCAST MKE's Resource Coordinator and is working with Sumaiyah Clark as ReCAST MKE's Program Manager to implement key strategies throughout 2018. "I think of us being strength builders," Clark said.
Professional Trainings Offered Throughout the Year
The prevention team is constantly offering trainings for colleagues within the prevention field to ensure that Milwaukee's social services workers are using best, most up-to-date practices available. Jeffery Roman has coordinated trainings in Motivational Interviewing (via the Alma Institute) and QPR Gatekeeper Suicide Prevention trainings (with Prevent Suicide Greater Milwaukee). Prevention Services Manager Elysse Chay offered Substance Abuse Prevention Skills Training (SAPST) and, with ReCAST MKE Resource Coordinator Jeremy Triblett, will present Youth Mental Health First Aid trainings as well. Chay and Roman also hosted four learning communities for Milwaukee Brighter Futures Initiative and PHAT grantees to enable participants to share their experiences and learn from each other. MCSAP members presented "The Blunt Truth! Strategies to Combat Marijuana Prevention for Communities and Youth" at the state Substance Abuse Prevention Training session as well as CADCA's 27th Annual National Leadership Forum in Maryland.