Why does Wisconsin's health insurance exchange for state employees in Dane County get much lower premiums than its exchanges in the state's 71 other counties? What lessons can policymakers learn?
State and federal policymakers should look carefully at the decades-long success of the Wisconsin State Employee Health Plan (WSEHP) in controlling the rapid rise of health insurance costs in Dane County—where Madison, Wisconsin's state capital, and the University of Wisconsin, are located—as they seek to improve the effectiveness of the ACA's marketplaces and health insurance costs in general.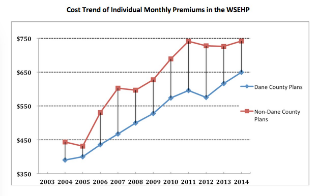 The WSEHP consistently obtains substantially lower health insurance premiums in Dane County than in Wisconsin's 71 other counties. In 2013, an individual plan in the WSEHP was about $1,400 cheaper annually in Dane County, or 16% less than the average in the rest of the state; and a family plan was about $3,500 cheaper, also a 16% difference. This Dane difference has existed for at least a decade, with the gap slowly widening over that time.
Why does WSEHP get much lower premiums in Dane County than in the state's 71 other counties, and what lessons can policymakers learn from this difference?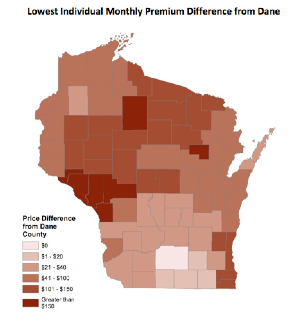 The University of Wisconsin School of Medicine and Public Health provided funding for this project from the Wisconsin Partnership Program (WPP). The WPP pairs a community organization with a University of Wisconsin (UW) professor to advance the many goals and objectives of the Wisconsin state health plan, the Healthiest Wisconsin 2020. This project's community organization was the Community Advocates Public Policy Institute (Mike Bare, MA, and David Riemer, JD). This project's academic partner was University of Wisconsin Professor of Population Health Sciences John Mullahy, PhD, and Erik Bakken, MPAff., a graduate research assistant at the University of Wisconsin's Robert M. La Follette School of Public Affairs.