The "Conversations with Policy Leaders" Series is a regular convening of elected officials, policymakers, community leaders and others interested in lively public policy discussion. Topics of the events relate directly to the Public Policy Institute's work to ensure both the safety and success of the low-income communities in Milwaukee and throughout Wisconsin.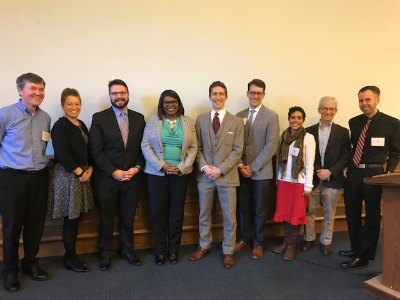 As part of our Conversations series, the Public Policy Institute recently hosted:
"State Leaders Look Ahead: Which Policies Will Ensure All Wisconsinites Thrive?" with State Senator LaTonya Johnson, State Representative Evan Goyke, and State Representative Daniel Riemer
Peter Edelman, activist and author of "Not a Crime to Be Poor"
Journalist Amy Goldstein, author of "Janesville"
An expert panel discussion on financial volatility with Rachel Schneider, author of "The Financial Diaries," EITC expert Steven Holt and Community Advocates COO Maudwella Kirkendoll, moderated by Community Advocates Public Policy Institute Senior Policy Analyst Julie Kerksick
Professor and pollster Charles Franklin of the Marquette University Law School Poll
Virginia Eubanks, author of "Automating Inequality"
To ensure you are invited to upcoming Conversations with Policy Leaders, please sign up for our PPI e-newsletter list here.
Want to suggest a speaker? Contact us.