Community Advocates Public Policy Institute's
15th Anniversary Celebration
An Evening with Ben Westhoff, Author of
Fentanyl, Inc.: How Rogue Chemists Created the Deadliest Wave of the Opioid Epidemic
Thursday, November 2, 2023
Grace Center, 250 E. Juneau Ave., Milwaukee
VIP Meet and Greet with Ben Westhoff: 4:30-5:30 p.m.
Doors Open, Food & Silent Auction: 5:30 p.m.
Main Event with Local Leaders & Ben Westhoff: 6:30-10 p.m.
Keynote Speaker: Ben Westhoff | Fentanyl, Inc. Book Signing | Silent Auction | Refreshments & Mocktails | Narcan & Training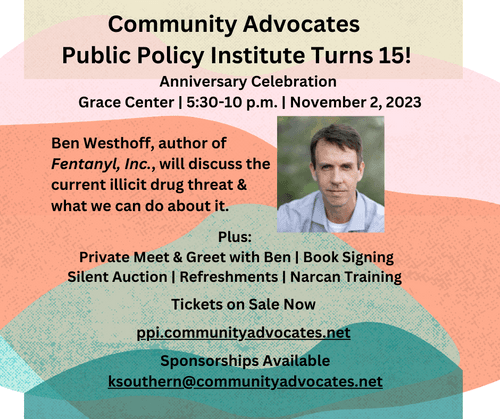 As we mark our 15th anniversary, we at Community Advocates Public Policy Institute are recommitting to enhancing our community members' health, mental health, and wellness to by addressing the harms posed by opioids and other drugs to individuals, families, and communities.
To help us understand how various forms of opioids and other deadly substances find their way into our community and what we can do about it, on November 2, 2023, we will host a special night with investigative reporter Ben Westhoff, author of Fentanyl, Inc.: How Rogue Chemists Created the Deadliest Wave of the Opioid Epidemic.
In his book, Westhoff, the first journalist to infiltrate a fentanyl lab in China, explores the rise of fentanyl along with other synthetic drugs that are replacing traditional street drugs and operate in a legal gray area. He also covers how global capitalism and new technologies underpin the international drug trade. He has consulted with top officials in the US Congress, the White House Office of National Drug Control Policy, and the US State Department.
Guests will gather at the Grace Center in Downtown Milwaukee, featuring presentations by local leaders, a book signing with Westhoff, appetizers and desserts, nonalcoholic "mocktails" specifically developed for our guests, a silent auction, and free Narcan and training. Our event sponsors, PPI Members, and special guests will be able to meet Westhoff in an intimate gathering before the program begins and may receive a complimentary copy of his book.
General Admission: $50
VIP Ticket, includes meet and greet with Ben Westhoff: $100
PPI Member Ticket, includes meet and greet with Ben Westhoff: $50
We look forward to seeing you on November 2. Thanks for your support!