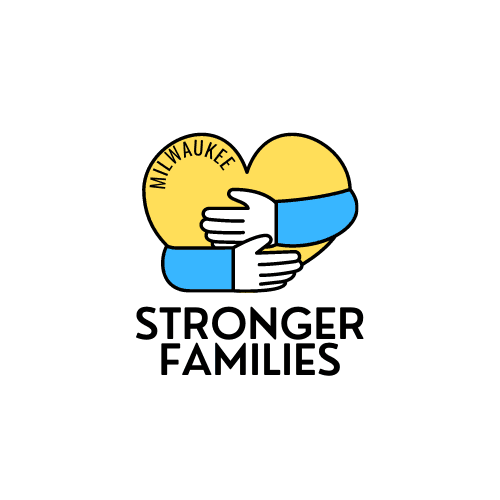 The Stronger Families Milwaukee program is a new five-year prevention initiative developed by the Wisconsin Department of Children and Families aimed at reducing child maltreatment and keeping more families within their homes. This family-centered, strengths-based program utilizes a combination of case management services and peer advocates to assist families in finding local supports that fit their needs and help them thrive in-home.
Launched in April 2022 in conjunction with Strengthening Families Month, Community Advocates Public Policy Institute is serving as the lead agency for the Stronger Families Milwaukee Consortium, along with Neu-Life Community Development and The Parenting Network.
The Stronger Families Milwaukee project employs a two-generation, culturally informed, client-centered, strengths-based case management model that provides wraparound services to caregivers and kids. When the Division of Milwaukee Child Protective Services has contact with families who need help with their basic needs or more support for their family, they will refer them to us at Community Advocates.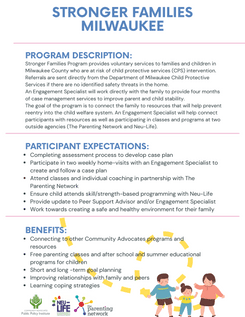 We have pulled together a consortium of trusted partners to wrap our arms around these families and provide all of the resources and support they can use.
Using a strengths-based approach, our team of Engagement Specialists and Peer Specialists can work with a family through case management and home visitation to set personal and family goals. Staff will meet with families twice weekly to support them as they work towards achieving those goals.
Our Stronger Families Milwaukee team at Community Advocates can connect participants to a number of services within our own organization, including housing resources, energy assistance, domestic violence services, mental health services, outpatient treatment, client financial assistance, and more.
In addition, caregivers and children can be referred to our consortium partners The Parenting Network and Neu Life Community Development for parenting classes, the Parent Helpline, peer support services, youth programming and various youth engagement activities.
Families will also receive referrals to other sources for additional needs such as healthcare, school supports, employment, and more.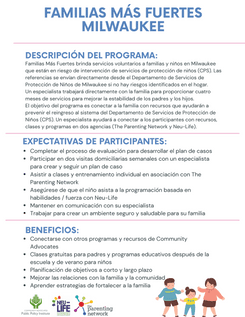 These services can help to alleviate the stress placed on parents who are struggling and empower them to focus on the most important thing – having a healthy and loving family.
More Information
Meet The Team!
Lauren Faulds Program Manager
Stronger Families Milwaukee

Lauren Faulds joins the Public Policy Institute as Program Manager of the Stronger Families Milwaukee program, which seeks to prevent child abuse and neglect by delivering supportive services and resources to vulnerable families. Prior to this position, Lauren served in Community Advocates' Housing Department for almost three years. As a Housing Advocate for the Siemer and My Home programs, she helped to ensure that individuals and families maintained stable housing; assisted with budgeting, relocation, and children's needs; and mediated and advocated for tenants and landlords. She also has experience at Pathfinders Shelter and Drop-In Center, St. Ben's, Comfort Keepers, and Project Homeless Connect. She earned her Bachelor of Social Work from Concordia University.

Christine Wiese Engagement Specialist
Stronger Families Milwaukee

As an Engagement Specialist for the Stronger Families Program at Community Advocates Public Policy Institute, Christine helps to connect families involved in the child welfare system to resources within the community so that they can build household stability. While studying for a Bachelor's degree in biology, Christine joined the board for Habitat for Humanity at UW-Milwaukee. Through four years of this involvement, she developed her interest in helping people in Milwaukee get access to housing and other resources.

Jackson Neal Engagement Specialist
Stronger Families Milwaukee

Jackson Neal (he/him) is an engagement specialist for Stronger Families Program. He has a passion for helping the Milwaukee community and strives to be the best advocate for his clients. He is a recent graduate of Marquette University where he earned his Bachelors' in Social Welfare & Justice and Criminal Justice. During his undergrad he was an intern for Pathfinders, where he was a case manager for youth with mental health challenges. Additionally, he had many service learning opportunities that enabled him to engage with Milwaukee's youth. This solidified his desire to find a career where he could continue working with the Milwaukee community. Jackson joined Community Advocates part-time during his last semester and joined the team full-time after Graduation.

Karina Perez Engagement Specialist
Stronger Families Milwaukee

Karina is an Engagement Specialist with Stronger Families Milwaukee. Her background is primarily in art and education, but helping people has always been her passion, which is why she sought out this opportunity to help Milwaukee parents and families stabilize their households. She is excited to start this chapter of her life and career and to see what the future holds.