Did you know …

About 50,000 children go to the emergency room each year because they got into medicines when an adult wasn't looking
Young people between the ages of 18 and 25 are the most likely to misuse medication not prescribed to them
A high percentage of heroin users began their addiction by misusing prescription painkillers
Over-the-counter medication such as tablets, gel caps, cough syrup, and vitamins, in addition to prescription medication, can cause harm if they are not taken as directed
Did you know...
Community Advocates Public Policy Institute, Hayat Pharmacy, the Milwaukee County Substance Abuse Prevention coalition (MCSAP), Milwaukee Pharmacy, and Uptown Pharmacy & Wellness will help you prevent accidental poisoning and medication misuse in your home to keep your family safe.
Just follow these three simple steps...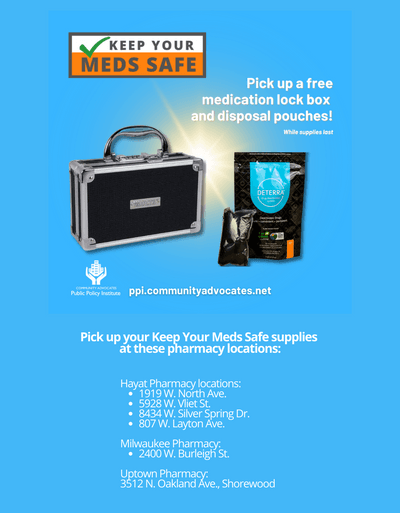 1.     Lock Them Up: Always safely store your medications 
When you keep your medication in your medicine cabinet, the kitchen, your purse, or your bedside table, your medication can be taken by someone else. That is very risky. Your young child may think a loose pill is candy and swallow it, or your teen or adult friend or relative may want to experiment with it.
Thankfully, lock boxes are specifically made for medication and are easy to use. Only you know the combination, so only you can put in and take out your medication. Locking up medication keeps you healthy and keeps your pills and other medicines away from children, teens, and adults who should not be taking your medication.
You can even take your lock box with you when you travel to make sure that no one else can take your medications and you have enough to last your entire vacation.
2.     Destroy Them: Use a safe medication disposal pouch 
Many homes contain prescription pills, vitamins, syrups, patches, pet medication, and over-the-counter tablets that have expired or are no longer needed. These medications pose a danger to kids and adults, just as strong household cleansers or other chemicals are harmful if you swallow them.
To get rid of medications you no longer need—including patches and liquids—you can destroy them quickly with a disposal pouch specifically made to deactivate medication. Simply place the medication into the disposal pouch, add water, seal, and shake. Then you throw the entire pouch into the trash.
Remember: Do not flush your medication down the toilet! Wastewater with your medication pollutes our rivers, streams, and Lake Michigan, which means that our drinking water is also polluted with your medication.
3.     Drop Them Off: Return unwanted meds to a safe disposal site
A good way to get rid of unwanted medication from your home is to take it to a safe disposal site. There are dozens of these sites across Milwaukee County, including pharmacies, police departments, and retail stores. Some sites do not accept things like inhalers or liquids, so you may want to contact them first so that you know that they will accept your medication.
These sites, including Hayat Pharmacy locations, will collect your medication with no questions asked. Simply bring in your pills, place them in the secure box, and know that you are helping to keep your family safe from poisoning or misuse.
Learn more!
1919 W. North Ave.
5928 W. Vliet St.
8434 W. Silver Spring Dr.
807 W. Layton Ave.

Milwaukee Pharmacy location

3512 N. Oakland Ave., Shorewood
It's easy to keep your family and friends safe from accidental poisoning or medication misuse. To learn more, contact Hannah Lepper at hlepper@ommunityadvocates.net.