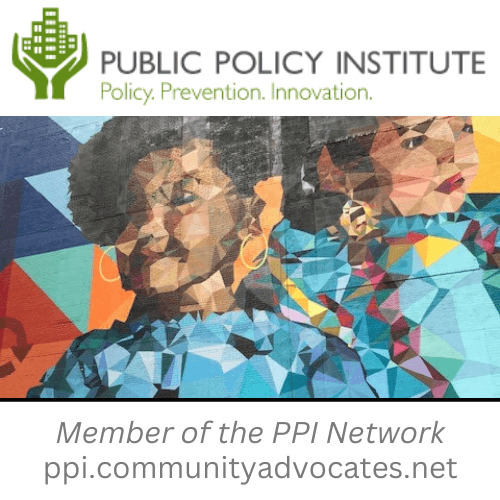 In 15 years, Community Advocates Public Policy Institute moved the needle on critical issues facing our community. We've made clear progress toward many of our goals, including connecting housing policy to health issues, supporting the success of returning citizens to our community, reducing kids' and teens' access to potentially lethal substances, and promoting positive activities and life skills for our youth.
Still, as we mark our 15th anniversary in 2023, we have so much more to do.
We aren't daunted by the challenges we face. We're excited about finding solutions to them.
That's why we're asking you to join us as a Member of Community Advocates Public Policy Institute—to share your insights, learn from our staff and partners, and help us to improve the health and well-being of our community members by changing the upstream conditions that cause poverty, substance misuse, and trauma.
Founding Members
Your Membership will allow us to:
Research and advocate for nonpartisan, employment-based policies to reduce barriers to good jobs and grow workers' paychecks
Pilot groundbreaking initiatives to reduce substance misuse and suicide by promoting positive youth development and mental health awareness, and reducing risk factors like access to harmful drugs
Provide professional skills training to social service providers, youth workers, and community members so they are using best practices to address trauma, boost youth mental health, prevent suicide, teach life skills, and support parents
You can access these benefits through our Membership Plans:
Individual Members: Monthly, recurring donations of $10, auto-renewed after one year
Nonprofit and Government Group Members: $250 annually, up to 5 staff, auto-renewed after one year
Private Sector Group Members Tier 1: $500 annually up to 5 staff, auto-renewed after one year
Private Sector Group Members Tier 2: $1,000 annually 6 to 12 staff, auto-renewed after one year
With the input and support of Members like you, we know we can be part of the positive transformation of our community. Please consider joining today.
What's more, your PPI Membership can include these benefits:
Recognition on our website and in our quarterly newsletter with a potential spotlight in our newsletter, blog, and social media
Badge for your website, social media, or LinkedIn page
Priority invitation to webinars with subject matter experts
Members-only quarterly Zoom convenings on core issues with PPI staff
Priority invitation for two annual PPI Conversations
Free access to Empowerment Coalition of Milwaukee (ECOM) meetings
Private access to webinar recordings
Invitation to annual Members-only event
Free or discounted mental health and wellness training opportunities for Group Member organizations (up to 20 participants)
Thank you in advance for your generous support that allows us to make a difference in the lives of thousands of adults and kids each year. We're looking forward to engaging with you through our Membership Network. Questions? Contact PPI Deputy Director Kari Southern at ksouthern@communityadvocates.net.