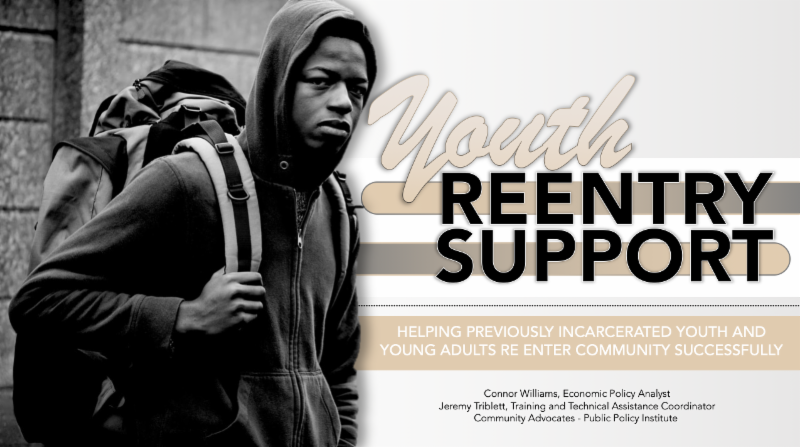 Community Advocates Public Policy Institute's trainings always strive to address specific needs in our community. But our newest training—Youth Reentry Support, sponsored by the City of Milwaukee Office of Violence Prevention—is particularly timely, as it targets the needs of youth and young adults who are coming home after incarceration. According to "Data Snapshot of Youth Incarceration in Wisconsin" published by the Urban Institute, in 2017 African American youth in Wisconsin are 14.9 times more likely to be incarcerated than their white counterparts.
The training was developed by Jeremy Triblett, PPI's Training and Technical Assistance Coordinator. The co-facilitator is Conor Williams, PPI's Economic Policy Analyst who also facilitates the Milwaukee Reentry Council. Together, they've developed a four-hour conversation about how healthy connections, resources navigation, and community-led advocacy are vital to the successful reentry of African American youth and adults.
"Conor and I are continuing this conversation about institutionalization and post-incarceration syndrome," Triblett said. "The traumatic experiences of incarceration impact black and brown families in countless ways. People with lived experience, who join our conversations, share how they survived prison life and navigate the restraints of parole and probation. While incarcerated, 'institutionalization' makes them dependent on the system, suspicious of other people, and emotionally distant. This is what they had to do to survive."
Training sessions typically begin with the video Jim Crow Juvenile Justice, by the Youth First Initiative, on the status of the closing of youth prisons. With vivid detail, this video articulates the social and emotional impact incarceration has on previously incarcerated youth. This video sets the tone for conversations about critical roles caring adults play in navigating resources that will support their transition and success.
The Public Policy Institute has been facilitating the Milwaukee Reentry Council since 2017. Conor is working with reentry support and restorative justice circles. The mission of Milwaukee Reentry Council, a subcommittee of the Milwaukee Community Justice Council, is to reduce recidivism by half by broadening and deepening community engagement and commitment to the work of reentry. The Council supports the Alma Brothers project, run by the Alma Center, which is working with 75 high risk young men coming home from prison to support them with evidence-based services that help to improve reentry outcomes.
In the training, Conor provides information about the closing of Lincoln Hills and Copper Lake youth prisons in Northern Wisconsin. In their place, the state will create and operate a local facility for youth who have been convicted of serious offenses, while counties will operate regional centers for youth who have committed less serious felonies and misdemeanors. He facilitates a "data walk" with state- and county-wide statistics addressing racial disparities, gender rates of incarceration, and youth incarceration.
The conclusion of this training is structured to introduce participants to more than ten local initiatives, youth programs, adult health services, and resources throughout Milwaukee County. There are countless community partners who are supporting this training and the returned youth in our community. One participants said he felt he got "valuable resources about the current state of youth incarceration," while another noted, "I learned about youth incarceration, reentry, and how I can help."
This training is offered free of charge thanks to the ReCAST Milwaukee grant from the City of Milwaukee Office of Violence Prevention, and aligns with the work being done by Running Rebels Community Organization, Youth Justice Milwaukee, Circles of Support, the Center for Self-Sufficiency, Alma Center, Project RETURN, and Mindful Staffing.
The next Youth Reentry Support Training will be held at Pathfinders, 4200 N. Holton St. #400, Milwaukee, on June 17 from 5 to 8 p.m. Register today at this link.