PPI's Policy Year in Review 2019
Throughout 2019, Community Advocates Public Policy Institute's policy team has been working to advance policies and programs that are at the heart of our mission. From keeping a watchful eye on the state budget to helping workers remove barriers to employment and improving the city's healthy, stable, and affordable housing stock, our advocates and policy experts have been working to prevent and reduce the root causes of poverty in our community.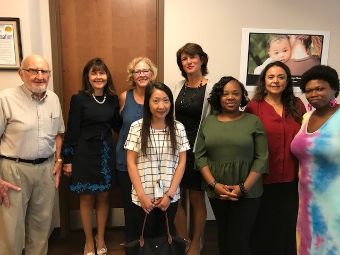 Transitional Jobs Grow
PPI's Conor Williams coordinates the Milwaukee Transitional Jobs Collaborative to advocate for and monitor Transitional Jobs programs. We're happy to announce that funding for Transitional Jobs increased by $1 million in the biennial state budget to $9 million per year, with $5.5 million going to the Transform Milwaukee Jobs Program and $3.5 million to Transitional Jobs in the rest of the state. The geographic borders of the Transform Milwaukee Jobs Program were also expanded to make the program available to more people. 
In August, the Milwaukee Transitional Jobs Collaborative welcomed Connie Chesnik, Linda Richardson, Bianca Shaw and Becky Yang from Wisconsin Department of Children and Families, which oversees Transitional Jobs in Wisconsin. Our many partners—including UMOS, Inc., MICAH-Milwaukee, Interfaith Conference of Greater Milwaukee, Community Warehouse, 53206 Drug-Free Communities Project and the City of Milwaukee—had a great conversation about how subsidized jobs can help people get to work and establish careers.
Healthy Workers, Healthy Wisconsin Tackles Trauma and Employment
PPI's Conor Williams and Terrece Irving and our UWM collaborators continue to work with a network of workforce development partners and clinical partners in the implementation of Healthy Workers, Healthy Wisconsin, which embeds screening for trauma and health needs within workforce development programs. Fifty-two percent of participants to date have screened positive for Post-Traumatic Stress Disorder and 59% have accepted referrals to mental health services; 13% of participants had already accessed mental health services. PPI's Conor Williams was among the authors of a paper published in the American Journal of Community Psychology on the feasibility of integrating trauma screening into employment programs, presented at the 2019 Summit on Poverty and SWIM Conference hosted by Social Development Commission and Marquette University in Milwaukee, as well as at the 2019 Society for Social Work and Research Annual Conference in San Francisco.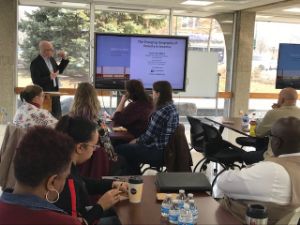 Authors Sparked Discussion on Poverty and Violence
PPI helped to bring two authors to Milwaukee to discuss issues at the heart of our mission. In March, Scott Allard, author of Suburbs in Need, provided a new and more accurate view of poverty in urban and suburban areas to help us re-think and talk about this issue with clarity. Allard's talk was cosponsored by the City of West Allis, which graciously provided the space for his presentation.
In May, PPI cosponsored journalist Alex Kotlowitz's talk at Boswell Book Company in support of An American Summer: Love and Death in Chicago, which delved into one violent summer in Chicago and its aftermath.
Milwaukee Lawmakers Assessed Safety Net Programs
In February, PPI sponsored State Leaders Look Ahead, a panel discussion on employment and safety net programs with Milwaukee legislators. The three lawmakers—State Sen. LaTonya Johnson and State Rep. Evan Goyke, who serve on the Joint Finance Committee, and State Rep. Daniel Riemer, who sits on the Assembly Committee on Ways and Means—provided a preview of some of the budget and spending debates echoed throughout the Legislature this year. Sen. Johnson stressed the importance of growing good-paying jobs as well as the supports needed to succeed at those jobs, such as transportation, affordable housing, and child care. Rep. Goyke reaffirmed the need for Milwaukee's voice to be heard in state policy, and State Rep. Daniel Riemer highlighted the need for Transitional Jobs throughout the state. PPI's Research and Policy Coordinator Mike Bare moderated the panel at the Milwaukee Public Library's Centennial Hall.
Throughout the budget deliberations in 2019, PPI's Senior Policy Advocate Julie Kerksick kept a watchful eye on the support for critical safety net programs, such as Transitional Jobs and the Earned Income Tax Credit (EITC).
Healthy Housing Initiative Finalizes Recommendations
The Healthy Housing Initiative worked with its Advisory Committee to compile and research the impact of a series of policy recommendations to improve housing affordability, quality, and stability. Expect a full report in early 2020. In September, Mike Bare, PPI's Research and Coordinator, participated in a panel discussion at CommonBond Communities' 2019 Affordable Housing Forum. "If we are putting somebody in a quality, affordable, safe housing situation, they are more likely to have a … positive outcome for themselves," he told the audience at Fiserv Forum. "There are a lot of things we can do to turn these inequities around; we're not necessarily stuck with them, it's about choices."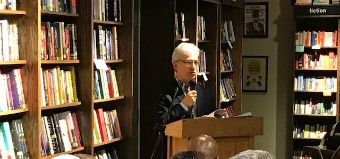 David Riemer Releases New Book
PPI was thrilled to support our Founding Director and Senior Fellow David Riemer's latest endeavor, the book Putting Government in Its Place: The Case for a New Deal 3.0, in which David argues that the New Deal Era is not dead. In fact, now is the perfect time to update it to address our current needs and disparities. Despite terrible weather, David drew about 100 readers to his book launch and signing on November 6 at Boswell Book Company, a testament to his decades of innovative work and long-lasting friendships in our community.
In addition, David did a mini-book tour on the East Coast and in November was named to the National Academy of Social Insurance's new Study Panel on Economic Security. The panel is tasked with identifying options for modifying our current social insurance and social assistance programs to address our current economic challenges.
Coalition On Lead Emergency Works on Employment Issues
PPI's Conor Williams and Terrece Irving are active within the Coalition On Lead Emergency (COLE) and lead the Workforce Development Sub-Committee, which seeks to foster employment and skills development in the inner city as part of efforts to address lead poisoning and abatement in affected communities. In December, COLE organized a Youth & Young Adult Resource Fair to promote awareness of educational and career opportunities for young people in Milwaukee.
Milwaukee Reentry Council Expanded Its Reach
A sub-committee of the Milwaukee Community Justice Council, the Milwaukee Reentry Council is broadening and deepening community engagement in and support for reentry. Our collective goal is to reduce recidivism by 50% within 5 years. Some of our initiatives this year to reach this goal are: 
Home to Stay: In May, the council launched Home to Stay, a monthly reentry resource fair held on the first Wednesday of each month to provide services to those returning from incarceration so they can be successful in their reentry. Both the Milwaukee Journal Sentinel and Milwaukee Neighborhood News Service covered this growing event.
Circles of Support: Circles of Support, restorative practice circles that build healthy community so as to support successful reentry, take place monthly in four host sites in the city, including Community Advocates' downtown offices. This year, approximately 20 new Circle Keepers were trained, many of whom were once incarcerated. All Circles of Support are now facilitated or co-facilitated by people who were once incarcerated. Additionally, Project RETURN and Breaking Barriers Mentoring host a weekly Peer Support & Leadership Circle, which supports and encourages those returning to succeed in their reentry.
Reentry Healthcare Task Force: Members are working on creating a Transitions Clinic in Milwaukee that will focus on proactively providing health care to men and women coming home from incarceration. This clinic is based on highly effective models operating in other cities across the country. 
Reentry Housing Task Force: Members are working on coordinating currently fractured approaches to meeting the housing needs of those coming home from incarceration. 
Southeast Wisconsin Reentry Employers Expo: The Milwaukee reentry community organized its second day-long expo for employers seeking to hire workers who are reentering the community. The expo brought together organizations that support the success of returned citizens with employers needing to fill their workplace with ready-to-work individuals.