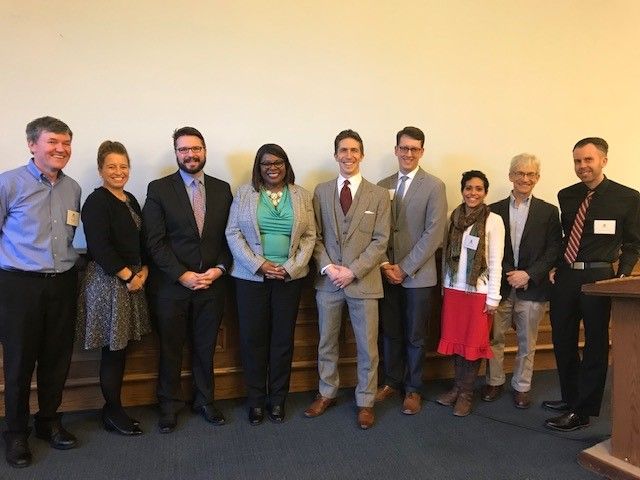 The economy is booming, we're told. Yet many Wisconsinites are not thriving. They may find obstacles to good employment because they had been incarcerated or are on community supervision. They may not be able to get to work in the suburbs because they don't have transportation or adequate child care. They may not have affordable, accessible health care because they may not be eligible for specific programs.
That was the theme taken up by three legislators—State Senator LaTonya Johnson, State Representative Evan Goyke, and State Representative Daniel Riemer—in our February 8 State Leaders Look Ahead panel moderated by PPI's Research and Program Manager Mike Bare. State Senator Dale Kooyenga canceled and was not able to participate as planned.
Both Johnson and Goyke are members of the Joint Finance Committee, which will be working through the proposed state biennial budget, while Riemer sites on the Assembly Committee on Ways and Means, so all of our panelists will be involved in revenue and spending issues in the current legislative session.
Throughout, the legislators stressed the need to incorporate the experiences and views of diverse Wisconsinites when creating policy.
"Where we live and the world around us shapes our view of policy and our agenda," said Rep. Goyke, who lives in the Sherman Park neighborhood.
Life experience plays a big role in how we view the economy, for example. For some, we're at peak employment and employers are having a difficult time filling their open positions. For others, it's difficult to find employment when good jobs require a car because openings are in distance communities, employers aren't sure about hiring someone who'd been incarcerated, and child care is an issue.
One solution is Transitional Jobs, which PPI has championed for a decade and has advocated for expansion throughout the state. The work is ongoing. Rep. Riemer coauthored a bill that expanded Transitional Jobs to veterans, which passed unanimously in both houses of the state Legislature. The Milwaukee Transitional Jobs Collaborative, which provides oversight of and advocates for Transitional Jobs, is encouraging policy makers to make these subsidized jobs a more robust option for employers and workers.
Riemer said Transitional Jobs resonate with Republicans for a number of reasons. For some, they support lifting people out of poverty through work. Another Republican utilized a subsidized job as a veteran after the Vietnam war. Others see Transitional Jobs as helping workers who'd just lost their way and need a path to full employment.
Senator Johnson noted that jobs for struggling workers need to be accompanied by other supports, such as transportation, child care, and affordable housing. For example, the Joseph Projectprovides transportation for Milwaukeeans to work in Sheboygan. That's great, she said, but many women aren't able to participate in this sort of program because of issues with transportation and child care.
"The argument also has to be if we can get them there to work, why can't we give them affordable housing to live? That's the bigger issue," Johnson said. "Making sure that these communities that have these jobs accessible, also have housing vouchers, so these individuals can also live there. Because if we talk about transportation, and we don't fix our childcare, we're going to create mechanisms for these individuals to get to work that's not going to include women, because the majority of women are caretakers. And if I'm only eligible for ten hours of child care a day, and I'm going out to the suburbs to work for eight hours, and if my ride is an hour each way like through the Joseph Project in Sheboygan, I'm not going to get many women who are takers."
To watch the entire discussion, check out the video on our Facebook page.
© 2019 Community Advocates Public Policy Institute. All rights reserved.