State Budget Panel Discussion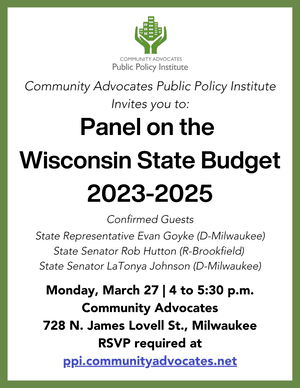 The 2023-2025 Wisconsin State Budget has the power to impact each Wisconsinite in the next two years and beyond on issues that are central to our community. Hear from Greater Milwaukee legislators who will vote on it, and make your voice heard in this intimate, bipartisan gathering on March 27.
Community Advocates Public Policy Institute is hosting a panel discussion with State Rep. Evan Goyke (D-Milwaukee), State Sen. Rob Hutton (R-Brookfield), and State Sen. LaTonya Johnson (D-Milwaukee) from 4 to 5:30 p.m. on Monday, March 27, in our Downtown offices, 728 N. James Lovell St., Milwaukee.
Panel discussion topics will include:
+ Housing affordability and stability
+ Mental health and substance use disorder services
+ Tax credits for low-income individuals and families
+ Subsidized jobs
The panel discussion will be moderated by Community Advocates Public Policy Institute's Senior Policy Advocate Julie Kerksick, who will provide the audience the opportunity to ask questions after the legislators speak on our main topics.
Doors open at 3:30 p.m. on March 27; the discussion will begin at 4 p.m. sharp. Light refreshments will be served. Registrations are required by March 24. If you require special accommodations, please register by March 22 and indicate your request where prompted on the registration form.