Question, Persuade, Refer Suicide Prevention Training Webinar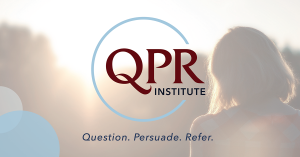 The QPR mission is to reduce suicidal behaviors and save lives by providing innovative, practical and proven suicide prevention training. The signs of crisis are all around us. We believe that quality education empowers all people, regardless of their background, to make a positive difference in the life of someone they know. QPR stands for Question, Persuade, and Refer — the 3 simple steps anyone can learn to help save a life from suicide.
Training Participants will learn the QPR Chain Of Survival Elements:
EARLY RECOGNITION OF SUICIDE: The sooner warning signs are detected and help sought, the better the outcome of a suicidal crisis will be.
EARLY QPR: Asking someone about the presence of suicidal thoughts and feelings opens up a conversation that may lead to a referral for help.
EARLY INTERVENTION AND REFERRAL: Referral to local resources or calling 1-800-Suicide for evaluation and possible referral is critical.
EARLY ADVANCED LIFE SUPPORT: As with any illness, early detection and treatment results in better outcomes.
This training is based on evidence-informed practices and provides a completion certificate. Participants will be given 48 hours to complete the online feedback form before they receive their certificates of completion.
++Due to the COVID-19 public health emergency, this training will be conducted on Zoom. Please RSVP now at the link below.++
This training is sponsored by ReCast MKE through the City of Milwaukee Office of Violence Prevention in partnership with Community Advocates Public Policy Institute.