QPR Suicide Prevention Training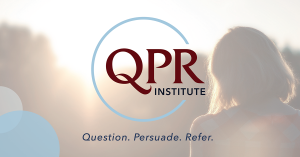 QPR stands for Question, Persuade, and Refer -- the three simple steps anyone can learn to help save a life from suicide.
To save lives and reduce suicidal behaviors, this two-hour session provides innovative, practical, and proven suicide prevention training. We believe that quality education empowers all people, regardless of their background, to make a positive difference in the life of someone they know.
Key components:
• How to Question, Persuade and Refer someone who may be suicidal
• How to get help for yourself or learn more about preventing suicide
• The common causes of suicidal behavior
• The warning signs of suicide
• How to get help for someone in crisis
This training is free, but registration is required at the link below. It's sponsored by the City of Milwaukee Office of Violence Prevention and Community Advocates Public Policy Institute.