The Jobs for Economic Recovery Act Virtual Town Hall w/ Sen. Baldwin and Rep. Moore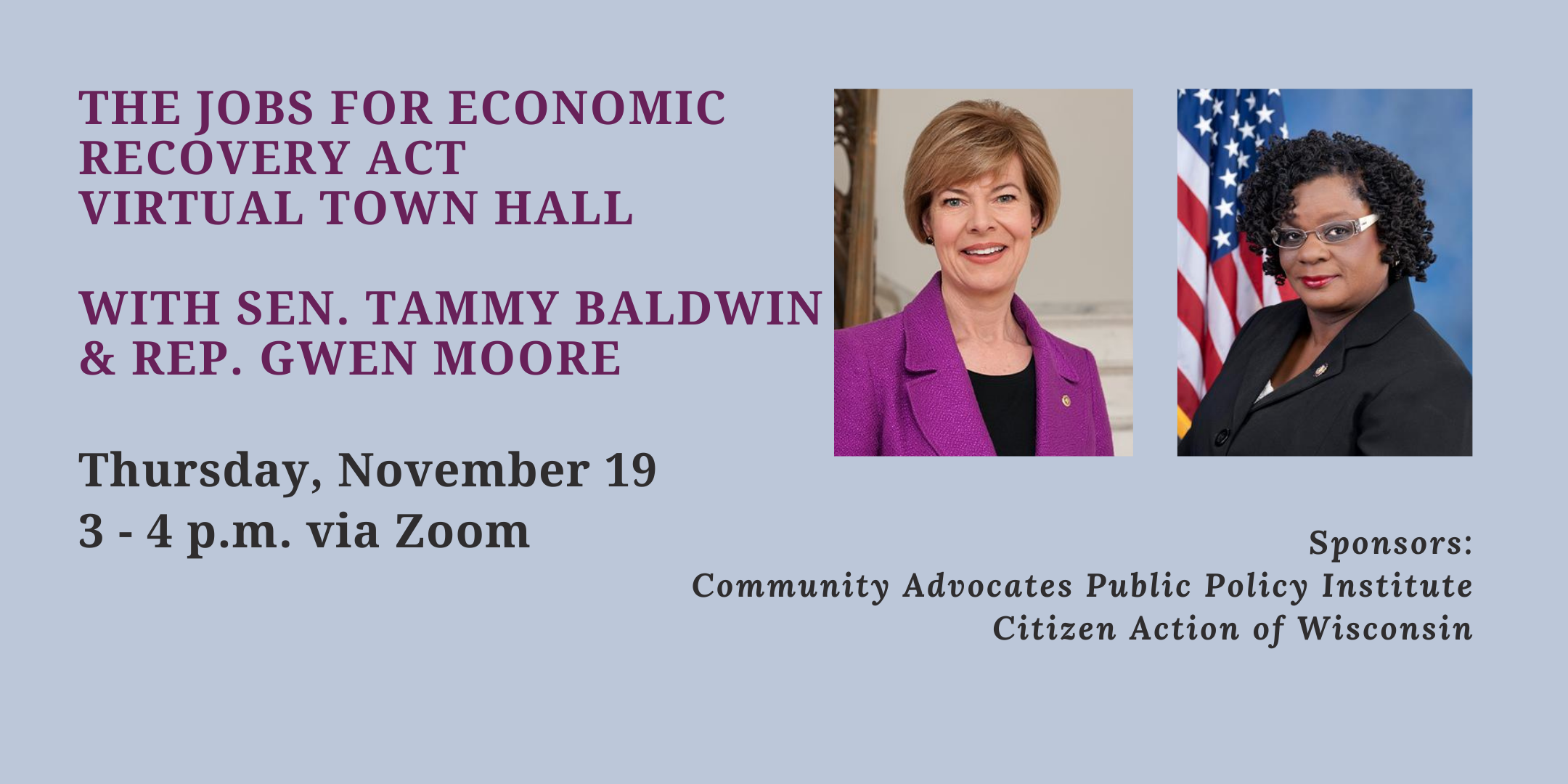 ++Please note that the date of this event has changed from Friday, November 20, to Thursday, November 19.
Wisconsin's elected officials are at the forefront of major legislation that would help get people back to work amid the economic crisis created by COVID-19. Senator Tammy Baldwin coauthored The Jobs for Economic Recovery Act of 2020, which she introduced in the US Senate in July. Congresswoman Gwen Moore (WI-4) coauthored its companion bill in the US House. The bill would immediately expand subsidized Transitional Jobs programs and finance six months of wages for unemployed workers to meet the needs of employers and workers suffering because of the pandemic.
Hear from Senator Baldwin and Congresswoman Moore during this virtual town hall on The Jobs for Economic Recovery Act on November 19, from 3 to 4 p.m. Sponsored by Community Advocates Public Policy Institute and Citizen Action of Wisconsin, this session will provide an overview of the legislation and its path to enactment, make connections to climate change and jobs equity policies and outcomes, and offer a Q&A period with these elected officials.
The session will be facilitated by Julie Kerksick, Senior Policy Advocate at Community Advocates Public Policy Institute, who serves on the Milwaukee City/County Task Force on Climate Change and Economic Equity.
This session will be offered on Zoom. RSVPs are required. Contact Lisa Kaiser at lkaiser@communityadvocates.net by Tuesday, November 17, if you need special accommodation to participate.