Canceled: QPR Suicide Prevention Training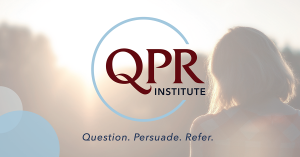 This training has been canceled. We will reschedule it as soon as we are able.
QPR stands for Question, Persuade, and Refer — the three simple steps anyone can learn to help save a life from suicide. The QPR mission is to reduce suicidal behaviors and save lives by providing innovative, practical and proven suicide prevention training. This training will be held from 3 to 5 p.m. on Wednesday, November 11, on Zoom, and is provided free of charge thanks to a ReCAST MKE grant from the City of Milwaukee Office of Violence Prevention and a partnership with Community Advocates Public Policy Institute.