Suicide Prevention Training: Question, Persuade, Refer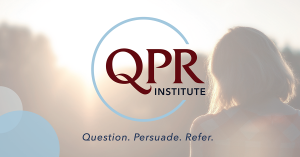 QPR stands for Question, Persuade, and Refer -- the three simple steps anyone can learn to help save a life from suicide.
To save lives and reduce suicidal behaviors, this two-hour session provides innovative, practical, and proven suicide prevention training. We believe that quality education empowers all people, regardless of their background, to make a positive difference in the life of someone they know.
Key components:
• How to Question, Persuade, and Refer someone who may be suicidal
• How to get help for yourself or learn more about preventing suicide
• The common causes of suicidal behavior
• The warning signs of suicide
• How to get help for someone in crisis
*** Registration is required at the link below for this free community event. ***
This training is sponsored by ReCast MKE through the Office of Violence Prevention in partnership with Community Advocates Public Policy Institute.