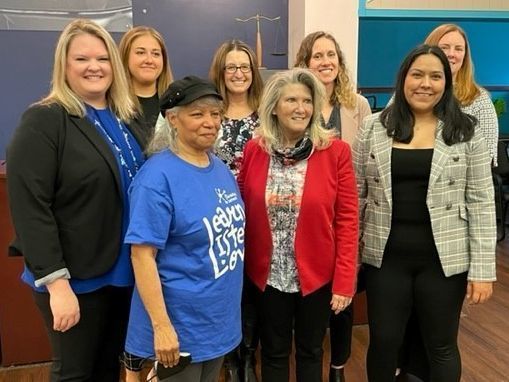 Last week, Wisconsin Department of Children and Families Secretary Emilie Amundson visited Community Advocates to help launch the Stronger Families Milwaukee program, a new five-year prevention initiative developed by DCF to reduce child maltreatment and keep more families together in safe, stable, and nurturing homes.
Community Advocates Public Policy Institute is serving as the lead agency for the Stronger Families Milwaukee Consortium, in partnership with Neu-Life Community Development and The Parenting Network.
This pilot project also aligns with the statewide observance of April as Strengthening Families Month to emphasize the potential within every family to build stronger, more nurturing bonds. April had formerly been known as Child Abuse and Neglect Prevention Month.
This family-centered, strengths-based program utilizes a combination of case management services and peer advocates to assist families in finding community supports that fit their needs and help them thrive in-home.
It also signals a new vision of what DCF and local partners can do to support families struggling with parenting and household challenges. Instead of reacting after a child is harmed or is found to be living in a potentially dangerous situation, the Stronger Families Milwaukee program aims to prevent those crises from occurring in the first place.
"Extensive research has shown us the most effective way to prevent child abuse and neglect is to provide upstream support to families so children can grow up in environments that support their wellbeing," Secretary Amundson said. "Simply put – we need to help families find and build their strengths and devote more resources to support families before abuse or neglect occurs. To do this, we have been working to transform our child welfare system into one that uplifts and empowers families."
Sarah Henery, administrator for the Division of Milwaukee Child Protective Services (DMCPS), said the agency has just celebrated an important milestone with the release from a consent decree that had overseen its work, as well as the dismissal of a lawsuit over the quality of its care of children. DMCPS is now pivoting to help families outside of the system to connect them to resources—in other words, to provide support to families through independent organizations in Milwaukee, such as the Stronger Families Milwaukee Consortium partners.
"We are looking for new opportunities and paths to connect families to needed services earlier and transform our system from a reactive response to a proactive space," Henery said.
A Two-Generation Prevention Initiative
The Stronger Families Milwaukee project employs a two-generation, culturally informed, client-centered strengths-based case management model that provides wraparound services to caregivers and kids. When the Division of Milwaukee Child Protective Services has contact with families who need help with their basic needs or more support for their family, they will refer them to Community Advocates.
Kari Southern, Community Advocates Public Policy Institute deputy director, gave an overview of the project. Community Advocates' Engagement Specialists will work with a family through case management and home visitation to set personal and family goals. Community Advocates' team can connect participants to a number of services internally, including housing resources, energy assistance, domestic violence services, mental health services, outpatient treatment, client financial assistance, and more.
In addition, caregivers and children can be referred to consortium partners The Parenting Network and Neu-Life Community Development for parenting classes, the Parent Helpline, peer support services, youth programming and various youth engagement activities. Families will also receive referrals to other sources for additional needs such as healthcare, school supports, employment, and more.
"They say that every ounce of prevention is worth a pound of cure," Southern said. "That's what we're trying to do with this project, is focus on building healthy and stable families and preventing any involvement with the child welfare system."
Tina Burke, a mother who is connected to The Parenting Network, stressed the importance of peer support and basic needs services for caregivers and kids.
"You can find a gem in a rare place," Burke said. "I found that there were people going through what I was going through. They came to The Parenting Network to learn how to be patient with their kids, and how to talk to them, and to respect that child. You have to show respect to get it.
"With all of this experience with my own family and other families, I can assure you that resources and support make a huge difference in the stability of a family. Living in a too-small home, or not being able to make rent, or being stretched too thin when you're trying to work and give your kids the attention they deserve all put stress on parents and caregivers."
DCF Secretary Amundson also highlighted the role of the community in helping to lift up families who are struggling to do the best they can to raise healthy, happy children.
"It truly takes a village to raise a child and when we lean in together as communities and neighbors, we can get to a place where all Wisconsin children and youth are safe and loved members of thriving families and communities," Secretary Amundson said.
Questions? Contact Stronger Families Milwaukee Program Manager Lauren Faulds at lfaulds@communityadvocates.net.
Photo (L-R): CA-PPI Deputy Director Kari Southern, Stronger Families Milwaukee Program Manager Lauren Faulds, Parent Tina Burke, Neu-Life Community Development Executive Director Jody Rhodes, The Parenting Network Executive Director Joyce Felker, DCF Secretary Emilie Amundson, DMCPS Policy Initiatives Advisor Lilia Figueroa, DMCPS Administrator Sarah Henery
c. 2022 Community Advocates Public Policy Institute, all rights reserved