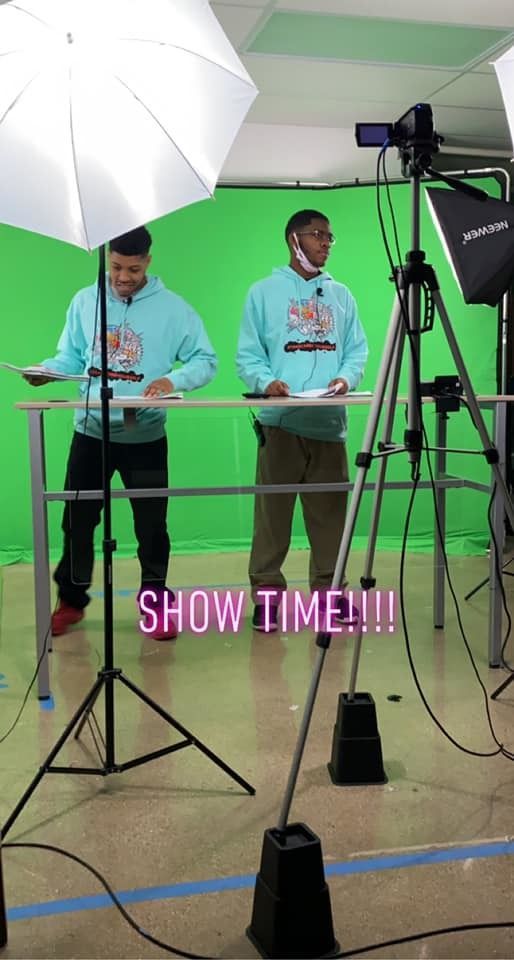 On April 10, more than 50 youth and adults shared their wisdom about youth mental health by participating in the annual MCSAP Youth Summit, held this year on Zoom.
The summit, with the theme "Mental Health Matters," featured trusted adults from a range of professions and backgrounds, a musical performance, and opportunities for the youth to ask questions, win prizes by answering quizzes, and learn from each other. Co-hosts Jody Rhodes, Executive Director of Neu-Life Community Development, and Arleta Slaughter, Making Proud Choices Educator at Milwaukee Christian Center, welcomed the group. James and Tyler from Safe & Sound kept the presentations on point.
The summit was streamed from NeuLife Media Studio, co-hosted by Neu-Life Community Development and Milwaukee Christian Center, and included partners Brewers Alumni Association, the Milwaukee County Substance Abuse Prevention Coalition, Safe & Sound, and TeamTeal365.
Poet and spoken word artist LEA of Under My Wing kicked off the afternoon with a plea to the youth to pay attention to their mental health and asked them to type in the chat "I am taking care of myself."
She then encouraged them to make their mental health and hopes and dreams a priority.
"Are you ready to be the highest version of yourself?" she asked. "I know that this past year has been trying for us all. But please know that a pandemic cannot strip you from your purpose. Yes, the new emotions have come to the surface but know that a pandemic cannot strip you of your purpose. Taking care of you will always be worth it. Your mind matters. Your vision matters. Your dream matters. Your spirit matters…. Today you get to choose to take care of yourself. I see you and I hear you and I am crying with you but know that this cry is temporary because joy always comes in the morning."
The following speakers also mixed stories of personal loss and challenges with their ability to cope in healthy ways and achieve their dreams. Deniece Fields Russell, principal of HOPE Christian School Caritas, explained that "mental health does not stop when you reach adulthood." Mrs. Wisconsin United States 2021, Tamika Marable, revealed that she'd lost the Mrs. Wisconsin competition twice before winning the top title last month, and chalked up her success to having the perseverance to bounce back after failure. Milwaukee Brewers legend Larry Hisle shared that he'd contemplated suicide as early as age 11, but is grateful that he was able to connect to sports and the arts to help him become successful. "Attitude is everything," he said.
Lakeisha Russell, a therapist from Evolving Chair, said that remembering the word "MIND" will help improve your mental health by Making your mental health a priority, being Intentional about who you're surrounding yourself with, knowing that you Never want to "not feel the feels," but don't let them overtake you, and Don't forget to ask for help.
She also took a lot of questions from the youth on topics such as depression, medication vs. therapy, and cultivating good mental health.
Cellist and producer Malik Johnson, who in 2015 had accepted the National Arts and Humanities Award from First Lady Michelle Obama on behalf of the Milwaukee Youth Symphony Orchestra, played along with a Drake track and encouraged the youth to try something new just to see if they like it. He said he was glad the summit was addressing mental health. "This is such a very needed message, especially for young people. I love it."
Ajamou Butler of Heal the Hood stressed the importance of taking time out to breathe and process everyday events so that they don't feel so overwhelming. "Did you ever go to sleep but wake up still sleeping because you didn't get any rest?" he asked.
Latasha Langdon of Divine Destinies used emojis and graphics to show how to be active and positive to cope with difficult feelings. Examples are writing or journaling, traveling or getting away from your current environment, volunteering, dancing, crafts or drawing, playing music, reading, or just accomplishing a goal on your to-do list.
Jacarrie Carr, CEO of Kicks for Kids, said he gives back to others as a way to do something positive for the community. He urged the youth to develop healthy self-esteem that allows them to like themselves a person. "The number one way you can take care of yourself is by having self-esteem and to believe in you," he said.
Samantha Collier of TeamTeal365 explained the red flags and green flags in relationships so that youth can set healthy boundaries and feel safe in their relationships. Green flags include "self care," "self responsibility," "self reflective," and "self sufficiency."
"Being a high school student, it's really important that you stay focused, especially during this pandemic, when you're not able to see everyone or talk to everyone," she said. "But you do have time for yourself."