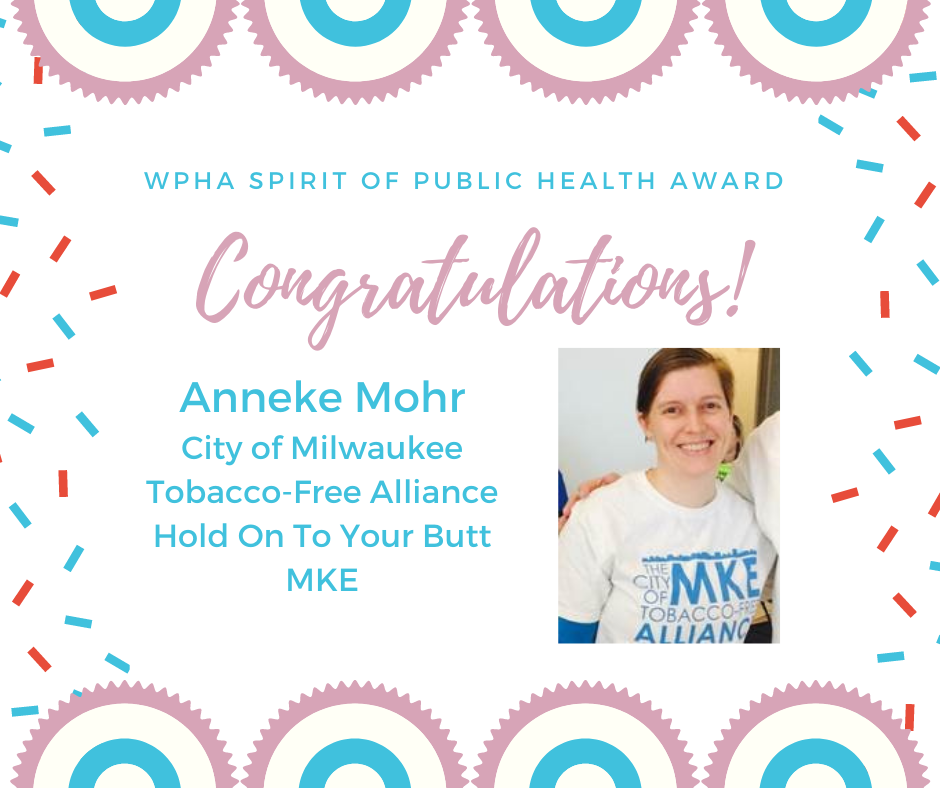 Congratulations go out to Anneke Mohr, who coordinates the City of Milwaukee Tobacco-Free Alliance and helped to launch Hold On To Your Butt MKE, two initiatives devoted to improving health and the environment by preventing and reducing harm from tobacco use. Anneke received the Wisconsin Public Health Association's Spirit of Public Health Award during the organization's virtual ceremony on October 29. The award recognizes "the contributions of an individual who is part of the fabric of public health in his/her community and whose goal is to be 'of use.'"
In her remarks at the ceremony, Anneke connected the impact of major public health concerns to her personal life and career. For example, in graduate school, she connected the positive impact of marriage on one's health, and noted at the time that same-sex partners weren't allowed to marry in all 50 states. More recently, she was able to reap those benefits when she was able to get married in Wisconsin, thanks to a 2015 US Supreme Court decision.
"I feel like we are now at a similar crossroads as a country," she said. "We have decision-makers who have the power to determine who has rights, who gets dignity. It's important for us as public health professionals to take that seriously and advocate for what WPHA has declared, that racism is a public health crisis. I think that this should be something that we are all leading the charge on."
Anneke said she was especially proud of her coalition's successful efforts to get Big Tobacco out of Milwaukee Pride Fest. After much discussion with health advocates, the festival's organizers decided to refuse sponsorships from tobacco companies and also offered more smoke-free spaces.
Anneke has a long list of accomplishments. As CoMTFA's coordinator, she has led her coalition on advocating for smoke-free and vape-free indoor and outdoor spaces and tobacco litter-free public spaces; reducing health disparities in tobacco use and exposure, especially among LGBTQ+ individuals and low-income communities of color; and supporting local youth advocates participating in the FACT movement. She has also helped to grow a new generation of public health leaders by serving as a preceptor to UW-Milwaukee Zilber School of Public Health students.
Anneke has devoted her entire career to public health and health equity in a variety of roles. She has addressed HIV prevention and support as a Peace Corps Volunteer in Swaziland and Washington, D.C.; worked as a Wisconsin Population Health Service fellow with the Wisconsin Department of Health Services AIDS/HIV Program and Great Lakes Inter-Tribal Epidemiology Center; focused on LGBTQ health at Diverse & Resilient; and served as the Fetal Infant Mortality Review Assistance at the Milwaukee Health Department.
Also honored by WPHA are two allies of Community Advocates: Lilliann Paine, of the City of Milwaukee Health Department, who received the Presidential Citation, and Dr. Geoffrey Swain, who was recognized with the Carol Graham Lifetime Achievement Award. Congratulations go out to Anneke, Lilliann, and Geof!