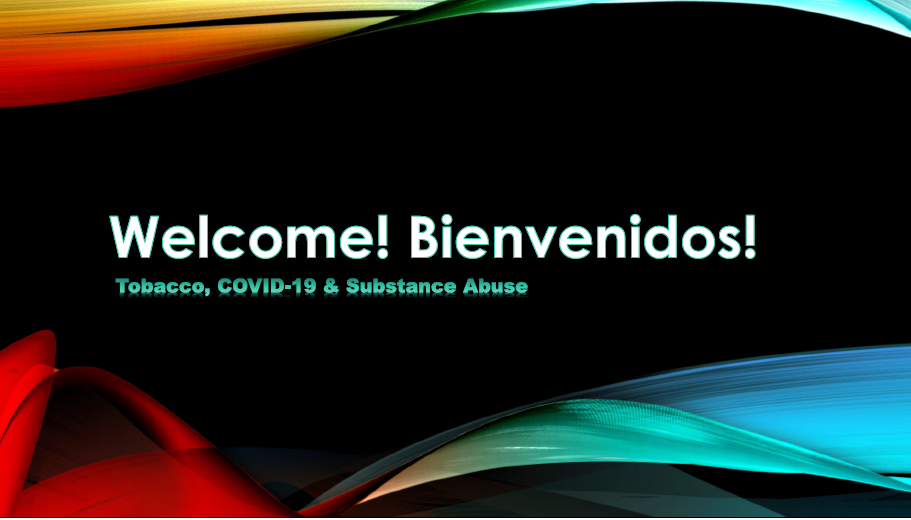 Tobacco, COVID-19, and substance abuse were the topics of a recent online forum hosted by the Hispanic Tobacco Prevention Network (HTPN) and the City of Milwaukee Tobacco-Free Alliance. The forum combined overviews about how substance use and COVID-19 are impacting Milwaukee's Latinx community, as well as a discussion with the candidates running for the Near South Side Assembly District, Sylvia Ortiz-Velez (D) and Angel Sanchez (R), on how they would handle policies related to these public health issues. (You can view the presentation slides by clicking this link.)
Crystal Landeros, HTPN's Bilingual Tobacco Prevention Coordinator, provided an overview of tobacco use among Latinx individuals and youth. She provided data showing that e-cigarettes are the most commonly used tobacco product among Hispanic/Latino high school and middle school students. She also explained that there are three times more tobacco retailers within 500 feet of schools in the 53204 and 53215 zip codes than in surrounding zip codes in Milwaukee.
Darcie Warren, Coordinator of the Partnership for a Tobacco Free Wisconsin, explored the connection between ethnicity, tobacco use, and COVID-19. Smoking traditional cigarettes and vaping increase the chances of young person being diagnosed with COVID. At the same time, communities of color are key targets of the tobacco industry. That makes young Latinx individuals especially vulnerable to becoming infected with COVID.
Maria Perez, Vice President of Behavioral Health at Sixteenth Street Community Health Clinics also provided an overview of substance abuse in the Hispanic community.
Afterwards, candidates Sylvia Ortiz-Velez and Angel Sanchez discussed their views on how policy makers and the community can improve public health.