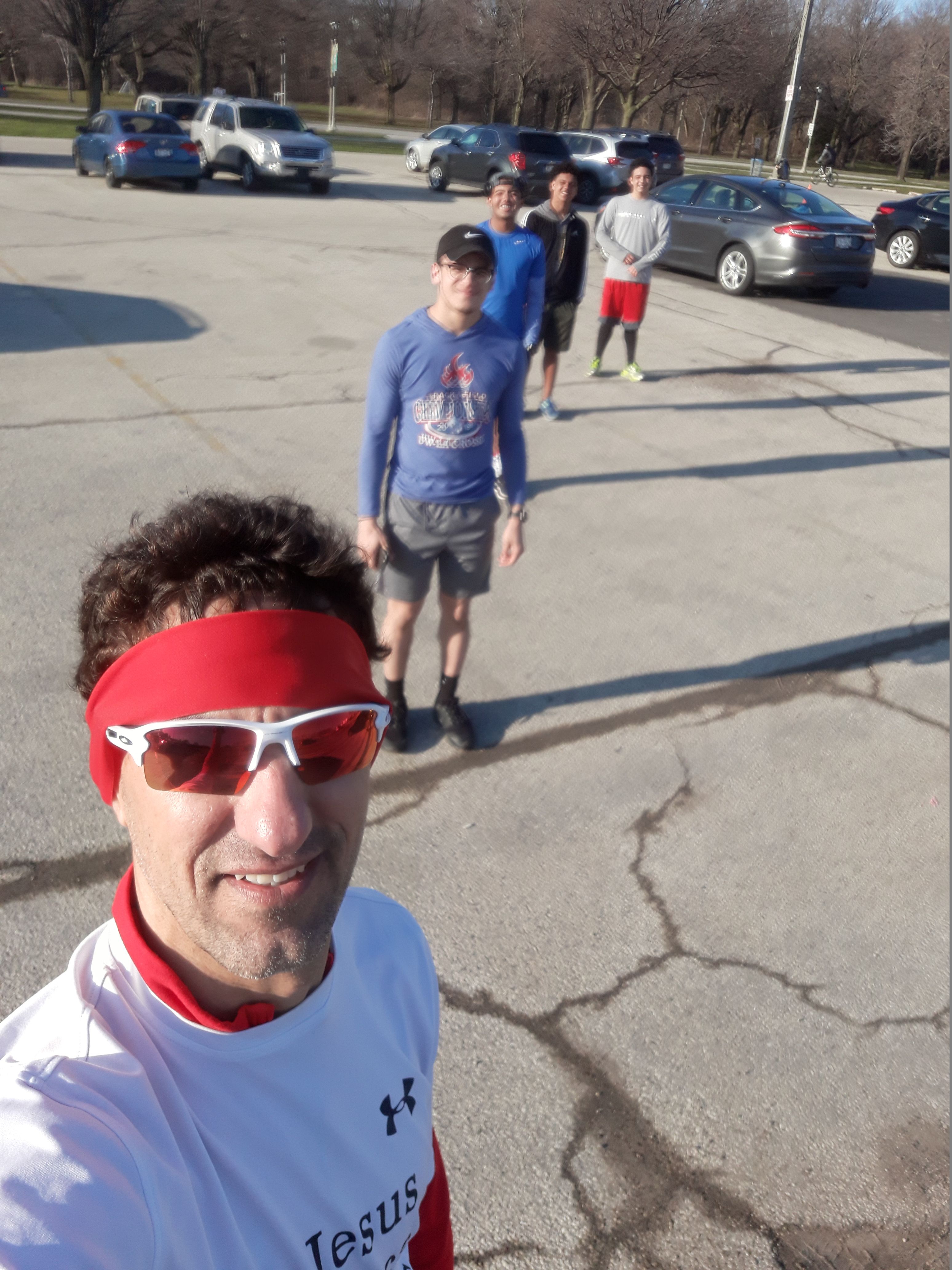 Like every other organization, Community Advocates Public Policy Institute has been challenged to adapt to the unique demands of the COVID-19 pandemic. Our response has been to provide our regular services on the phone or via email, and to use video calls and webinars to stay connected, instead of scheduling in-person meetings.
We're also impressed by how many Milwaukee-based youth-serving agencies are staying connected to the young people and families who access their services. It hasn't been easy, since there is no road map to follow, and changes had to be made quickly to ensure the health and safety of all. Here's how Big Brothers Big Sisters of Metro Milwaukee, Milwaukee Christian Center, The Parenting Network, Pathfinders, and United Community Center are serving their youth while staying safe and healthy.
Big Brothers Big Sisters of Metro Milwaukee
I am super proud of the way Big Brothers Big Sisters of Metro Milwaukee's staff, mentors, and families have risen to this challenge. Big Brothers Big Sisters' mission is, and always has been, to develop strong one-to-one mentoring relationships. In this unprecedented time of social distancing, these relationships are more important than ever before, and we're helping them thrive. Leveraging our expertise in technology enhanced mentoring for the past six years in our mentor2.0 program, we've continued to support and grow our other mentoring models, all without skipping a beat. We even made it into a message from Pam Iorio, CEO of Big Brothers Big Sisters.
BBBS of Metro Milwaukee is continuing to recruit mentors virtually, and has even made tried making a Big-Little match on Zoom. BBBS staff is supporting matches with professional case management so that basic needs of families are being met. Staff is also providing and also with virtual match activities through community partnerships that offer virtual experiences and activities, including, educational and entertaining online resources provided by the Urban Ecology Center, First Stage, and Discovery World. We are also providing our own virtual group events like Virtual Scavenger Hunts and Bingo to provide intentional ways to continue building strong match relationships.—Karina Simons, Director of Match Support and Youth Outcomes, Big Brothers Big Sisters of Metro Milwaukee
Milwaukee Christian Center
Milwaukee Christian Center (MCC) staff and volunteers have been adapting our essential services to be delivered safely while moving youth and community organizing programming into the virtual space. Our focus has been on maintaining relationships, being clear in communication, and meeting immediate needs. To that end MCC has conducted over 900 wellness checks on community members/families, ensuring they are connected to needed resources and accurate safety info. Since March 16th MCC has provided food relief to 2,954 people through our food pantry. Those numbers are up significantly from "normal" numbers. Additionally, MCC has distributed more than 3,200 grab and go meals to older adults throughout Milwaukee County in partnership with the Milwaukee County Department on Aging. While continuing to meet immediate needs for food MCC has been hosting online youth programming, job training, and community meetings. Some highlights of youth programming are captured on the new MCC Youth Development Facebook page.—Patrick Schrank, Director of Programs, Milwaukee Christian Center
The Parenting Network
The Parenting Network is continuing to provide support to parents, families, and kids during this difficult time. Here's how:
Positive Parenting Program: Ongoing Positive Parenting classes are running three times per week using creative PowerPoint presentations, interactive polls, and small group discussions with breakout rooms. Call the Parent Helpline at 414-671-0566 to register.
Individual Coaching: The Parenting Network has continued to provide individual parent coaching over the phone and through the use of Zoom. TPN received a COVID-19 Impact grant through Bader Philanthropies Inc. to provide Chromebooks to families who did not have access to technology.
Parent Connections: Parent Connections support groups are being held daily, with one offered in Spanish. A Facebook group has also been developed so that parents/caregivers may stay connected during this time. Contact the Parent Helpline at 414-671-0566 for more information—Joyce Felker, Executive Director, The Parenting Network
Pathfinders Milwaukee
Pathfinders Milwaukee, Inc., is considered an essential service, and with adaptations, continues to provide basic/immediate needs, crisis support, advocacy, and resources to youth and young adults 25 and under who are faced with challenges surrounding home instability. The city has provided our Holton Street location with a hand-washing station; our protocol is all people have to wash their hands prior to entry and throughout their visit, shift or access to services and must remain six-feet from others. In areas where social distancing is challenging, like in the kitchen or in offices, people have to wear a mask. There are signs and consistent messaging throughout the building. No more than 10 individual people can be in one defined space at our Holton Street location; staff, guests and participants receiving services included. Masks, sanitizer, soap, disinfectant wipes and gloves are available and regularly used throughout the building thanks to Pathfinders' development team and collaborative partners.
Staff who serve youth and their families in the community via supported housing, anti-violence services, counseling, outreach, and comprehensive community services respond to the needs of their young people remotely and virtually, ensuring their vehicles are filled with resources, hygiene, non-perishable food, clothing items, household products, and infant care to meet the needs of youth being served by these specific programs. Southeastern Education Center is a Milwaukee Public School and continues to work remote to serve scholars and support families with accessing Milwaukee's other essential services and resources in the community. All Pathfinders departments are able to be reassigned to support our continued onsite services, which ensures we have adequate staffing, relief, and ratios for safely continuing to serve. Pathfinders Emergency Youth Shelter continues to serve 8 youth at a time, focused on providing ages 17 and under with shelter and safety. The Drop-In Center has a 1:2 staff-youth ratio with no more than 10 people in one defined area. Collectively, we have created service-based remote protocols and procedures including for administrative staff, with ongoing agency safety plans for how we can keep our mission and vision going!—DeShanda Williams, Director of Runaway, Homeless Youth Services, Pathfinders
United Community Center
There are many different things going on at United Community Center, from virtual teaching to many direct phone calls to our families as well as our youth. But one very unique thing that I have been doing is social long-distance running with four of our youth to prepare them for their first half marathon in August and a full marathon in early October for the Lakefront Marathon. I run with these youth—Jahdiel Lafontaine from St. Thomas More High School, Caleb Pacheco from Dominican High, Josiahs Pacheco from Marquette High, and Leonardo Astorga from Brookfield Academy—every other day at the Lakefront Oak Leaf Trail as well as the South Shore Oak Leaf Trail. They are so committed, along with the support of their amazing parents. All four of them continue to stay committed to their online schooling and said that the running has been an amazing outlet in dealing with anxiety during the COVID-19 pandemic.—Raymond Rivera, Youth Development Specialist, United Community Center
Photo: UCC's Raymond Rivera and his fellow runners prepare for a half marathon and a full marathon while being mindful of physical distancing. Photo courtesy of Raymond Rivera.