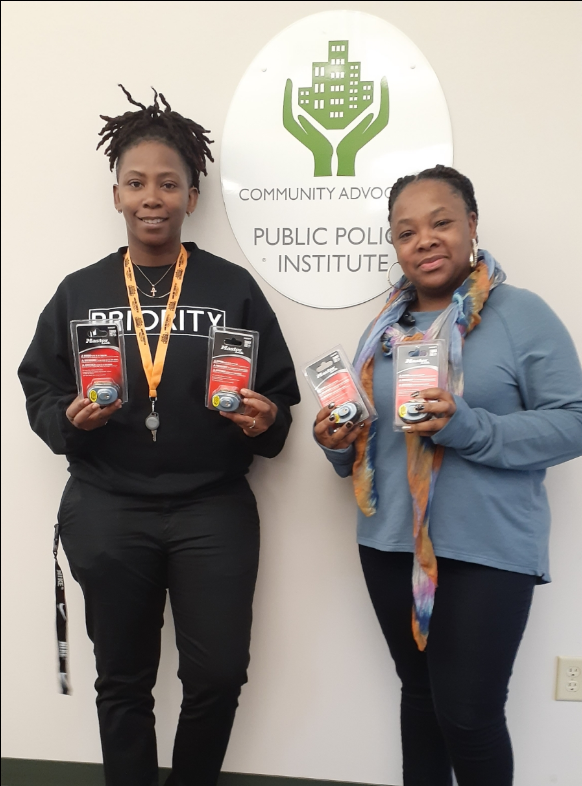 Community Advocates Public Policy Institute is proud to be a partner in the City of Milwaukee's free gun lock distribution initiative. The Milwaukee-based Master Lock Company donated 1,000 keyed gun locks to the city's Office of Violence Prevention, which is distributing them to community partners and individuals.
"We are pleased to partner with Community Advocates on this effort to promote safe and responsible gun storage in efforts to prevent accidental shootings among children and youth," said Reggie Moore, Director of the Office of Violence Prevention. "In addition to Community Advocates, gun locks are available at all of the City of Milwaukee Health Centers."  
The gun locks are available upon request at Community Advocates' downtown offices' front desk at 728 N. James Lovell St., Milwaukee, during regular business hours.
"Kids and adults always ask us for gun locks when we do outreach in the community," said Amanda Clark, Coordinator of the 53206 Drug-Free Communities Project, which is housed at the Public Policy Institute. "Now, we'll be able to give Master Lock gun locks to anyone who visits Community Advocates' downtown offices and asks for one."
According to a press release from Mayor Tom Barrett announcing Master Lock's donation, about half of all gun owners keep their firearms safely stored. Barrett hopes to "move that number closer to 100 percent in Milwaukee."
Evidence indicates that safely storing firearms in the home—unloaded, locked, and with ammunition securely stored separately—can help to prevent gun fatalities and injuries, especially among young people.
According to the American Academy of Pediatrics:
Firearm-related injuries are often fatal; primary prevention is essential
Access to guns and unsafe storage practices creates risk of serious unintentional injury and death
Strong evidence suggests that the presence of firearms in the home increases the risk of adolescent suicide
21% of gun owners with children under 18 stored a gun loaded; 31.5% stored a gun unlocked, and 8.3% stored at least one gun unlocked and loaded
Keeping a gun locked and keeping a gun unloaded have protective effects of 73% and 70%, respectively, with regard to risk of both unintentional injury and suicide for children and teenagers
"If you are a gun owner, you need to be a responsible gun owner by locking and safely storing your firearm," said Terrece Irving, Public Policy Associate with the Public Policy Institute. "Gun locks can save lives by preventing suicides and accidental shootings. We encourage every gun owner to keep their friends and family safe by properly storing and locking their guns."
The Office of Violence Prevention is also offering them at its offices (841 N. Broadway, Third Floor), at the Southside Health Center (1939 S. 23rd St.), Keenan Health Center (3200 N. 36th St.), and Northwest Health Center.
Do you have more questions about gun safety? The City of Milwaukee Office of Violence Prevention offers gun safety brochures in English and Spanish.