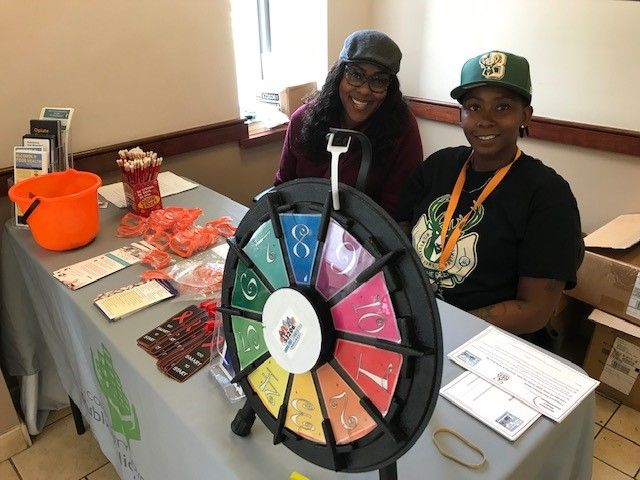 Milwaukee's prevention community got creative when they raised awareness of the importance of substance abuse prevention during Red Ribbon Week 2019 (October 17-31).
"We want to carry the spirit of Red Ribbon Week with us throughout the year," said Amanda Clark, Coordinator of the 53206 Drug-Free Communities Project.
We hope everyone is cheering on the eighth grade students at Story School, who designed a banner with positive messages, then displayed it in a hallway for their fellow students to see. The students participate in The Parenting Network's offering of the Botvin LifeSkills curriculum, thanks to Stay Strong Milwaukee grant funding. Story School's banner was featured on the national Red Ribbon Campaign's Facebook page and the students are hoping to win $1,000 for their school.
The wonderful staff at Pathfinders' Youth Outreach Drop-In Center organized a signing of the Red Ribbon Campaign pledge to "grow up safe, healthy and drug free." With staff encouragement, we know that the Pathfinders youth will carry on this message in their own lives and lead by example among their peers.
The Milwaukee Fire Department got into the spirit by placing magnetic red ribbons on its vehicles, a very public statement of support. MFD has been a critical partner in preventing and responding to the substance abuse crisis Milwaukee currently faces and we are grateful for their continued support.
The youth and staff of Neu-Life Community Development pledged to live healthy and substance-free lives at their Youth Work Innovation Center, Gwen T. Jackson Elementary School Safe Place, and Brown Street Academy Safe Place. The Milwaukee County Substance Abuse Prevention (MCSAP) coalition provided Neu-Life with MCSAP-branded hats and Red Ribbon-themed pencils, bookmarks, and stickers.
Community Advocates Public Policy Institute's prevention team organized a pop-up resource fair in its downtown office's reception area, which drew almost 100 visitors on October 29. The team handed out 36 medication lock boxes, and more than 50 each of our Milwaukee County Substance Abuse Prevention (MCSAP) coalition water bottles and Red Ribbon Week bookmarks and pencils, along with brochures and Halloween candy. A number of adults filled out the pledge to do their part to create a drug-free community. Even better, the team was able to have meaningful conversations with visitors, many of whom have a personal connection to someone coping with a substance abuse issue and want to do all that they can to prevent more harm from developing.
"We had such a productive day that we are planning more pop-up resource fairs in Community Advocates' offices to meet the community where they are and make sure we are responding to their needs," said Kasaundra Brown, MCSAP Coordinator.
In addition, the members of the Substance Abuse Prevention grantee collaborative wrote messages in support of prevention when they met for their quarterly meeting. All of the partner agencies deliver prevention programming to youth as part of the Milwaukee Brighter Futures Initiative and Stay Strong Milwaukee. They meet quarterly to network and develop their skills in gatherings organized by PPI's Contract Monitor Jan Buchler and Training and Technical Assistance Coordinator Jeremy Triblett.
c. 2019 Community Advocates Public Policy Institute