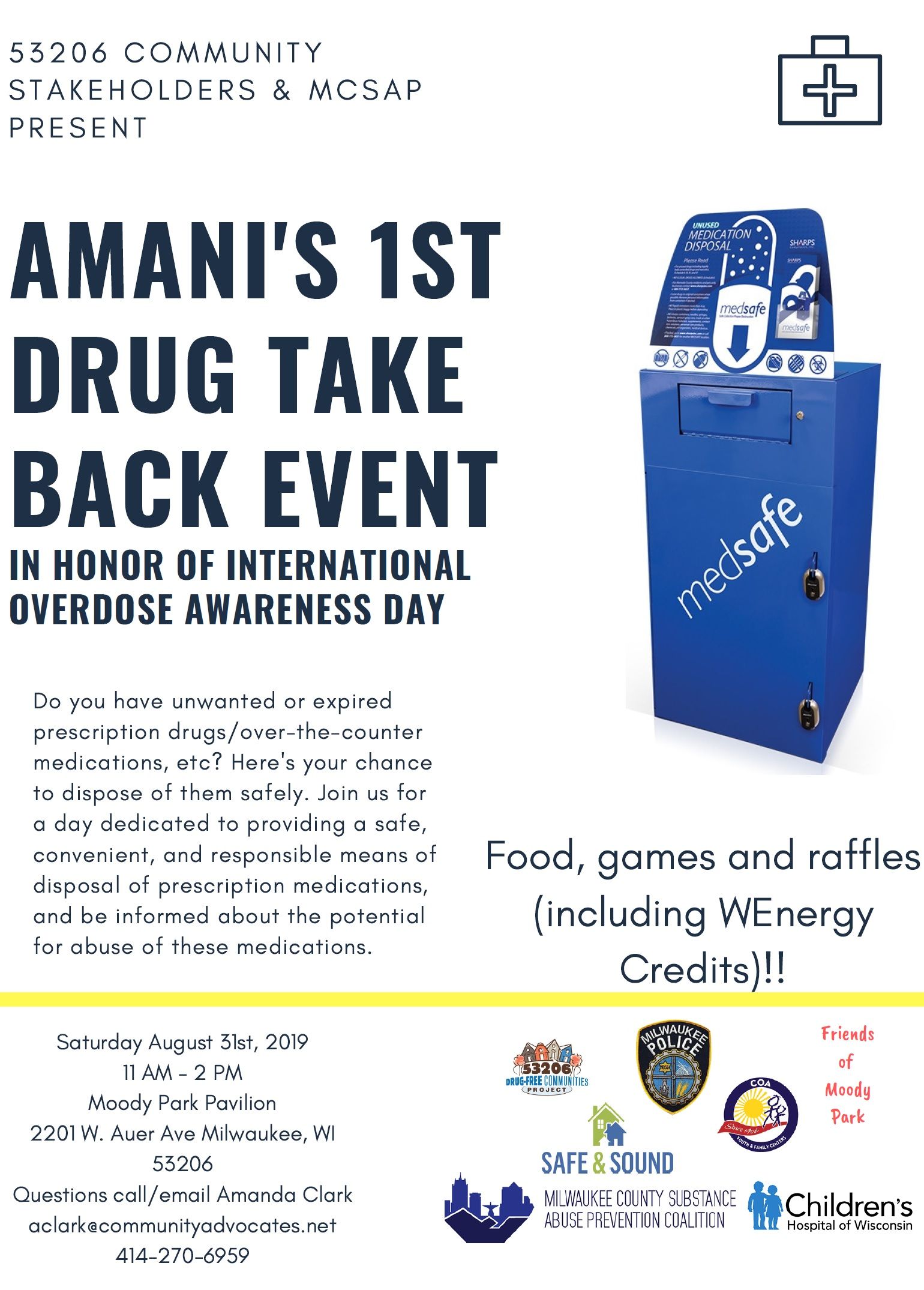 In honor of International Overdose Awareness Day, substance abuse prevention advocates are launching the first-ever Drug Take-Back Event in the Amani Neighborhood on Saturday, August 31, with a resource fair, food, raffles, games, resources, and the Rec 'N' Roll skate mobile. The event will be held from 11 a.m. to 2 p.m. at the Moody Park Pavilion, 2201 W. Auer Ave., Milwaukee.
"There have been a number of drug take-back events in communities surrounding the Amani neighborhood, but until now no one has organized one in Amani," said Amanda Clark, Coordinator of the 53206 Drug-Free Communities Project. "Residents often ask me how they can get rid of their unwanted pills. Now, they can bring the medication they no longer need to Moody Park on August 31, where they can also enjoy free food and entertainment and possibly save money on their We Energies bill."
Getting rid of unwanted medication is a good strategy to prevent substance abuse and misuse. Four out of five heroin users say they got hooked on prescription narcotics first. In addition, spare pills in the home can tempt someone who is developing a substance use disorder or lead to an accidental poisoning or overdose.
According to state data, fatal overdoses—primarily fueled by prescription painkillers and synthetic opioids—have decreased statewide and in Milwaukee County from 2017 to 2018, but it's still way too early to say that the opioid epidemic is nearing an end. That said, a new report from the Wisconsin Policy Forum found that life expectancy in Wisconsin is decreasing—especially among Milwaukee residents and African American Wisconsinites. Some of that is fueled by the opioid epidemic.
Despite these challenges, there's hope that prevention efforts and education will help to reduce the number of drug overdoses in Milwaukee.
"I think there's more of an awareness of how to prevent substance abuse and overdose, especially among doctors," said Kasaundra Brown, Coordinator of the Milwaukee County Substance Abuse Prevention (MCSAP) coalition. "Doctors are becoming more conscious of the effects of the medication they're prescribing, and they use the state's PDMP (Prescription Drug Monitoring Program) to make sure their patients aren't doctor-shopping to access more pills."
Free Opioid Alternatives Training for Health Care Professionals
Doctors are also encouraged to use non-opioid medications to manage their patients' pain. In fact, they're required to taking continuing education courses on safe opioid prescribing. To meet that need, Community Advocates Public Policy Institute and the Wisconsin Medical Society are offering two no-cost sessions that meet the state's licensing requirements in September, Alternatives to Opioids in Treating Acute and Chronic Pain, presented by Dr. Michael McNeff, Medical Director for Chronic Pain for Aurora Greater Milwaukee South. The sessions will be held on Friday, September 13, and Tuesday, September 24.
"Although physicians will be able to earn credit for attending the session, we hope that other health professionals attend, because everyone in the medical profession plays a part in managing a patient's pain and improving their health and well-being," said John Eshun, Coordinator for the Partnerships for Success grant in Milwaukee County.
What You Can Do to Prevent Substance Misuse or an Overdose
Even if you aren't a medical professional, there are a number of ways you can prevent substance abuse and misuse and overdose. Here's how:
Dispose of your unused medication safely: Attend a drug take-back event like the one being organized in Moody Park on August 31; use a 24/7 secure drop box at a police station, pharmacy, or health care facility; ask for a mail-back envelope at a City of Milwaukee fire station; or use a drug deactivation kit (like Deterra). Whatever you choose, it's important to keep medicines of all kinds out of the reach of someone who could overdose or begin on the path to substance use and misuse.
Do not share your medications with anyone: Far too many individuals with a substance use problem say they started using when a friend or family member offered them a pill or other type of drug. While you may think you're helping someone when you offer them your medicine, you don't know how that person will react to it, and you could be setting up that person for a substance use problem.
Lock up your medication: Another effective way to keep your medication out of the wrong person's hands is to lock up your medicines in a secure box. Many substance use prevention advocates distribute these throughout the community at events; they'll be given out at the Moody Park event on August 31.
Ask questions: Don't be afraid to ask your doctor questions when they're writing you a prescription. Although we're trained to trust doctors, it wouldn't hurt to ask "What else can you give me besides a narcotic?" or "Are there other ways to manage my pain?"
Be aware of untraditional drugs: Although prescription painkillers, heroin, and fentanyl grab headlines, they aren't the only substances that can cause major harm, even overdose or death. "Lean" or "purple drank," a codeine- and promethazine-laced soda, appeals to young people but its drug content can be dangerous. K2, or synthetic cannabis, can contain rat poison and cause serious health problems. THC cartridges for e-cigarettes can land you in the hospital.
Don't take risks with your health: If someone offers you some sort of substance and you're not sure what it is, don't take it. There are too many reports of a "bad batch" that causes illness or overdoses, and edibles aren't always identified as containing drugs. If you don't know what it is, don't take it.
c. 2019 Community Advocates Public Policy Institute. All rights reserved.