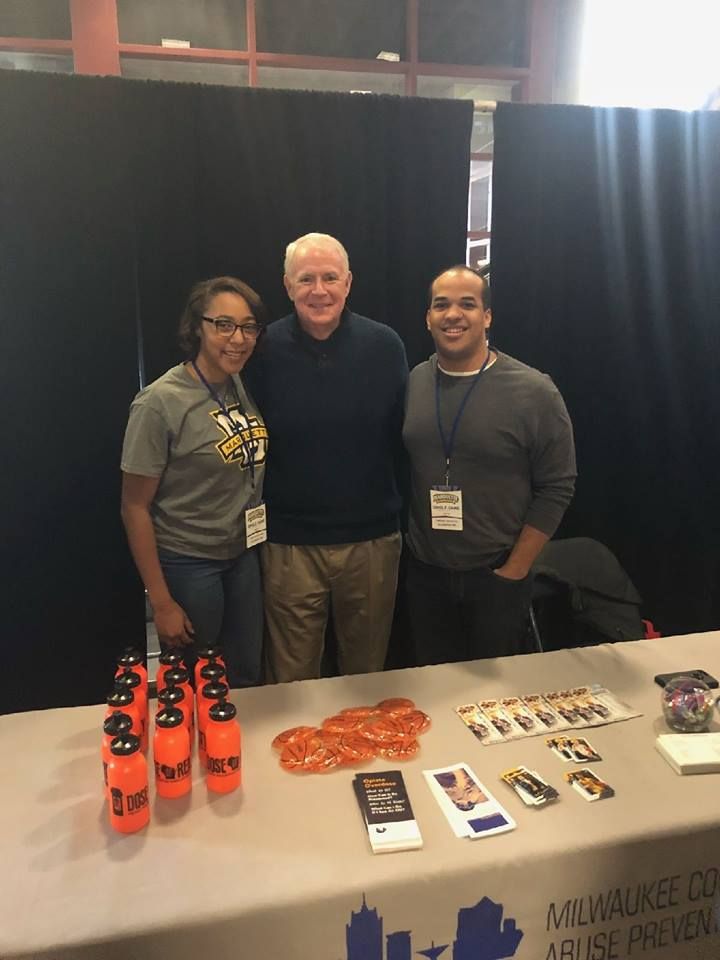 Community Advocates Public Policy Institute loves taking on big challenges. We were created to address the root causes of poverty so that we could end poverty for good. Currently in our tenth year, we are making strides in addressing poverty by preventing some of the conditions that create it—namely, substance abuse and lack of support for our community's disadvantaged young people—by creating the conditions that allow youth and families to thrive. We do so by enhancing the skills of our local human services professionals; promoting public awareness of the harms of substance abuse; providing community members with easy ways to reduce access to drugs, alcohol, and tobacco; and encouraging our youth to live substance-free lives.
"Although we've taken on a big, community-wide challenge, we're always focused on how our programs and partners are impacting the daily lives of individuals," said Public Policy Institute Deputy Director Kari Lerch. "We see results when our partners have breakthroughs with the youth they serve, when policy makers tackle substance abuse and misuse in a thoughtful way, or when we increasingly expect to live in a healthy, equitable community that welcomes and provides opportunities for individuals and families from all walks of life."
Here's what we accomplished in 2018:
Alliance for Wisconsin Youth Southeast Region
PPI's Jazzmyne Adams coordinates the southeast region of the Alliance for Wisconsin Youth, which supports substance abuse prevention coalitions in eight counties: Jefferson, Kenosha, Milwaukee, Ozaukee, Racine, Walworth, Washington, and Waukesha. In 2018, the Southeast AWY hosted their second and third youth summits in East Troy for young people from the Northeast and Southeast regions of the state. It also organized a Partners in Substance Abuse Training in May and provided scholarships for 52 attendees; hosted a November Substance Abuse Prevention Skills Training (SAPST); and organized the Milwaukee-based Governor's Faith-Based Summit on Opioids at the Tripoli Shrine Center. AWY also provided $1,000 mini-grants to nine members, which supported initiatives such as a PSA shown before movies at the Marcus Bistroplex Theatre at Southridge Mall, scholarships for Racine youth to attend Teen Institute at UW-Whitewater, and the purchase of safe drug disposal pouches, which were distributed around the community.
City of Milwaukee Tobacco-Free Alliance
In 2018, the City of Milwaukee Tobacco-Free Alliance (CoMTFA), coordinated by Anneke Mohr, partnered with the Milwaukee Health Department to look at opportunities to update local smoke-free laws to include e-cigarettes, which have emerged as an increasingly popular product among Wisconsin youth. From 2014 to 2016, youth usage of e-cigarettes nearly doubled. With support from Neu-Life FACT youth, Fight Asthma Milwaukee (FAM Allies), the Milwaukee Fire Department, American Lung Association, and UWM Zilber School of Public Health, CoMTFA educated the Milwaukee Common Council Public Safety and Health Committee on youth access to e-cigarettes and potential health and safety effects of secondhand exposure to e-cigarettes. On June 20, 2018, the Milwaukee Common Council voted 14-0 to add e-cigarettes to the local youth access ordinance and local smoke-free ordinance. As a result, e-cigarettes are now included in Wisconsin Wins compliance checks conducted in Milwaukee and e-cigarette use is no longer allowed indoors in workplaces, bars, and restaurants in Milwaukee. 
The Alliance also advocated for more tobacco-free outdoor spaces this year. In 2014, CoMTFA formed an LGBTQ+ Tobacco Prevention Work Group and began doing outreach at Milwaukee Pride in 2016. After seeing the targeted tobacco marketing at Milwaukee Pride through a "Newport Pleasure Lounge," CoMTFA began raising awareness of how the LGBTQ+ community is targeted by Big Tobacco. Surveys conducted at Pride festivals across the state from 2008-2012 found a smoking rate of 42% among LGBTQ+ adults and allies, compared to a statewide adult smoking rate of 17%.
In 2017, CoMTFA worked with Milwaukee Pride to establish several smoke-free spaces, and in 2018, with financial support from nine community groups (including CoMTFA, the Wisconsin African-American Tobacco Prevention Network, Wisconsin Hispanic-Latino Tobacco Prevention Network, and Wisconsin Tobacco Prevention and Poverty Network), Milwaukee Pride decided to no longer accept tobacco funding. CoMTFA is currently working to highlight local success stories like Chill on the Hill, which has been a smoke-free event since 2016, and is exploring opportunities to promote additional smoke-free outdoor events, festivals, and parks throughout Milwaukee.
53206 Drug-Free Communities Project
The 53206 Drug-Free Communities Project, coordinated by John Eshun, works to reduce youth substance use in Milwaukee's 53206 zip code. Previously, the 53206 DFC focused on preventing youth alcohol and tobacco use, but thanks to federal Comprehensive Addiction and Recovery Act dollars awarded to it this year, this project will also address opioid prevention within the coalition as well. The 53206 DFC also received SAMHSA STOP Act funding for alcohol prevention, which is being coordinated by Amanda Clark, a Public Ally. Amanda has been implementing the "Talk. They Hear You." campaign in three schools and two libraries, as well as building relationships with partners in the 53206 neighborhoods and regularly updating the project's Facebook page.
Overall, in 2018, the 53206 DFC made connections with more than 57 agencies that work in the 53206 neighborhoods to assist projects that address environmental factors that contribute to youth substance use. Project members completed 10 alcohol compliance checks to identify retailers that sell alcohol to minors without checking IDs, and conducted more than 20 alcohol and tobacco assessments of local stores. Surveys of more than 129 youth that live and play in 53206 found that the number one reason why youth use alcohol and marijuana is to handle stress, anxiety, or other issues. Project members also helped host a mental health awareness day at COA Youth and Families Centers for more than 50 young people at the Riverwest and the Burleigh sites.
Milwaukee Brighter Futures Initiative
The state's Brighter Futures Initiative seeks strategies to prevent and reduce child abuse and neglect, youth violence and delinquent behavior, youth alcohol and other drug use and abuse, and non-marital pregnancy. 2018 was the final year of Community Advocates Public Policy Institute's three-year state contract for the Milwaukee Brighter Futures Initiative, which brings together networks and programs to work collaboratively on building a strong community prevention system in Milwaukee for youth ages 12-21 who are in, or at risk of being placed in, out-of-home care.
We subgranted funds for projects at 10 organizations: Big Brothers Big Sisters of Metro Milwaukee, Boys & Girls Clubs of Greater Milwaukee, Children's Hospital of Wisconsin Community Services, Employ Milwaukee, the Milwaukee Christian Center, Neu-Life Community Development, The Parenting Network, Pathfinders, SET Ministry, and Walker's Point Youth & Family Center. Throughout 2018, MBFI partners came together for bimonthly learning communities led by PPI Training and Technical Assistance Coordinator Jeremy Triblett, and also received support and advice from Program Monitor Jan Buchler.
Jan especially loves doing site visits to check in with MBFI partners' staff and their youth. She recounted one April visit to Walker's Point Youth and Family Center, where facilitators MaryPat and Liza were implementing the Teen Self-Nurturing Program as a "leadership development group" for 12 ninth-grade girls. Jan was struck by the girls' engagement and intelligence during the group, and heard positive feedback from the principal about the girls' good behavior in school. Jan was even more surprised that the girls in the group had been identified as troublemakers who had been creating chaos in their school. She noted that nurturing the girls' leadership abilities, instead of focusing on their disruptive activities, transformed their identities and their behavior. "Sometimes relatively simple things can create magic, like nurturing 'trouble makers' who have untapped capacity to be leaders," Jan wrote in a blog post. 
Although our current three-year MBFI contract is coming to an end, we are pleased to announce that the Wisconsin Department of Children and Families has selected Community Advocates Public Policy Institute as one of the Milwaukee Brighter Futures Initiative grantees going forward under a new program design. PPI will be focusing on trauma-informed, strength-based youth substance abuse prevention activities in Milwaukee with our partners Big Brothers Big Sisters of Metro Milwaukee, Milwaukee Christian Center, Neu-Life Community Development, The Parenting Network, and United Community Center. We're looking forward to supporting these organizations so that they continue to provide top-notch prevention programming to some of our community's most disadvantaged young people.
Milwaukee County Substance Abuse Prevention Coalition
The Milwaukee County Substance Abuse Prevention Coalition (MCSAP), coordinated by Kasaundra Brown, spent much of 2018 balancing the activities of coalition members in the community as well as attending to the organization's impressive growth and future plans.
In March, MCSAP sponsored its second Youth Summit at Neu-Life Community Development, which focused on the real-world consequences of smoking marijuana while you're young. In April, MCSAP helped to sponsor two drug take-back drives, one at Hayat Pharmacy on North Avenue in Milwaukee, and another at Summit Place in West Allis, to enable community members to get rid of their unwanted medication easily and safely. In August, coalition members marked International Overdose Awareness Day by providing information and resources at the final Washington Park Wednesdays concert of the season. During select Marquette University men's basketball games, MCSAP members offer Dose of Reality information and resources to basketball fans—even Milwaukee Mayor Tom Barrett stopped by to say hello during a game. MCSAP also supports its members' activities throughout Milwaukee County, such as Milwaukee County Behavioral Health Division's Light and Unite Red initiatives, safe disposal of unwanted medication, and youth and community outreach to raise awareness of how to prevent substance abuse.
Behind the scenes, MCSAP leaders and members have been conducting a strategic planning process, led by Healistry's Natalie Cooper, to take the coalition to the next level. Each member's input has been taken to heart and their insights will enable MCSAP to more effectively prevent substance in Milwaukee County.
Partnerships for Success
An integral part of the Public Policy Institute's prevention efforts is the Wisconsin Strategic Prevention Framework Partnerships for Success grant, which enables us to intensify our focus on reducing prescription drug misuse and abuse among individuals ages 12 to 25. This grant provides our partners with valuable resources. Our partners in Milwaukee County are the Cudahy Health Department, Greendale Health Department, Greenfield Health Department, MCSAP, Oak Creek Health Department, Safe & Sound 27th Street, Volition Franklin, West Allis West Milwaukee Community Coalition, and West Allis West Milwaukee Heroin/Opioid Task Force.
Our partners focus on three main strategies: implementing public awareness efforts to prevent and reduce youth substance abuse; supporting drug security, collection, and disposal; and sponsoring drug recognition education. Their 2018 activities included sponsoring drug take-back events, offering Senior Safety Talks at senior living centers and churches, providing opportunities for students to take the Dose of Reality pledge, sponsoring public service announcements before movie screenings, educating patients on questions they should ask their health care providers about medications, sponsoring and promoting secure drug drop boxes, distributing medication lock boxes and drug disposal pouches, and promoting prevention awareness throughout the community.
Stay Strong Milwaukee
We were also pleased to award youth-serving organizations with Stay Strong Milwaukee funding provided by Milwaukee County Behavioral Health Division. Stay Strong Milwaukee funds help these organizations prevent and reduce substance abuse and misuse among youth, as well as promote and enhance the young people's health and well-being. All of our 2018 Stay Strong Milwaukee partners are implementing evidence-based programs and/or practices specifically targeted toward their youth. Our 2018 grantees are Diverse & Resilient, Neighborhood House, The Parenting Network, Pathfinders, Running Rebels Community Organization, United Community Center, and West Allis-West Milwaukee Family Resource Center.
Training in Prevention Methods
PPI has been very actively expanding our training opportunities for human services professionals and community members. Throughout 2018, Prevention Services Manager Elysse Chay, Training and Technical Assistance Coordinator Jeremy Triblett, and MBFI Program Monitor Jan Buchler offered trainings in Youth Mental Health First Aid; the Brain Architecture Game; Nurturing Parenting Programs; Question, Persuade Refer (QPR) Gatekeeper Training; Substance Abuse Prevention Skills Training (SAPST); Youth Thrive; and Botvin LifeSkills Training. Although we offer trainings around the community, we also created a Training Center in Brown Deer, which provides us with an easily accessible home base for our trainings of groups large and small.
© 2019 Community Advocates Public Policy Institute. All rights reserved.