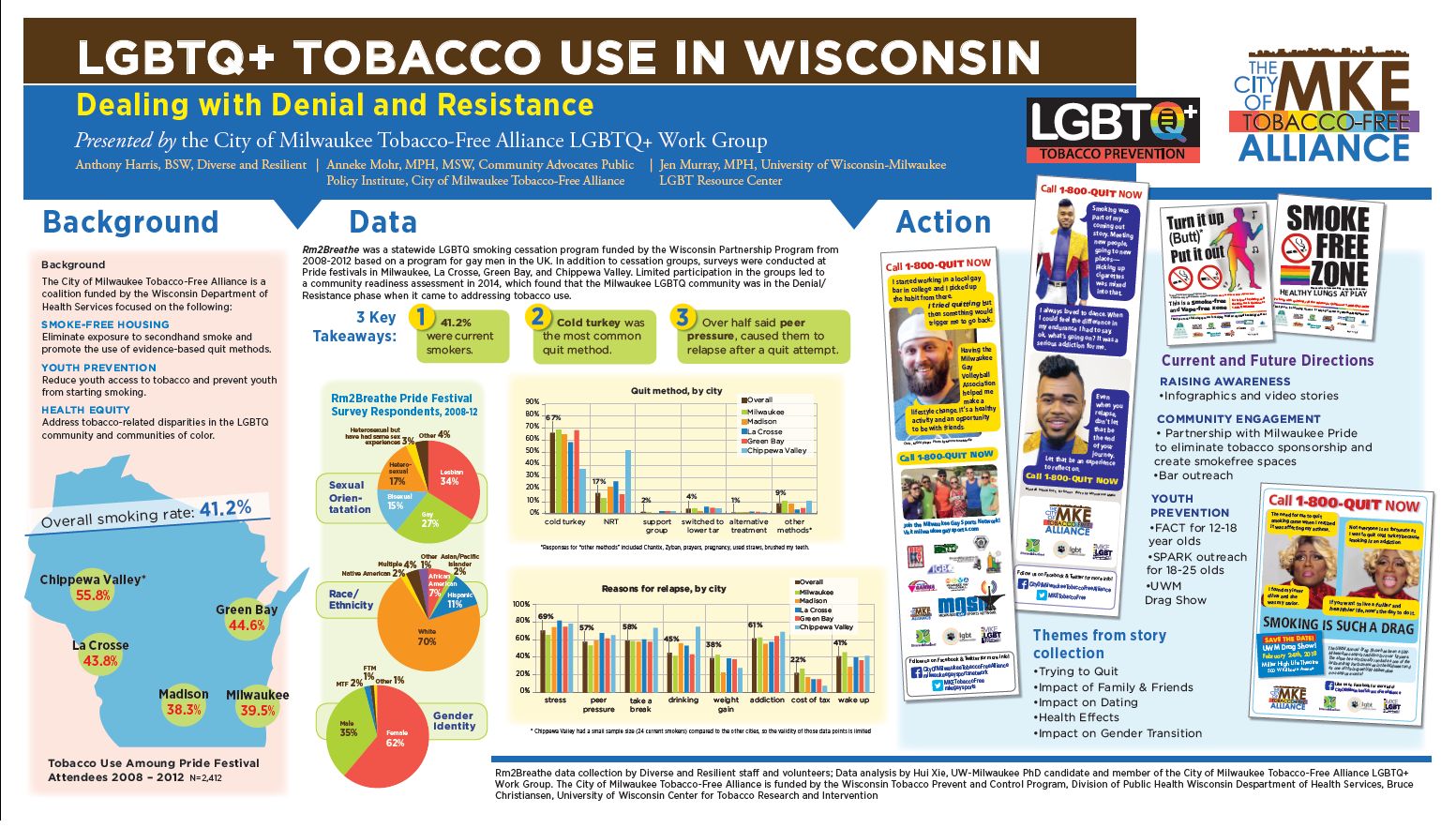 It's been a watershed spring for the City of Milwaukee Tobacco-Free Alliance as it racked up successes in the Milwaukee Common Council and in the community.
"I think these initiatives help to reshape norms around smoking so people will be better educated, better informed, and also be able to live, work, and play in environments that are smoke free, both from cigarette smoke and e-cigarette vapor," said Anneke Mohr, coordinator for the City of Milwaukee Tobacco-Free Alliance, which is housed in the Community Advocates Public Policy Institute.
Regulations Tightened on E-Cigarettes
First up are the important changes made to local e-cigarette regulations
There's increasing awareness that these largely unregulated nicotine delivery systems pose harm not just to the individual who's vaping, but to those who surround them. The vape cloud emitted by e-cigarettes isn't just water vapor, but a toxic mix of chemicals.
"We've seen a growing body of evidence that the second-hand aerosol from e-cigarettes is harmful and contains heavy metals, the flavorings have different chemicals that cause irreversible lung disease, and it's contaminating the air and causing negative health effects for people with respiratory issues," Mohr said.
At the same time, new e-cigarette devices and e-juice flavors are becoming more popular with young people, thanks to targeting by e-cigarette companies. Statewide, more youth are vaping and they say that they wouldn't try e-cigarettes if they didn't taste like candy or fruit.
A new type of e-cigarette, Juul, is designed to look like a jump drive, so it's easy to conceal from parents and teachers. Juul devices are especially popular in suburban Milwaukee and more kids are becoming addicted to the nicotine they contain.
The City of Milwaukee Tobacco-Free Alliance has focused on public outreach and education on the harms posed by vaping, especially to young people. This greater awareness seemed to spur the City of Milwaukee Common Council to vote unanimously to include e-cigarettes in the city's smoke-free ordinance.
 "Since we haven't yet updated the state law to include e-cigarettes, there are 11 cities throughout the state who have done it at the local level," Mohr said. "Milwaukee just became the twelfth city in Wisconsin to update the local smoke-free ordinance to include e-cigarettes."
Now, within city borders, vaping is banned anywhere cigarette smoking is banned, including bars, restaurants, and workplaces, to protect the health and well-being of Milwaukee residents and visitors. Mohr said the Alliance will be helping to monitor compliance with the new smoke-free ordinance and its enforcement.
The city has also targeted sales of e-cigarettes to minors. While traditional tobacco products have long been off-limits to young people, in May the Common Council passed a ban on e-cigarettes to minors, bringing the city in line with state statutes. Now, the Milwaukee Police Department can ticket retailers who sell vapes and e-juice to young people. Even better, the city raised the fines on sales of e-cigarettes, traditional cigarettes, and tobacco products to minors from $260 to $691. In addition, fines for selling single cigarettes -- also known as "loosies" -- was raised from $181 to $691.
Why is that important? First, it helps to keep tobacco and nicotine away from young people so we won't raise a new generation of nicotine-addicted kids. Second, it allows the Wisconsin WINS checks to collect data on how many retailers are selling e-cigarettes to minors.
"Now we'll be able to find out how often youth are able to buy e-cigarettes and e-juice and make sure that stores are checking for ID and not selling to youth," Mohr said.
Last, the fine increase provides a stronger incentive for retailers to enroll in the Milwaukee Achieving Responsible Tobacco Sales (MARTS) program developed by the City Attorney's Office rather than simply paying a minor citation and continuing on with business as usual.  Businesses that have enrolled in MARTS have shown a decrease in nuisance activity and calls for service from the police.
"I think it's good timing because even though we're seeing that Juul and other products are really popular in the suburbs, in some Milwaukee neighborhoods they're not as popular," Mohr said. "We're able get ahead of the curve by providing that education to people so that everybody is on the same page with the science and can provide accurate information to youth to promote prevention, rather than to backtrack and encourage people to quit something they've already started."
PrideFest Milwaukee Progress
The Alliance also scored a big victory in its ongoing campaign to address the high rates of tobacco use in the LGBTQ community. Unfortunately, LGBTQ individuals are 2.5 times more likely to use tobacco than their straight peers, the result of Big Tobacco industry targeting and the stress of belonging to a minority community where smoking is a social norm tied to traditionally safe spaces like bars and clubs.
Last summer, the Alliance successfully worked with Milwaukee Pride to include smoke-free areas on the festival grounds so that all attendees would feel welcome and included, especially in the Health and Wellness, Youth, and Children and Families areas. Building on that success, the Alliance strategically grew its membership and continued to raise awareness of LGBTQ targeting, especially with menthol cigarettes, which are highly addictive and harmful. As a result, this spring, Milwaukee Pride agreed to "Say No to Big Tobacco" by rejecting a sponsorship and a promotional opportunity from a tobacco company's marketing arm, the Newport Pleasure Lounge.
The agreement came with a catch: The Pride board asked the Alliance to raise the funds to offset the Big Tobacco sponsorship money. Thanks to wide support within health- and LGBTQ-focused organizations, it did so, and the donors were recognized as sponsors of the festival.
"It was great," Mohr said. "During the opening ceremony the Pride board president made sure to say that they were taking a stand against Big Tobacco, so I think that sends a strong message to the community that we're not going to tolerate being targeted anymore."
The Alliance also screened the new video of Syd Robinson's quit journey, collected survey data on the use of e-cigarettes, and distributed "quit packs" and provided resources for smokers and vapers who need a little support while they break the habit.
"This year we saw fewer people smoking but a lot more people who were vaping," Mohr said. "It definitely was good timing for us to do more education and outreach to make sure people are aware of the health effects of vaping."
Mohr said the positive momentum with PrideFest Milwaukee can influence other festivals and outdoor events to go smoke-free, following the lead of Chill on the Hill, which has been a smoke-free event for several years.
"I think it opens the door to further conversations with Pride, but also with other festivals and events," Mohr said.
Smoke-Free Public Housing Up Next
The Alliance has also been educating residents of Milwaukee's public housing units on the July 1 rule that will prohibit them from smoking and vaping in their homes. This is a national rule from the Department of Housing and Urban Development (HUD) that has been in the works for a while.
Mohr said smoke-free housing is a big win for kids, since they will be less likely to develop asthma and require visits to emergency rooms and miss school because of their poor health. It'll also have a big impact on infant mortality as expectant moms won't be able to smoke indoors and won't be exposed to second-hand smoke.
Also in the works is a new video highlighting Bay View's very successful smoke-free Chill on the Hill and ongoing Wisconsin WINS checks of retailers that sell tobacco and other products within Milwaukee.