Spotlight On: Substance Abuse and Trauma
What's the connection between substance abuse and childhood trauma? And what can we do about it?
Those are the big questions explored in Community Advocates Public Policy Institute's new Substance Abuse and Trauma Training, led by PPI's Training and Technical Assistance Coordinator, Jeremy Triblett.
During this evidence-based training, substance abuse prevention specialists, youth workers, community advocates, and AODA counselors explore national, statewide, and local data on trauma and substance abuse.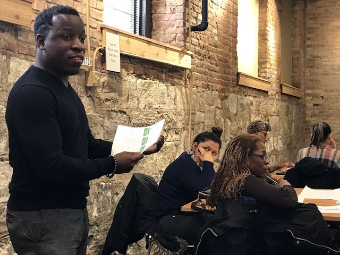 First, though, Triblett asks participants to get personal by discussing their experiences with substance abuse and trauma. Getting that intimate with virtual strangers isn't easy, which is precisely the point, Triblett explained. The exercise is intended to create empathy.
"We ask our clients to get personal right away, but we don't do it ourselves," he told those gathered in a February 28 training.
Then, Triblett provides an overview of substance abuse, the prevalence of childhood trauma, and risk factors for substance abuse.
Although those elements provide a broad framework in which to understand who may develop a substance use disorder, Triblett reminded the group that "risk and protective factors are not a promise."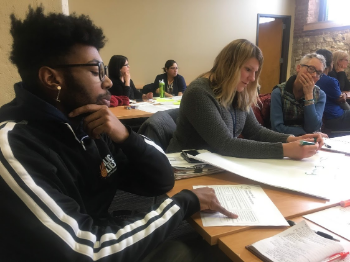 What Can We Do?
Triblett's training is highly interactive and designed to appeal to all learning styles. After discussing the basic principles of substance use disorder, trauma, and risk and protective factors, participants break into small groups to analyze a case study of a young person at risk.
They then use a step-by-step technique to identify and develop interventions to address that individual's core issues. Taking it one step further, they look at one factor and create strategies to target that factor at a community level. After all, if one young person is feeling depressed, has access to drugs, or isn't connected with school or their parents, a whole community of young people likely feel that way as well.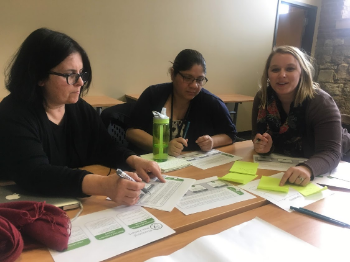 Participants were provided with substance prevention resources. These resources targeted youth, adults, families, and persons in recovery. They were encouraged to to share and reference these resources as they continue their work in community. 
Overall, participants come away with a deeper understanding of the intersection of substance abuse and trauma, as well as a greater awareness of how to develop effective strategies that produce change.
Want to learn more about Triblett's learning opportunities?
Click here for the calendar of trainings sponsored by the City of Milwaukee Office of Violence Prevention's ReCast MKE and the Public Policy Institute.
Click here to sign up for training announcements so you'll be the first to know about them.