2020 Eviction Data Show Impact of Rent Assistance & Eviction Bans
By Leah Jorn
Throughout the pandemic, evictions have been a threat to our already difficult public health situation. The associated economic downturn has left many people unable to pay rent. As we have seen throughout the pandemic, moratoriums are effective in preventing evictions, and even more effective when paired with rent assistance. The combination of a moratorium and rent assistance creates a win-win situation for tenants to stay safely housed and landlords to get rental income.
Both state and federal responses to this housing instability crisis have included eviction moratoriums, which have effectively controlled eviction rates. The Wisconsin moratorium started in late March and lasted until May. Evictions dropped from 1,084 in March to just 54 evictions statewide in April. After the moratorium was lifted at the end of May, statewide evictions spiked back up to 3,043 in June. In September, the federal Centers for Disease Control and Prevention (CDC) enacted an eviction moratorium. While not as effective as the Wisconsin moratorium, the CDC moratorium also helped slow evictions. Statewide, there were 1,940 evictions in August, which dropped to 1,295 evictions in September after the moratorium was put in place. This moratorium was in place for about 4 months in 2020 (September to December) and there were fewer statewide evictions than in the 3 months prior to this (June to August). Please see the following graphs for a more detailed show of eviction rates by moratorium (Fig. 1) and by month (Fig. 2).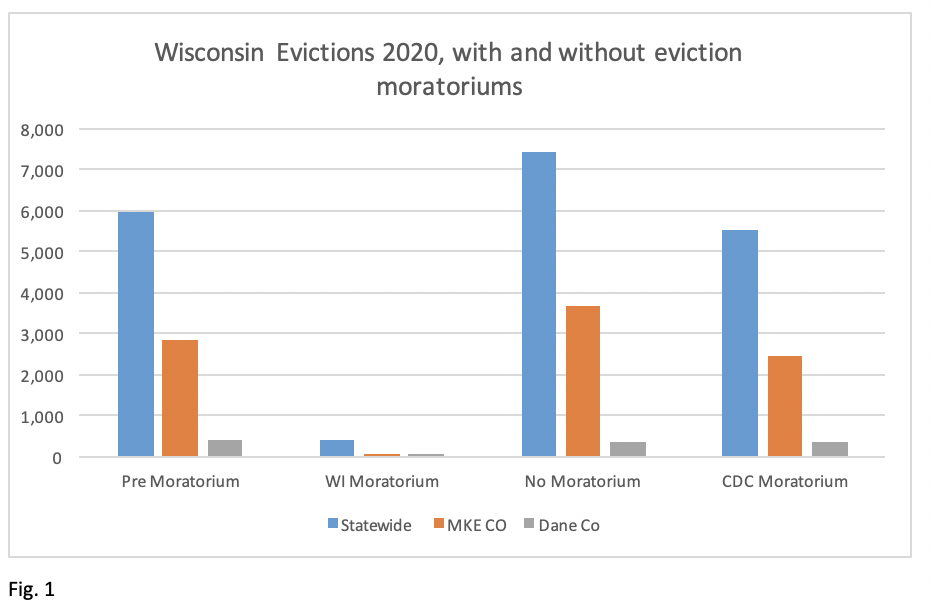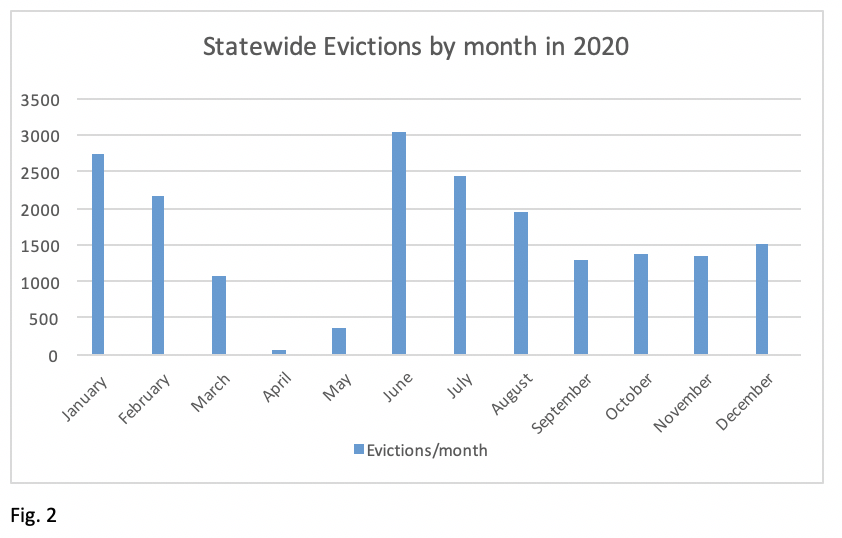 Pre-moratorium time span includes the months of January, February and March, before COVID-19 spread to the U.S. and during the first period of the pandemic.
The Wisconsin Moratorium was put into place on March 27, 2020, and lasted until May 26, 2020.
There was no moratorium in place during the months of June, July, and August.
The CDC began its moratorium on September 4, 2020, and it's currently extended through the end of June 2021.
The eviction rates indicate that moratoriums are effective in preventing formal eviction filings. Another way we can see this is by comparing eviction rates from 2020 to 2019. Statewide, evictions were relatively steady in 2019, ranging between 2,000 and 2,600 per month (Fig 3). Evictions in both 2020 and 2019 start at a similar amount—January of 2019 saw 2,289 evictions statewide and January of 2020 had 2,750 evictions statewide. Unlike in 2020, 2019 did not have drastic drops between months, because no moratoriums were in place.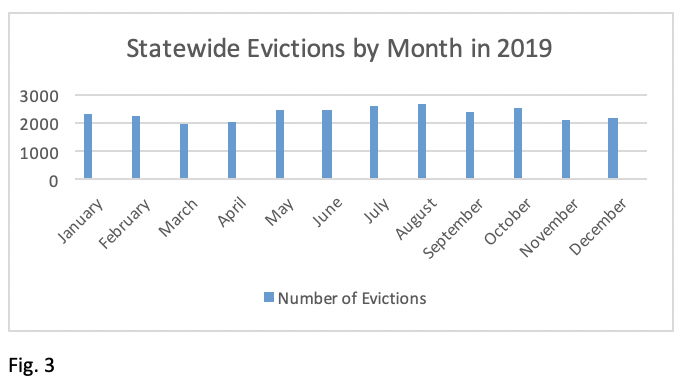 While moratoriums are effective in keeping people in their homes, they can be a burden for landlords who rely on rental income. Federal and private rent assistance dollars have helped tenants pay their rent. Rent assistance dollars were made available to states, and to large cities and counties in the CARES Act. When a tenant successfully applies for rent assistance dollars available via the CARES Act, the assistance is sent directly to the landlord in the tenant's name. Both tenants and landlords would benefit from more outreach and information sharing about the resources that are available to help struggling tenants.
Further information about the assistance available via the Milwaukee Rental Housing Resource Center and Community Advocates can be found at renthelpmke.org.
The pandemic has required a swift and broad response to housing insecurity and has been a driver of the development of working relationships between landlords and housing service providers. It has also proven that the combination of an effective moratorium and rent assistance is a powerful eviction prevention tool in times of crisis.
Leah Jorn assists clients of the Milwaukee Rental Housing Resource Center and provides research support to the Public Policy Institute's Healthy Housing Initiative. She will graduate with a BA in Environmental Studies from The College of Wooster in May.