Milwaukee Career and Employment Summit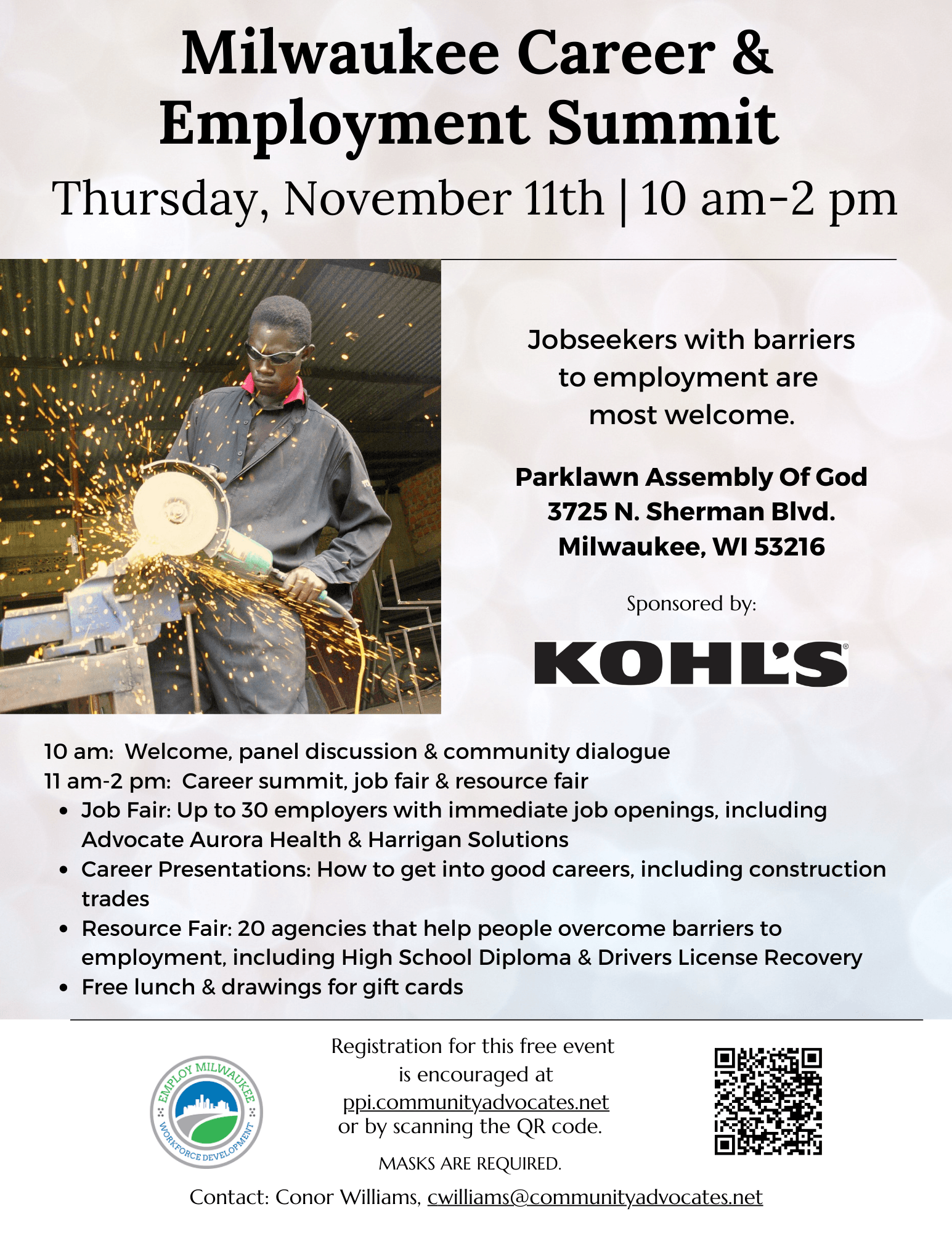 You're invited to the Milwaukee Career & Employment Summit!
Registration is FREE, please RSVP.
The Milwaukee Career & Employment Summit seeks to bridge historical divisions in our Milwaukee community and provide better opportunities for employment for all.
The Summit will comprise of testimonies from individuals who have overcome significant obstacles to employment, and presentations by employers and agencies who have a track record of employing people with obstacles to employment.
The Summit will also host a Career and Employment fair where those seeking careers and jobs will interface with employers and agencies who can offer good careers, jobs and career enhancement programs.
What to expect:
10 a. m.: Welcome, panel discussion & community dialogue
11 a. m.- 2 p.m.: Career summit job fair & resource fair
Job Fair: Up to 30 employers with immediate job openings, including Advocate Aurora Health & Harrigan Solutions
Career Presentations: How to get into good careers, including construction trades
Resource Fair: 20 agencies that help people overcome barriers to employment, including High School Diploma & Drivers License Recovery
Free food & drawings for gift cards
MASKS ARE REQUIRED
Location: Parklawn Assembly of God 3725 N. Sherman Blvd. Milwaukee, WI 53216
Sponsored by KOHL's
Partners: Employ Milwaukee, Coalition on Lead Emergency, MATC, MICAH, Milwaukee Transitional Jobs Collaborative, Project Return, Running Rebels, Urban Underground, Wisconsin Department of Corrections, US Department of Justice, Eastern District of Wisconsin, US Probation and Pretrial Services, Eastern District of Wisconsin, Wisconsin Community Services, Community Advocates Public Policy Institute