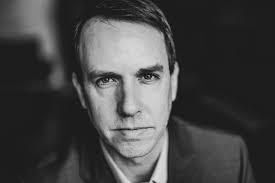 A large and supportive group of community members gathered at the Grace Center on Thursday, November 2, to celebrate Community Advocates Public Policy Institute's (PPI) 15th anniversary and to hear from author Ben Westhoff about his experiences in researching the fentanyl crisis and his solutions for preventing more deaths as Milwaukee County continues to see a surge in opioid deaths.
The evening started with an overview of the history and mission of PPI by Community Advocates CEO Andi Elliott, a brief but passionate speech about the opioid crisis by Milwaukee's fire chief, Aaron Lipski, a thoughtful and engaging speech by De'Shawn Ewing, PPI's Community Outreach and Engagement Manager, and an exploration of the vision of PPI by Community Advocates COO Maudwella Kirkendoll.
Ben Westhoff took the podium to discuss his book Fentanyl, Inc.: How Rogue Chemists Are Creating the Deadliest Wave of the Opioid Epidemic. His story was as engaging and harrowing as it was heartbreaking, as he discussed his experiences infiltrating a fentanyl lab in Wuhan, China. Westhoff showed footage of individuals dealing with their substance use disorder and participating in harm reduction programs. He emphasized that it was now impossible to prevent fentanyl from entering the United States, and that efforts should focus on preventing and minimizing the impact of addiction through education, especially among young people.
Overall, this event was not only a major milestone for PPI but was also an enlightening experience, with attendees walking away better educated and better equipped to handle the fentanyl crisis in a nonjudgmental, compassionate, and effective manner.