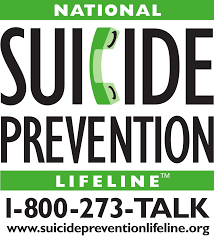 Each year, September is devoted to learning more about how to prevent suicide and making note of the impact suicide has on our relationships and our community. This year, Suicide Prevention Month takes on more weight as we cope with an extended pandemic and social isolation. According to recent research, while suicide rates among white people have declined, they have increased among Black and Brown people during the pandemic. Overall, middle-aged white men have the highest suicide rates, but young people of color are seen as increasingly at risk of suicide.
This Suicide Prevention Month, please get involved in one of the many events or trainings devoted to suicide awareness so that you can be prepared if you encounter someone who is considering suicide. Here are some resources for you:
American Foundation for Suicide Prevention offers a slew of resources for those who had survived suicide and their loved ones. To mark International Survivors of Suicide Loss Day, November 20, the organization is posting events to support survivors as well as resources, articles, social media graphics, and stories.
#BeThe1To is the National Suicide Prevention Lifeline's message for National Suicide Prevention Month and beyond, which helps spread the word about actions we can all take to prevent suicide. The Lifeline network and its partners are working to change the conversation from suicide to suicide prevention, to actions that can promote healing, help and give hope.
Community Advocates QPR Question, Persuade, Refer Suicide Prevention Training: CA is offering five two-hour sessions of this suicide prevention training on Zoom during September. Click here for details and to register. In-person sessions for small groups can be provided upon request. Contact Rita Liesiefsky at rliesiefsky@communityadvocates.net for more information.
National Alliance on Mental Illness (NAMI) provides resources, research, and contact information for those who are impacted by suicide.
Prevent Suicide Greater Milwaukee offers lots of resources, videos, and events on its Facebook page. It's also created a calendar of suicide prevention events during September and beyond, including events to mark World Suicide Prevention Day on Friday, September 10.
Prevent Suicide Wisconsin's online calendar lists suicide-prevention events throughout the state. Click here to see what's happening in your area.
Suicide Prevention Resource Center's website has a two-page guide on observing Suicide Prevention Month, as well as facts and resources about suicide prevention.
If you are having thoughts of suicide, help is available for you. The National Suicide Prevention Lifeline is a toll-free hotline at 1-800-273-8255. Nacional de Prevención del Suicidio es 1-888-628-9454. For TTY users: Use your preferred relay service or dial 711 then 1-800-273-8255. Text HOME to the Crisis Text Line at 741741.