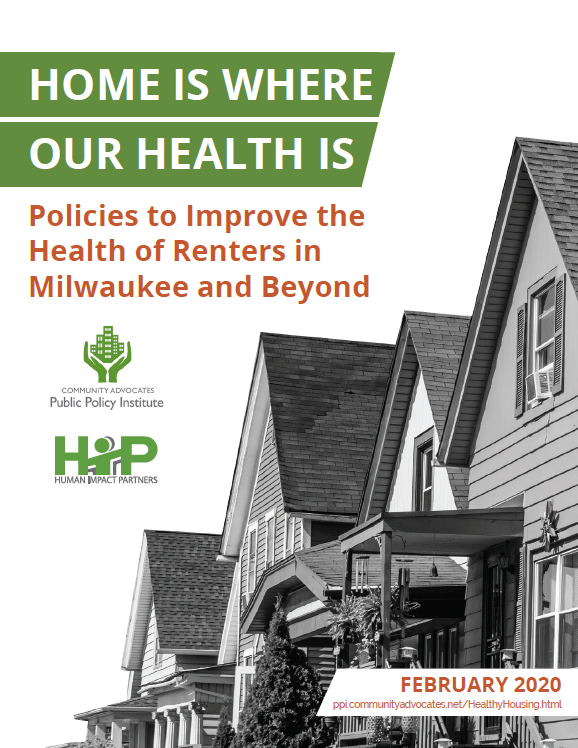 The events of 2020 have greatly upended many of the lives of individuals and families and put additional strain on those who were previously struggling to stay afloat. In response, Community Advocates has been working diligently to provide housing assistance and meet other needs of those most vulnerable, especially related to the extreme health and economic impacts of COVID-19.
While Community Advocates provides critical and responsive services, its Public Policy Institute (PPI) has been tracking and disseminating vital information on the city, state, and federal government response and process to navigating COVID-19 and implications on tenants and landlords. Further, PPI has been advocating for policy changes to alleviate the severity and long-lasting impacts on residents and expedite recovery from the effects of the pandemic.
Given the close relationship between one's housing and their health, the Healthy Housing Initiative, a project of PPI, has led the way with numerous advocacy and communication efforts to ensure housing affordability, quality, and stability for renters throughout this crisis and beyond. The Initiative seeks to improve public health and reduce inequities, prevent individuals and families from suffering in this housing crisis, and increase civic engagement with policy making.
In February 2020, following a two-year community engagement process, the Healthy Housing Initiative published a comprehensive report outlining consequential policies at every level of government to prioritize basic housing needs and improve wellbeing for Milwaukee residents and others across the state. This work and other work in the community, particularly the Eviction Prevention Task Force, informed and inspired the creation of the much-needed Rental Housing Resource Center.
The Center is a community collaboration housed within Community Advocates that launched virtually in March in immediate response to the COVID-19 pandemic. The center's co-partners include the Apartment Owners Association of Southeast Wisconsin, City of Milwaukee, Community Advocates, IMPACT, Legal Action of Wisconsin, Legal Aid Society of Milwaukee, Mediate Milwaukee and Milwaukee County. Their work and participation in the RHRC is funded by a variety of funders; project support is being provided by the Urban Economic Development Association of Wisconsin (UEDA).
Community Advocates and the Rental Housing Resource Center partners created a Rent HelpLine for tenants and landlords who are having financial hardship because of the COVID-19 crisis. Since the pandemic's start, the Rental Assistance Resource Center has seen a 10-fold increase in calls for assistance and is fielding 2,000 calls each week from clients experiencing housing insecurity. 
Beyond the report and the work that informed it, the Public Policy Institute has continued to provide information about and access to the wide range of programs and resources offered by Community Advocates and its partners, while dismantling misconceptions about federal, state, and city action, in addition to advocating for urgent action. 
In part, the Public Policy Institute's efforts since the onset of the pandemic have included:  
A March letter to Governor Evers and legislative leadership advocating for the great need for immediate state action to support modification of the unemployment compensation process for ease of access and prompt allocation; requiring the provision of paid leave so those diagnosed by COVID-19 and caregivers are able to remain home, to prevent further community spread of the virus and support a full recovery; enhancing health insurance coverage, including prevention and treatment of COVID-19; preventing eviction and forced moves; and providing tax relief and other policies that would alleviate economic and health impacts on Wisconsinites. 
In partnership with other statewide organizations, PPI sent an April letter to Governor Evers and legislative leadership to warn of the impending flood of eviction filings after the expiration of the state's eviction moratorium. Further, the letter fiercely advocated for additional resources to prevent this likely reality. This included the proposed extension of eviction and utility shutoff moratoriums as well as extending increased unemployment insurance to assist with housing arrears and other basic needs. 
Frequent interviews in local and national media about the impact of COVID-19, the statewide Stay at Home order, and the Wisconsin and federal eviction moratoria on tenants and landlords. These stakeholders also shared comprehensive resources in English and Spanish for area renters and landlords to raise awareness of policy, processes, and programs available to assist during these difficult times.
Communications to help those facing eviction and address misconceptions around the Federal Eviction Moratorium announced in September. This work includes addressing frequently asked questions to aid in our community's understanding of the moratorium, continuing to provide rental assistance, and push for additional resources for these critical services through congressional action.
While these grave concerns in our community have persisted, we continue to provide nimble and responsive services and advocacy for the members of our community in greatest need, work with our partners to ensure individuals and families are receiving necessary support, and advocate for high-priority action at all levels of government to ensure housing stability for renters and landlords during this exceptionally difficult time. 
Leslie Orrantia (O-ron-tee-uh) is a doctoral student in the University of Wisconsin-Madison PhD in Social Welfare program. She has a professional background that spans social services, higher education administration, and municipal government. Her interests lie at the intersection of transportation planning, design, and policy, and social welfare of underserved communities, including their access to and stability in quality and affordable housing.