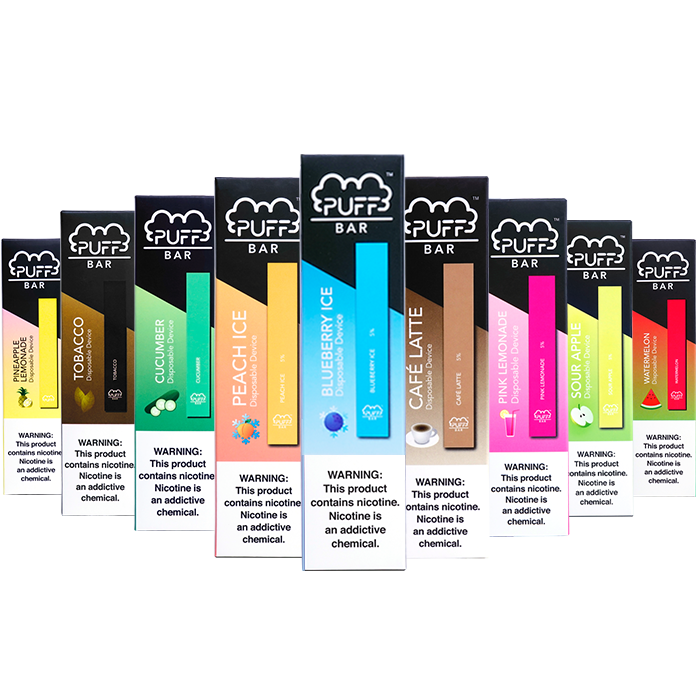 On February 6, 2020, a new FDA regulation went into effect banning certain types of e-cigarettes thought to be most attractive to youth -- reusable pod-based devices in all flavors except tobacco and menthol. New types of disposable e-cigarettes, however, seem to have no trouble blasting through the many loopholes in the new federal regulation.
Take Puff Bars, for example, which seem to be replacing JUULs as the go-to vape device that appeals to youth. Puff Bars, like JUUL, look like USB drives and offer tasty flavors, like O.M.G. (orange, mango, and guava), Café Latte, watermelon, Banana Ice, and lemonade. But JUUL isn't able to sell fruit- and candy-flavored vape pods under the new regulations. Puff Bars, in contrast, sell a limitless number of flavors because they're disposable, and single-use devices in all flavors are allowable under the new regulations, assuming they received FDA market authorization if introduced after August 8, 2016. Puff Bars and similar devices have not received market authorization, according to research from Rutgers University.
Another difference? The price point. JUULs cost up to $34.99, while the single-use Puff Bars are priced as low as $4.60 and deliver more nicotine than JUULs, according to research from the Truth Initiative.
Puff Bars contain nicotine salts, "a formula that allows for much higher levels and efficient delivery of nicotine with less irritation compared to earlier generations of e-cigarettes," Truth Initiative states.
Although Puff Bars slipped through the cracks in the new regulations, there's one bright spot. The maker of Puff Bars said it will no longer distribute or license these devices, although Puff Bars still can be purchased online. Look for more devices on the market that exploit the loopholes in the flavor ban, and expect more youth to grab onto the latest e-cigarette that is tailored to their tastes.
Maryland recently took action to prevent a new generation of youth addicted to nicotine by extending the federal ban on flavored e-cigarette cartridges to disposable devices.
For tips on how to talk to youth about e-cigarettes, visit tobaccoischanging.com and see Governor Evers' recent letter to schools, including a list of recommended resources.