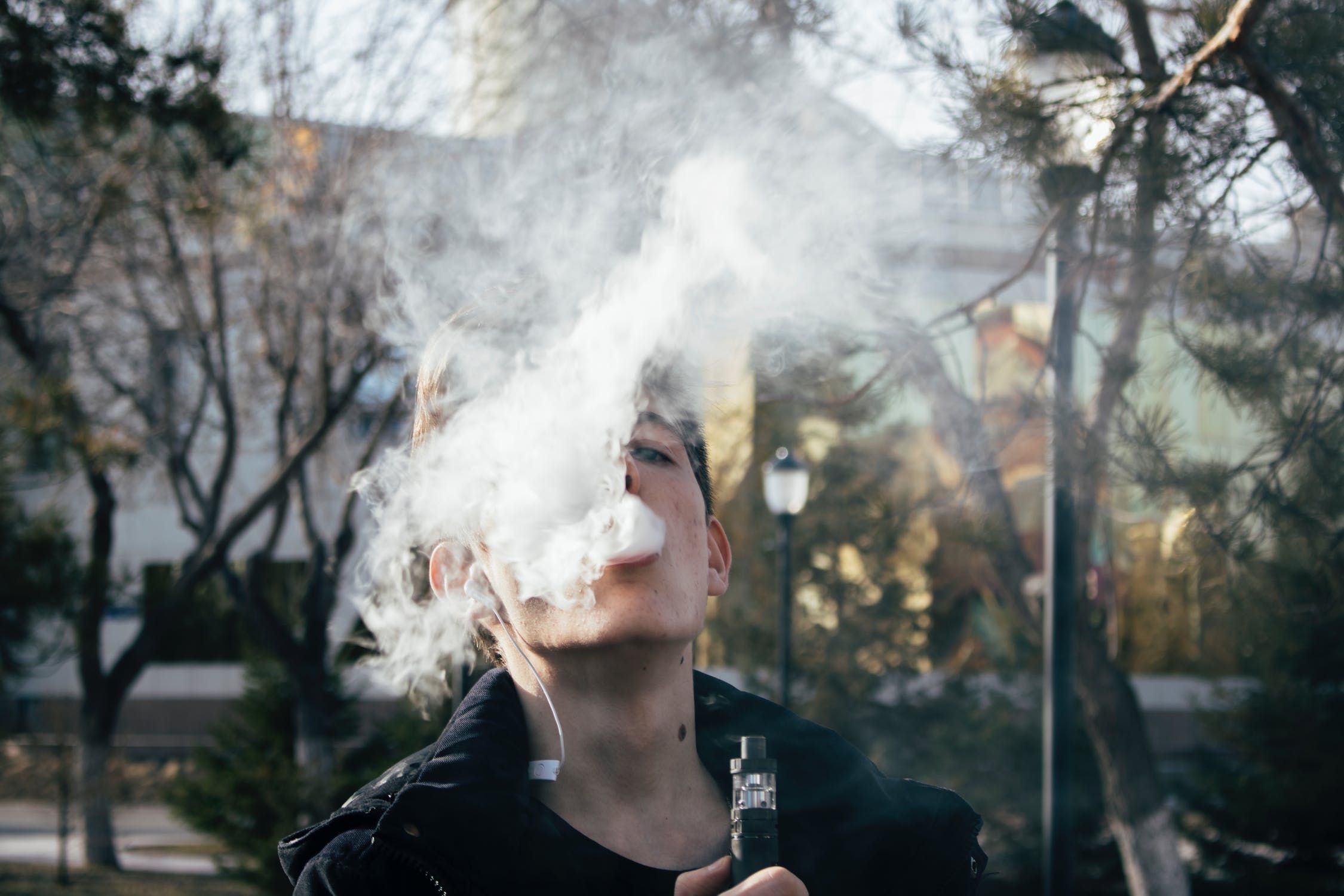 Last year, the public became more aware of the dangers posed by vaping as more than 50 people have died as a result of lung injury, most likely after vaping marijuana with vitamin E acetate.
At the same time, new national surveys found that vaping is becoming more popular among high school students, and a statewide survey found that one in five Wisconsin high school students reported using e-cigarettes.
Policy makers grappled with how to go about regulating e-cigarettes and vapes, such as the pod-based JUUL products. On the one hand, regulators want to prevent youth from becoming hooked on nicotine while still keeping the products on the market.
To address these concerns, by the end of the year a number of new regulations were enacted, including:
+ Tobacco 21: On December 20, 2019, the federal minimum age for tobacco sales was raised from 18 to 21. This sudden change was passed without a clear plan for how it will be rolled out and has been met with some confusion regarding state and local implementation.
This strategy has been dubbed "Tobacco 21" by tobacco control advocates, and according to the National Academy of Science, it is projected to decrease smoking among 15-17 year olds by 25%. Tobacco 21 is currently state law in 19 states. In the 31 other states where the legal age to purchase tobacco is younger than 21, including Wisconsin, state partners are scrambling to provide guidance to retailers and local tobacco control advocates.
"Although there has been some confusion around how this new policy will be enforced, all retailers across the country are now required to follow federal law, and should only sell tobacco products, including e-cigarettes, to adults 21 and older," said Anneke Mohr, Coordinator of the City of Milwaukee Tobacco-Free Alliance.
The FDA has an existing infrastructure in place to conduct inspections across the country, and penalties for violations can include a civil money penalty (ranging from $250 to $10,000) and a no-tobacco-sales order for repeat violations.
But to fully enforce Tobacco 21, Wisconsin needs to go a step further by updating state statutes and local ordinances. A bill to raise the age to 21 was introduced in the state Senate and Assembly, but neither one has received a vote in committee. To ticket and fine retailers, local municipalities will also need to raise the age of sale to 21.
Until Wisconsin state law is updated to match federal law, Wisconsin Wins compliance checks will continue to focus on making sure stores don't sell to teens under 18. If—or better yet, when—the age is raised to 21, the compliance checks will reflect that change and retailers will have an extra incentive to follow the law.
With Tobacco 21 now in effect nationwide, here are resources to help teens quit smoking or vaping:
+ Flavored Vaping Ban: At the top of 2020, the Federal Drug Administration announced new regulations on e-cigarette flavors. Pod- or cartridge-based e-cigarettes (such as JUUL) can no longer sell flavored pods other than tobacco and menthol flavors. E-cigarettes that use liquid rather than pods can sell any flavors. The FDA reasoned that JUUL and similar vapes are most popular with minors, and fruit and mint are the most popular flavors, so banning the flavored pods would be an effective way to keep them out of youths' hands.
Tobacco-control advocates had hoped for a stronger ban on flavors, as the president had indicated would happen last fall.
"The evidence is clear that flavored e-cigarettes are driving the youth epidemic," said Matthew L. Myers, President of the Campaign for Tobacco-Free Kids. "Most youth e-cigarettes users use flavored products and cite flavors as a key reason for their use. Only the elimination of all flavored e-cigarettes can end the worsening youth e-cigarette epidemic and stop e-cigarette companies from luring and addicting kids with flavored products. Rather than clear the market of all flavored e-cigarettes, as the Administration promised to do in September, the new policy allows menthol flavored e-cigarettes and flavored liquids in every imaginable flavor to remain widely available—and kids no doubt will be able to get their hands on them."
+ Milwaukee's Indoor Vaping Ban: Last year, the City of Milwaukee added vaping to its clean indoor air regulations, meaning that vaping is no longer allowed in indoor workplaces. To increase awareness of and compliance with the new regulations, you can contact Anneke Mohr for a printed window cling. Please report any violations of indoor vaping in public places here.
Vaping Increases in Popularity among Teens
A new national survey of more than 42,000 eighth, 10th, and 12th-grade students shows the increasing popularity of vaping, whether it's vaping marijuana or nicotine, indicating that comprehensive public policy needs to address this looming public health crisis.
The Monitoring the Future survey, released in September 2019, found that vaping marijuana has increased significantly from 2018 to 2019, whether it's vaping in the past year or month. Past month marijuana vaping among 12th graders nearly doubled from 2018 to 2019, from 7.5% to 14%, which the researchers say was the second largest one-year jump ever tracked for any substance in the history of the survey.
Vaping nicotine is even more popular than vaping marijuana or smoking tobacco products. The survey found that 25.5% of 12th grade students said they vaped nicotine in the past month, while 19.9% of 10th graders and 9.6% of eighth graders did so. Contrast that with the numbers of 12th graders who smoke little cigars (7.7%), traditional cigarettes (5.7%) and tobacco with a hookah (4%). Across all age groups, consuming nicotine has dropped in the past few years—with the exception of vaping nicotine.
Why are they vaping? According to the responses provided by 12th grade students, 60.9% of them said to experiment; 41.7% because it tastes good, 37.9% "to have a good time with my friends," 37.4% to relax or relieve tension, and 29% "to feel good or get high." A full 82% of 12th grade students said it's easy to get vaping devices, such as JUUL.
Local advocates have noted that usage patterns are likely different in urban centers compared to suburban and rural areas.
"Retail assessments conducted in three Milwaukee zip code clusters found that Milwaukee's central city had more menthol cigarettes and cheap, flavored cigars sold in corner stores, while stores in the suburbs and Upper East Side were more likely to sell e-cigarettes. This appears to mirror what we've heard from local school districts regarding product usage among students," said Anneke Mohr, Coordinator of the City of Milwaukee Tobacco-Free Alliance.
Although vaping is increasing among students nationwide, the Monitoring the Future survey showed that other substance use trends are declining. In general, rates of use/misuse of opioids, Adderall, traditional cigarettes, past-year alcohol use, and binge drinking are all on downward trends.
In 2019, 29.3% of 12th grade students and 18.4% of 10th grade students said they drank in the past month; those percentages are down from previous years.
c. 2020 Community Advocates Public Policy Institute