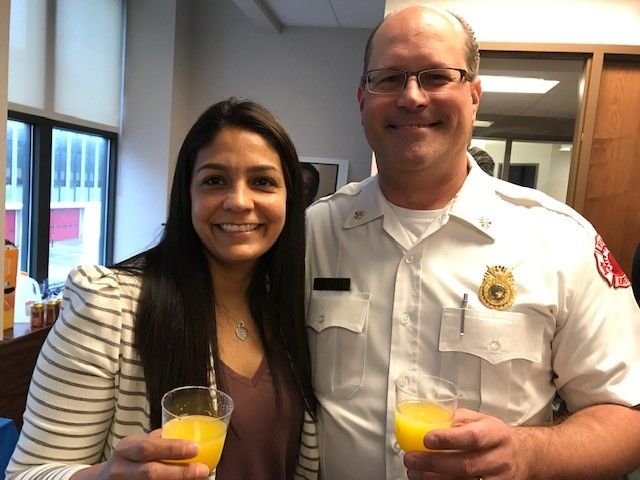 Locally, fire departments are on the front line of the opioid crisis as they are the first to respond to a reported overdose. But beyond administering Narcan to revive the individual, there doesn't seem to be much more they can do to help the person.
"Then we go, hey, you should get some help," said Milwaukee Fire Department Deputy Chief Aaron Lipski, who also serves as the chair of the Milwaukee County Substance Abuse Prevention (MCSAP) coalition. 
Fortunately, Lipski says, the next step is being taken with the formation of the Milwaukee Overdose Response Initiative (MORI), which pairs Milwaukee Fire Department community fire fighter paramedics with two peer supports to engage individuals who'd overdosed the previous day. In groups of two, the MORI participants return to the individual, encourage them to get into treatment, and provide resources so that if that person does want to get help, they know where to turn.
Community Medical Services (CMS) in West Allis, a 24/7 medication-assisted treatment facility, is one of the organizations that provides peer support to MORI. Amanda Rodriguez, who manages the clinic, said that in just a few short months a number of individuals connected to MORI have come in for treatment.  
"The way that we define success is that somebody answers the door or somebody took that information and went into treatment," Rodriguez said at a recent MCSAP meeting. "The Milwaukee Fire Department is doing an amazing job with that. The fire department gets them in the door and the peer gets them into treatment."
In addition, she said MORI seems to help the firefighter cope with the volume of overdoses they deal with all too often.
"The firefighters who volunteer for this come in off shift and they are the chauffeur," Rodriguez explained. "They may have Narcaned that individual the night before and now they will see him or her again in a different light. It gets to a point where it can be exhausting but now they can see that person in a different light. It's changing everyone's mind one day at a time. They are just doing an amazing job and I can't speak highly enough about the fire department and the peers that are doing this work."
To learn more about MORI, check out WUWM's story, "Opioid Crisis: Milwaukee County's New Rapid Response Program Draws Eyes across US."