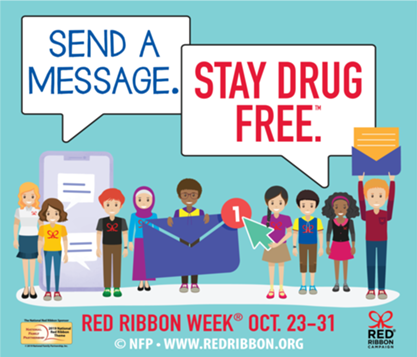 It's always a good time to celebrate the benefits of living drug free, and Red Ribbon Week (October 23-31), sponsored by National Family Partnership, is one of the better opportunities to raise awareness and show support for substance-free activities. This year's theme is "Send a message. Stay drug free," and the organizers provide a number of ways you can send the message you care about building a drug-free community, including:
Take the pledge: The National Red Ribbon Campaign Pledge is available for parents and for youth.
Win $1,000: The Ninth Annual National Red Ribbon Photo Contest offers prizes for home and school decorations.
Hear from storytellers: Natural High offers videos from 40 storytellers, including pro athletes, musicians, and creative leaders on why they live substance free. Discussion questions and activities are provided as well.
Organize school activities: In addition to decorating, students can enter their ideas for the 2020 theme and potentially win $500, or hold a Red Ribbon Rally at school, write an article for the school newspaper, or create celebration days. Get ideas here.
Wear red: Organize red-themed days and talk about why you're celebrating Red Ribbon Week.
Get social: Download Red Ribbon Week's planning guide, which includes graphics, fact sheets, and social media tips.
Take a picture: We'd love to hear how you're marking Red Ribbon Week this year, especially if you're getting creative. Take a picture and tag us on Facebook (@CAPublicPolicyInstitute) or email them to Amanda Clark.
"On October 29, we'll be hosting a mini-resource fair in the reception area of Community Advocates' downtown offices, where we'll give out prevention resources to our clients and visitors and talk about what all of us can do to prevent harm from substance abuse," said Amanda Clark, 53206 Drug-Free Communities coordinator. "It will help to reinforce the message that living substance-free is the best choice anyone can make."