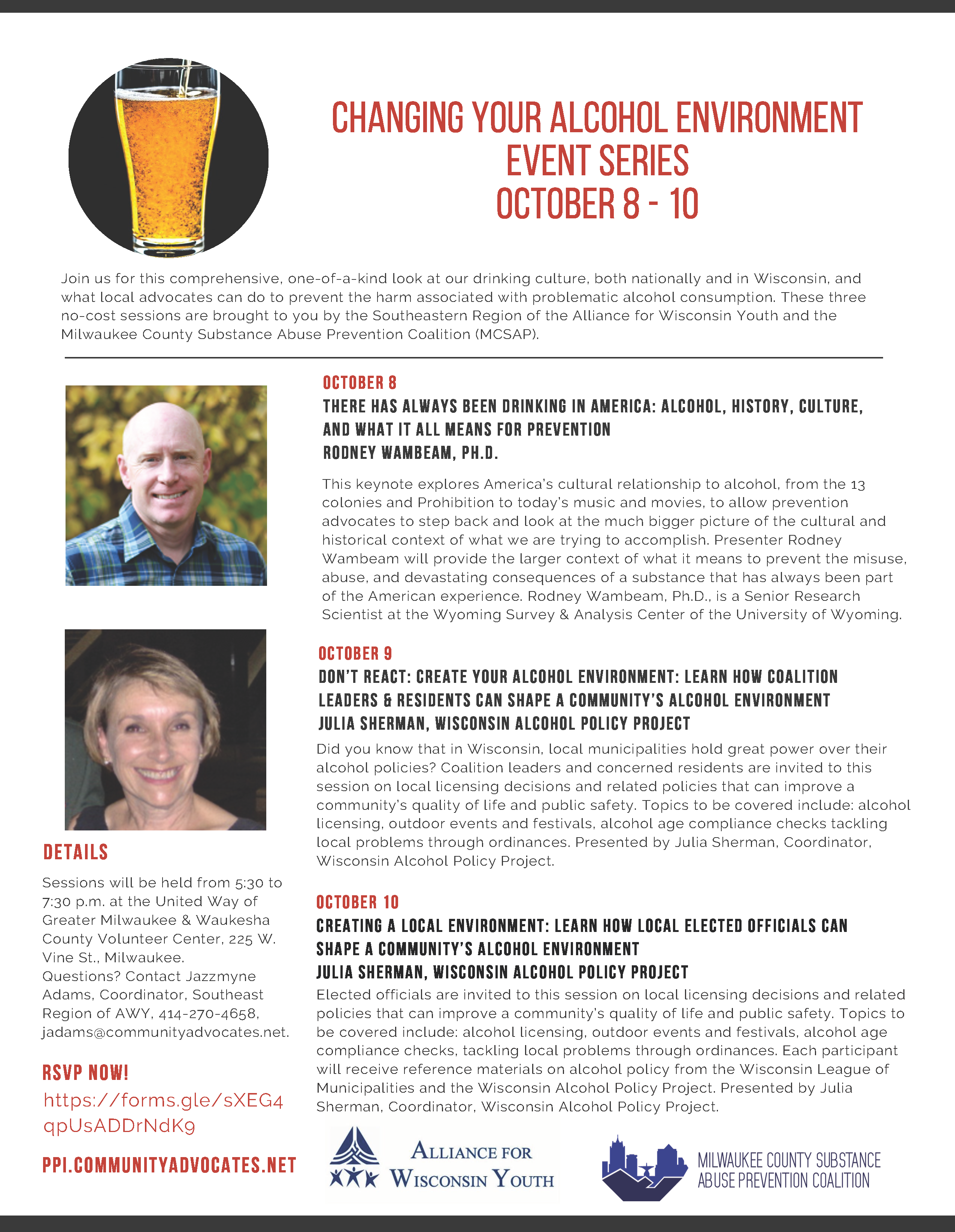 For too long, problem drinking has caused harm to our families and communities. Wisconsin leads the nation in excessive drinking, with one-fourth of adult residents drinking saying that they binge drink. And although teen drinking is decreasing, 30.4% of Wisconsin students say they currently drink, about twice the number of students who currently smoke marijuana.
With statistics like these, we think our community is ready for a conversation on what we can do to prevent and reduce problematic drinking.
Therefore, we're inviting members of the community and elected officials to attend the Changing Your Alcohol Environment Event Series, to be held October 8 through 10 in Milwaukee. Sponsored by the Alliance for Wisconsin Youth and the Milwaukee County Substance Abuse Prevention (MCSAP) coalition, the series will explore our "alcohol culture," as well as what residents, advocates, and elected officials can do to increase public safety and health in their communities by preventing and reducing problematic drinking.
"We're looking forward to a lively discussion on what residents and elected officials can do to target underage drinking as well as binge drinking among adults," said Jazzmyne Adams, Coordinator of the Southeast Region of the Alliance for Wisconsin Youth. "We think that Wisconsin is ready for this conversation."
The series begins on Tuesday, October 8, with a keynote talk by Rodney Wambeam of the University of Wyoming on the role of alcohol in our culture, both nationally and in Wisconsin, going back to the United States' earliest years. Advocates in Wyoming reduced underage drinking by 40%, thanks to community policies that helped to change the culture and norms around problematic drinking in that state.
On Wednesday, October 9, and Thursday, October 10, Julia Sherman of the Wisconsin Alcohol Policy Project will explore what residents and local elected officials can do to shape their community's alcohol environment. Local municipalities in Wisconsin hold great power over their alcohol policies, giving elected officials and residents the opportunity to make changes that improve public safety and health. Sherman's talk will be tailored to community members on October 9 and elected officials on October 10.
"We're hoping that our community and local officials will understand how they can prevent and reduce underage drinking and binge drinking and all of the problems associated with them, such as impaired driving, increased risk of accidents, loss of productivity, addiction, and strain on personal relationships," said Kasaundra Brown, Coordinator of the Milwaukee County Substance Abuse Prevention Coalition.
All sessions will be held from 5:30 to 7:30 p.m. at the United Way of Greater Milwaukee & Waukesha County, 225 W. Vine St., Milwaukee. RSVPs are required for this free community event at this link. Light refreshments will be served.