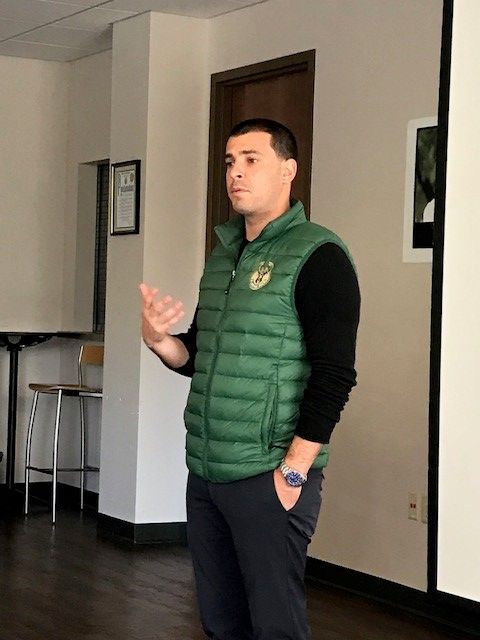 Milwaukee Bucks Senior Vice President Alex Lasry explained very simply why downtown's new 30-acre entertainment district is free of cigarettes, cigars, and e-cigarettes: "This is kind of the new living room of Milwaukee."
And just like most people wouldn't allow someone to light up in their living room, the Bucks decided that not allowing smoking or vaping on their home turf would allow the vast majority of visitors to feel comfortable and be healthy while enjoying a game or concert in the Fiserv Forum or simply hanging out on the plaza, in the parking structure, or the Sports Science Center.
"Our hope is that maybe this will lead to a lot of people realizing that smoking is not cool and hip, it's not the thing that I should be doing," Lasry explained at the quarterly meeting of the City of Milwaukee Tobacco-Free Alliance. "Hopefully we will start to set an example and lead on this issue."
Lasry said the Bucks' arena district wouldn't impose a strict zero-tolerance policy for smoking, but security personnel would ask someone smoking or vaping to stop. If that doesn't work, that person will be escorted out.
"If you want to smoke, you will literally have to go outside our development to be able to smoke," Lasry said. "Hopefully that will lead people to not want to do that. Hopefully it will lead them to a quality experience, and guest experience, for everyone who is in the entertainment district."
In addition, Lasry said the policy would help the arena attain a high Leadership in Energy and Environmental Design (LEED) certification, a sign of the team's commitment to sustainability, health, and wellness. So instead of prohibiting smoking from within a certain distance from the arena, the Bucks decided to make the entire district smoke- and vape-free.
"We want to create an environment where everyone can live, work, and play in a smoke-free environment," Lasry said.
The Bucks entertainment district joins a growing number of outdoor venues in Milwaukee that have gone smoke-free, including Miller Park, Chill on the Hill, the Milwaukee County Zoo, and the Estabrook Beer Garden.
"We applaud the Bucks for their commitment to creating a healthy environment," said Anneke Mohr, coordinator of the City of Milwaukee Tobacco-Free Alliance. "Exposure to secondhand smoke can ruin an otherwise great night for many people. This will ensure that everyone can enjoy this new space in Milwaukee, while also cutting down on litter from cigarette butts and promoting an eco-friendly environment."