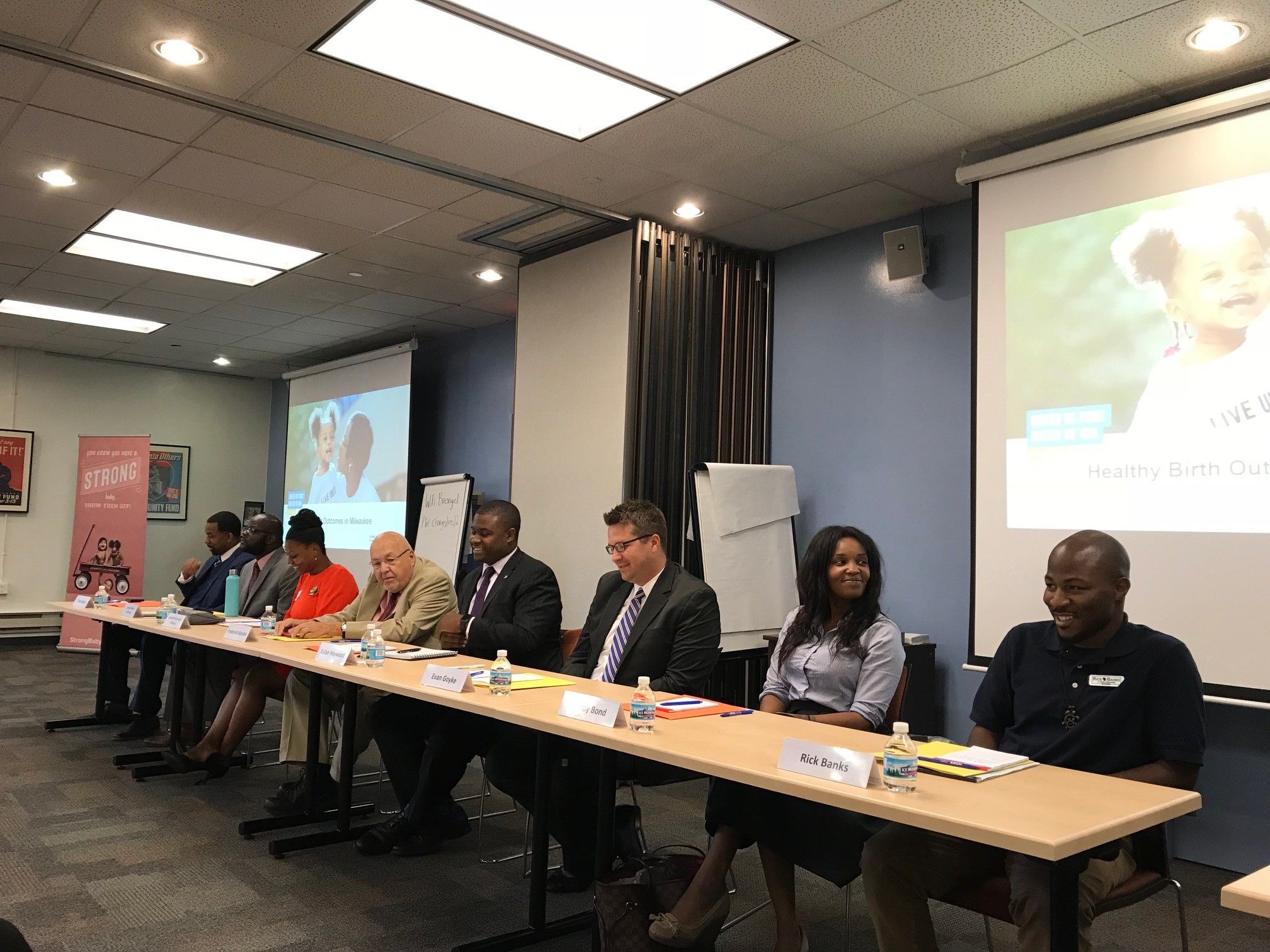 "You absolutely cannot deal with prematurity unless you have that understanding that stress is a driver, chronic stress, constant, unremitting stress," Dr. Chip Morris explained during a forum on healthy birth outcomes in Milwaukee.
The forum was moderated by Nicole Angresano, vice president, community impact, at United Way of Greater Milwaukee & Waukesha County, during the "Healthy Babies, Healthy Communities" program sponsored by her organization, as well as the City of Milwaukee Tobacco-Free Alliance and Community Advocates Public Policy Institute. Two guest speakers -- Dr. Chip Morris, representing the United Way's Milwaukee Lifecourse Initiative for Healthy Families Collaborative, and Hattie Griggs, a Health Educator at First Breath -- presented before Angresano moderated a discussion with the candidates for Assembly Districts 12, 16, and 18.
Chronic Stress Drives Prematurity
Dr. Chip Morris presented on how we can improve birth outcomes for babies in Milwaukee, a special focus of the United Way. Morris noted that while infant mortality has greatly decreased in the past century, disparities still exist in our community in 2018. Milwaukee's African American babies are about three times as likely to die before their first birthday as Milwaukee's Caucasian babies.  
The cause? Complications of premature births cause 55.6% of all infant deaths in the city. "If you reduce prematurity, you will reduce infant mortality," Morris said.
Here again, racial disparities are apparent. Almost two-thirds (60.7%) of African American infants who die were preemies, while one-third (32.6%) of white babies who die before their first birthday were born premature.
Beyond infancy, the effects of pre-term births are long-lasting. Morris called prematurity "a lifetime disability creator for the children who experience it" because it can lead to adverse health conditions, learning disabilities, and high medical bills in the short- and long-term.
Morris suggested addressing prematurity's root cause: chronic stress.
When a pregnant woman experiences chronic stress, he explained, she releases more stress hormones -- such as cortisol and adrenaline -- that prepare her for threatening situations. Her long-simmering elevated stress hormones impact her unborn child because they impair the blood flow to the placenta (resulting in low birth weight for the baby) and uterine irritability (causing early labor).
"The infant is under stress constantly and in that stressful situation, prematurity, early delivery, is really the only response that the infant has," Morris said.
Morris suggested that we work toward reducing pregnant women's chronic stressors -- including daily experiences with racism, substandard transportation, employment, and housing -- to improve babies' chances of surviving and thriving.
Not only will this reduce prematurity, "It's a good way to run a community," Morris said.
Pregnant Women's Can't Always 'Just Quit'
On a more intimate note, First Breath's Hattie Griggs talked about the work her organization does with pregnant women, new moms, and their family members to reduce their tobacco use and exposure to second-hand smoke. Although the awareness of the harm smoking during pregnancy causes has increased -- reducing the number of pregnant women in Wisconsin who smoke from 1 in 9 twenty years ago to 1 in 5 in 2016 -- disparities still exist. Single moms, those with less education, and women whose partners smoke are more likely to smoke during pregnancy. And that leads to miscarriage or stillbirth, low birth weight, prematurity, Sudden Infant Death Syndrome (SIDS), asthma or another lung issue, and behavior issues, including smoking.
Griggs said that women are expected to "just quit" when they're pregnant, but that isn't always easy, thanks to stressors pregnant women face.
"Smoking is a stress reliever," she said. "It's just not a healthy one."