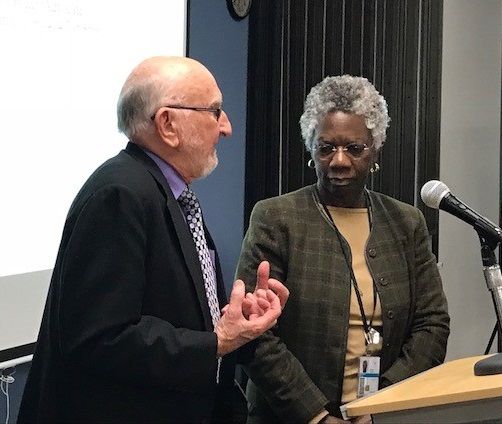 There are a few ways to prevent young people from getting hooked on alcohol, drugs, or nicotine. You can warn them about the harm these substances can do, and listen to the reasons youth want to try it. You can advocate for healthier policies and make parents and interested adults aware of how these substances can affect their kids. And you can change the environment so that young people aren't surrounded by tempting messages and products.
The 53206 Drug-Free Communities project, housed at Community Advocates Public Policy Institute, is working on all of the above in their effort to improve the health and quality of life of Amani residents on the near North Side.
This summer, 53206 DFC Coordinator John Eshun and Associate Tyler Hadley, a Public Ally, are gathering information from youth and neighborhood retailers to learn more about the health challenges facing the 53206 with the aim of identifying targeted solutions to those challenges.
Eshun and Hadley have been working with the Wisconsin African American Tobacco Prevention Network to do store assessments in the neighborhood to look at the marketing and placement of various products in corner stores, primarily tobacco products and e-cigarettes, alcohol, and food.
"We talk all the time about how retail stores could potentially be a benefit to society and sell products that people need, like food and water," Eshun said. "Going in some of these corner stores and looking at the products made it very clear about what's good and what's not."
While the assessments aren't complete, Eshun said he's already learned a lot about how retailers appeal to kids in their stores.
"Checking to see if tobacco products were next to candy was never something I noticed, but it's definitely prevalent," Eshun said. "Seeing tobacco ads within three feet of the floor happened occasionally. So, that's what kids see, versus putting it up and away where you have to look for it and it's harder to get."
Eshun was also struck by the type of alcohol being sold in the stores -- primarily larger volumes, with higher alcohol content, and at lower prices -- a retail strategy identified by City of Milwaukee Tobacco-Free Alliance data gathered previously.
"In the 53206 Zip codes versus the county, they sell higher amounts of single alcohol products, single cans, single malt beverages, single flavored malt beverages, and they also sell higher alcohol content and volumes of malt liquor," Eshun said. "It is pretty visible that they are targeting certain products in this Zip code."
The 53206 DFC is also partnering with Employ Milwaukee and the Milwaukee Police Department to sponsor compliance checks this summer to determine if liquor stores are selling alcohol to minors illegally.
"We have kids that are over the age of 18 and under the age of 21 go into liquor stores and attempt to purchase alcohol products," Eshun said. "They are trailed by a police department squad car from the licensing division, so in case they are sold the liquor they will be followed by a police officer who will fine them for selling alcohol to minors."
Eshun and Hadley have also been surveying 53206 youth on their use of and attitudes toward marijuana and alcohol. They've been distributing surveys at Friday afternoon pop-up lots in the 53206 and at other community events and hope to complete 150 surveys by the end of the summer.
"The vast majority of responses we're hearing for both alcohol and marijuana is that kids will tell you that stress and anxiety are happening, so they are basically saying they're self-medicating," Eshun said. "The vast majority of kids are self-medicating for either trauma or other developmental challenges."
Hadley has been picking up on that theme while conducting drug and alcohol prevention workshops with the youth from LaVarnway Boys and Girls Club.
"A lot of them say that older people use weed because they're so stressed out," Hadley said. "They have stress they can't deal with, and nobody is showing them how to cope with things that come their way."
Hadley has been working with the middle and high school students on increasing their understanding of the harm posed by marijuana, alcohol, and opiates (specifically, Lean) and dissecting media messages so they better understand the messages they're getting from pop and celebrity culture. They'll also produce a PSA about substance abuse.
"The whole point is to question the media and increase their media literacy," Hadley said.
The 53206 Drug-Free Communities project has also built deep alliances with the Dominican Center, COA Goldin Center, Safe & Sound, Amani United, Children's Hospital, Auer Avenue Community School, Hopkins Lloyd Community School, Hephatha Church, and other local organizations to improve services to youth and families in the Amani neighborhood. Since access to services also reduces substance abuse in families, the 53206 DFC works with its partners to reduce barriers for families to obtain housing, employment, and health care, and improve the quality of life for all neighborhood residents.