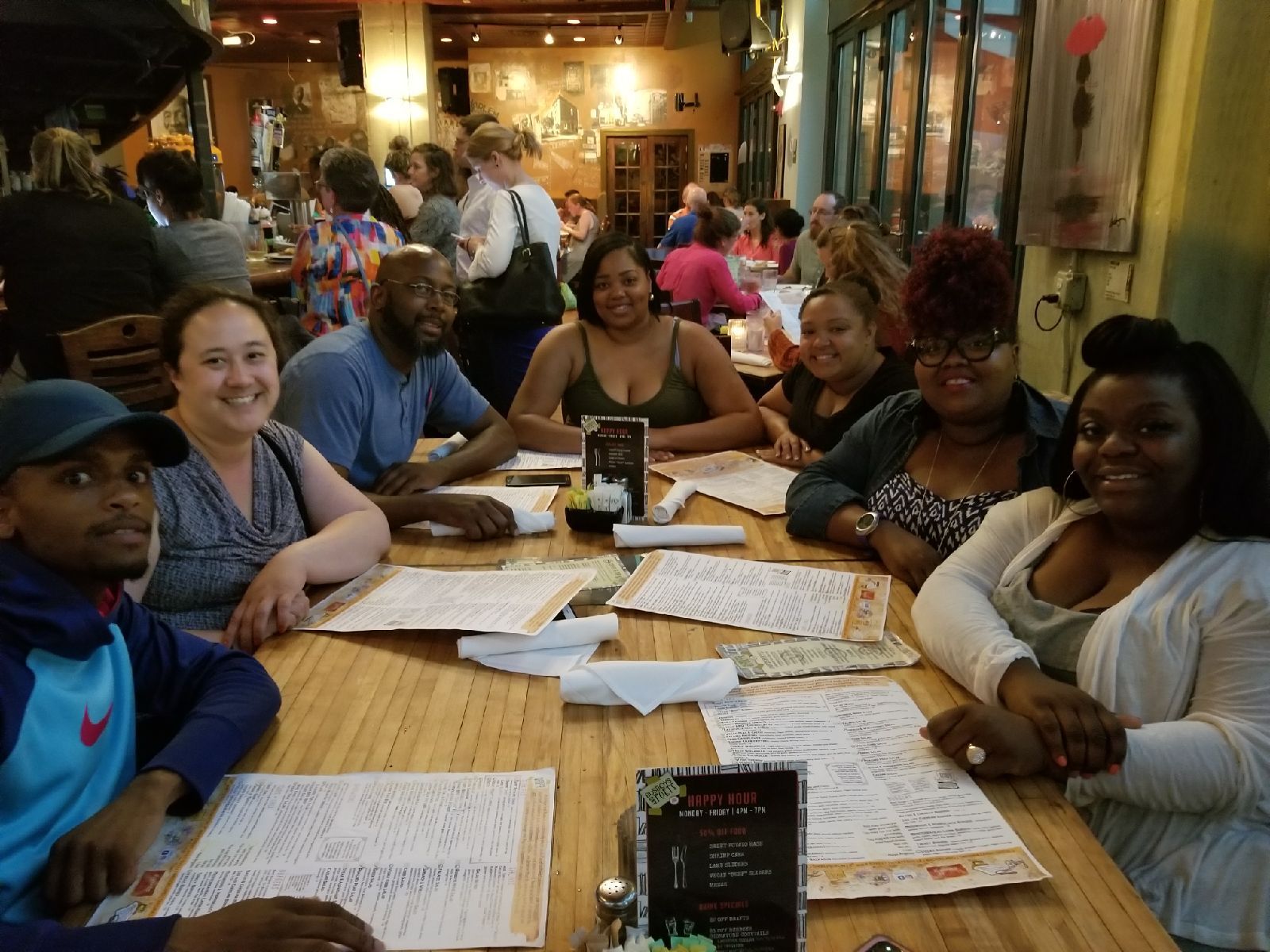 Milwaukee's teen pregnancy rate is decreasing overall, thankfully. But the pregnancy rate for both African-American and Hispanic teens is still more than double the rate for white teens, indicating that there's more work to be done to ensure that our young people are making good choices and finding ways to weather crises and recover from trauma. That's why Community Advocates Public Policy Institute was happy to help its Title V Teen Pregnancy Prevention subgrantees to attend the 2018 Adolescent Pregnancy Prevention Conference in Washington, D.C., from May 30 to June 1. This year's conference focused on "Strengthening Communities: Promoting Resiliency in Youth and Families."
"We always encourage our partners to build their skills by learning from national experts and bringing those ideas back to Milwaukee," said PPI Prevention Services Manager Elysse Chay. "This conference inspired us to try new strategies and deepen our understanding of positive youth development."
For LaTasha Holt, LADY Program Coordinator at Silver Spring Neighborhood Center, keynote speaker Kenneth Ginsburg, M.D., of the Children's Hospital of Philadelphia, was a highlight. Ginsburg explored how stress impacts teens' physical and emotional health.
"Dr. Ginsburg also something that will stick with me forever," Hold said. "He said to understand stress is to be resilient!"
Nicole Hamilton of the Milwaukee Christian Center said the conference helped her realize the importance of listening to -- and being led by -- youth.
"One of the most powerful things that I heard came from a comment to the youth panel," Hamilton said. "He stated that there should be more youth at the helm of this sexual health movement. I tend to agree with him. The older that the youth service workers are, the larger the gap in communication will become. We need to find more ways to push our youth out into the forefront and support them in the background when needed. I am not sure how at this point, but I know that the impact from youth to youth is great."
De'Shawn Ewing, Youth Programs Manager at The Parenting Network, said that attending the panel on using peer mentors in the areas of dating and adolescent pregnancy prevention was valuable.
"It allowed for participants to see both the benefits and challenges of incorporating a peer mentor model into programs and schools," Ewing said.
Jennifer Langoehr, Program Coordinator at PEARLS for Teen Girls, also emphasized the importance of incorporating youth in programs aimed at building healthy relationships.
"I learned about how to talk to and interact with adolescents who may be in or know someone in abusive relationships and received a new resource to share with our girls," Langoehr said. "We also learned how to give up the power in those situations, so the adolescents would feel safe about sharing their stories. I also really like the small resource we received that we'd give to adolescents who may not be willing to share with us as adults, but could still hold onto something that would help them."
She said she also became more aware of an often-overlooked group of teens who need to address their sexual health.
"I learned about the kids who may not get proper education about sexual health and pregnancy prevention because they're a part of the juvenile or foster system," Langoehr said. "Things I was surprised to learn included foster parents denying this type of education to the foster children for different reasons, even though the foster children are engaging in the acts. We also learned how family court judges are taking action after seeing so many young people come into their courts pregnant and/or who may have STI's."
Overall, though, the Milwaukee Christian Center's Hamilton said she appreciates the opportunity to strengthen her relationships with her peers in Milwaukee.
"I really enjoyed connecting and bonding with Milwaukee," she said. "I will call on them during my next cohort of students and remember them in planning so that we can collaborate more and strengthen our efforts."