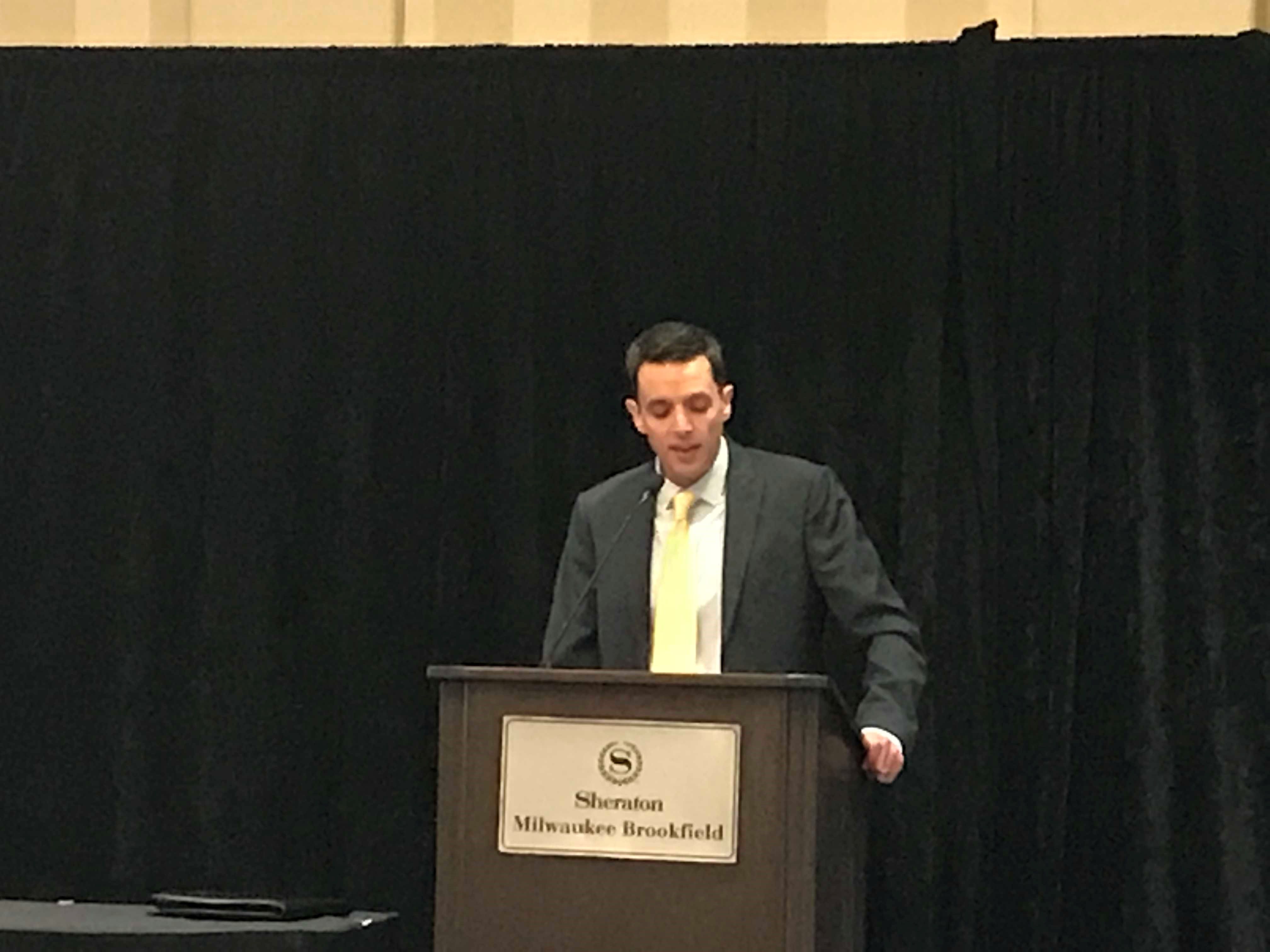 This week, the southeast region of the Alliance for Wisconsin Youth (AWY) organized a Partners in Substance Abuse Training in Brookfield that brought together AWY coalition members from the south, southeast, and northeast parts of Wisconsin to take a deep dive into prevention methods.
The training's plenary speaker, Paul Krupski, knows the organization well. He's the former contract administer for AWY who now works as the Director for Opioid Initiative for the state Department of Health Services. He recalled that in 2014, AWY was made up of five regional centers with base funding of $329,000. Now, just four years later, AWY has grown to 11 regions and annual base funding of 579,595 with additional discretionary grants bringing the total to $2.8 million yearly for prevention coalition work.
"In Wisconsin, our coalition structure, our infrastructure and system, is really nationally renowned," Krupski told the attendees. "There are many states that look to us to find out how to do it."
That's the good news. The less stellar news is that Wisconsin, like the nation, is still in the midst of an opioid epidemic that claims the lives of 115 Americans daily. While prevention initiatives like AWY play a key role in preventing and reducing substance misuse, this is a national emergency that requires all hands on deck from prevention, treatment, and recovery professionals and advocates.
Here are the emerging trends in this opioid crisis:
This Is an Emergency
11.8 million Americans misused opioid pain relievers in 2016. And a shocking 115 Americans die each day as a result of an opioid overdose. "This number was also recently updated by the CDC [Centers for Disease Control] and in presentations I was giving last year, or even in early 2018, that number was 90," Krupski said. "So the unfortunate part of that is you're obviously seeing that this is increasing. 115 Americans a day is just not acceptable. This shows, again, the enormity of the battle we're fighting."
It's an American Problem
The United States is home to 4.4% of the world's population, yet Americans consume 99% of the global supply of hydrocodone (AKA Vicodin) and 80% of its oxycodone (AKA Oxycontin). The majority of these opiates are manufactured in China.
Home Isn't Always a Safe Space
Contrary to popular belief, those who misuse prescription opioids don't get them from drug dealers or on the street. Instead, more than half buy or otherwise get them from a friend or relative. "This really gets to the heart of lots of the coalition work and a lot of efforts that you're doing," Krupski said. "When you're talking about safety and disposal of medications, your Take Back events, the lock bags that many of the coalitions have passed out to your members – this shows why those efforts are so important."
Treatment Options Are Scarce
Nationally and in Wisconsin, there isn't enough treatment capacity to meet demand. "More people who are abusing heroin are accessing treatment than those who are abusing prescription drugs, just over 37%. It's just over 17% for prescription drugs," Krupski said.
Synthetic Opioids Pose a Deadly Threat
The rise in overdoses can largely be attributed to the presence of synthetic opioids (primarily fentanyl and carfentanil) in other opioids, making the mix highly potent and dangerously fatal. These substances have hit Milwaukee County hard. In 2003, 16 individuals in the county died with a synthetic opioid in their system. In 2015, that doubled to 30 deaths. Just one year later, in 2016, that spiked to 103 synthetic opioid-related deaths in Milwaukee County.
"It took 12 years to not quite double, from 16 to 30, to the next year it more than tripled, from 30 to 103," Krupski said. "The emergence of [synthetic opioids] into the opioid crisis is something that we have to consider, that we have to use to reassess our efforts in what we are doing at the county level but also at the state level."
Pot Smokers & Coke Users, Beware
It's not just opiates that are being spiked with fentanyl and carfentanil. Law enforcement are finding these substances in their seizures of marijuana and cocaine. "The vast majority of them are being laced with a synthetic opioid product, with fentanyl or other analogs," Krupski said. "The danger here is that you have drug users whose drug of choice might be marijuana or cocaine, and they don't understand that the drug that they are using, that they may have been using for a while, now is way more potent than anything they may have done before because it's laced with these synthetic opioids and they have no idea about that.
"The second piece to that is that now they are becoming addicted to another substance as well. They might be using marijuana, they might be using cocaine, and now they don't know it but they are becoming addicted to opioids as well."