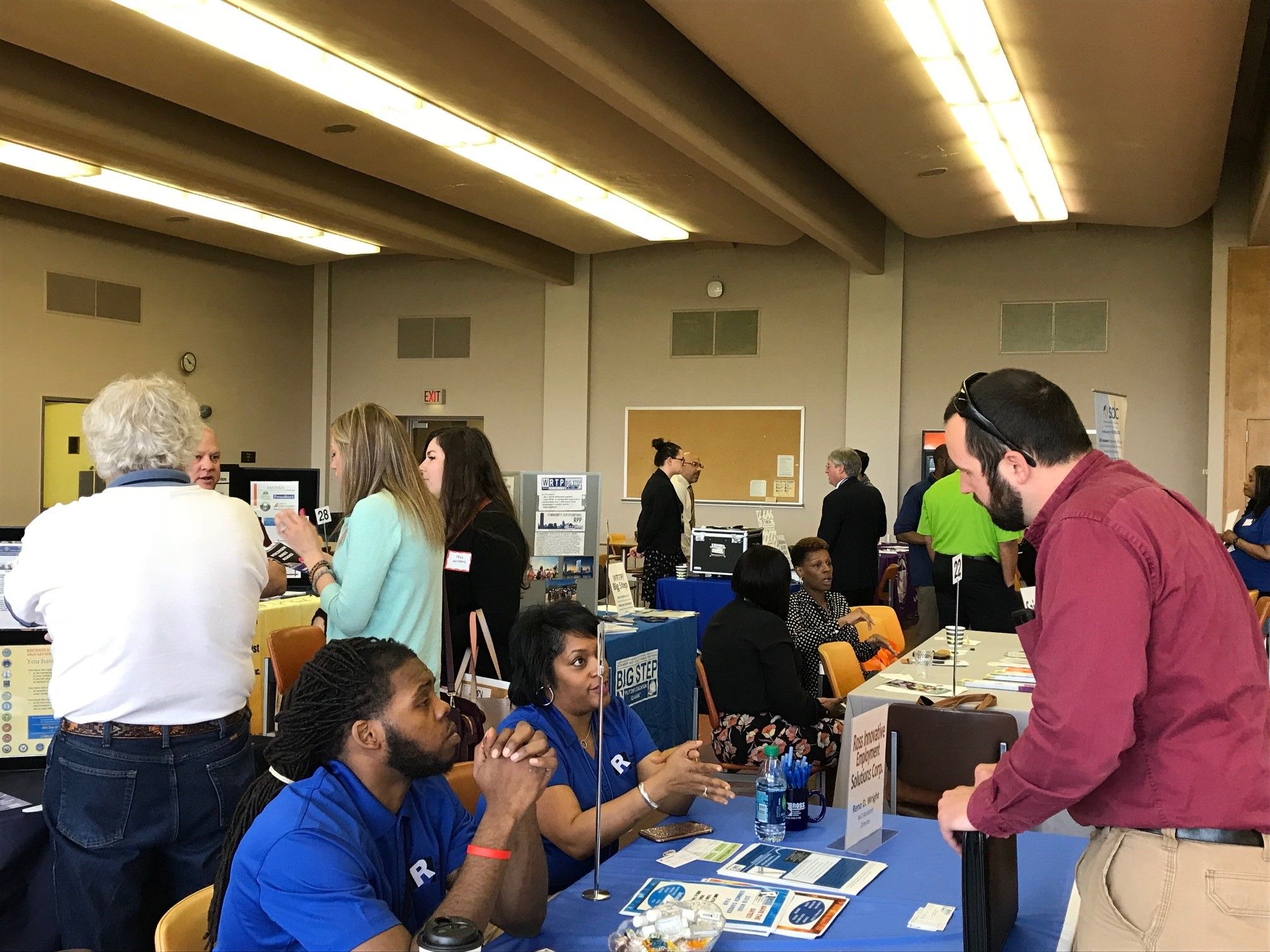 On Thursday, May 17, a coalition of nonprofit, faith, and law enforcement communities hosted the inaugural Southeast Wisconsin Reentry Employment Expo to connect employers with work-ready job seekers who have been incarcerated. The expo was intended to answer some of the questions employers have about hiring returning citizens and the support they need to be successful on the job.
A steady stream of employers filled a former cafeteria at the Cousins Center, mostly from the manufacturing, construction, general labor, and food industries. Employers took time to speak to the presenting agencies who help returning citizens with job and soft skills training, driver's license recovery, substance use treatment, high school diploma attainment, and other issues that can be barriers to successful employment.
The expo was sponsored by the Milwaukee Community Justice Council, the Archdiocese of Milwaukee Office for Urban Ministry, the Milwaukee County Office of African American Affairs, the Milwaukee Reentry Council, the US Attorney's Office Southeast Wisconsin Region, the Interfaith Cabinet Council, and Employ Milwaukee.
Here are some snapshots from the event:
John Anderson, Senior Programs and Partnership Coordinator for WRTP/Big Step
WRTP/Big Step helps residents get into family-supporting careers in the areas of construction, manufacturing and emerging sectors. The program connects with employers to discover their needs, then finds appropriate candidates for those jobs. Sometimes, that involves some training and support.
"We are what is known as an industry-led organization," Anderson explains. "We start with the trade contractors, the manufacturers, to find out what their needs are and then we work backwards to connect with community residents to find individuals with the skill sets necessary to fill those positions. As an intermediary in the middle, sometimes if the necessity for training arises, we'll partner with a technical college to provide those trainings and up-skilling those individuals so they can take advantage and fill those family-supporting career opportunities."
Thanks to low unemployment and an aging workforce, Anderson said employers are becoming more willing to seek out a more diverse workforce, one filled with people of color, women, and returning citizens. He said they also recognized that they need to invest more in their workers with mentoring, apprenticeships, and outreach to youth.
"What we have found is that the construction industry is very forgiving about a person's background," Anderson says. "As I traditionally tell job seekers, if you robbed a bank I can't get you a job as a bank teller but there's no reason why you can't be a bricklayer or plumber or carpenter. That's not to make light of their situation, but it's to say that if we think intelligently about aligning what their skill sets and desires are with the requirements of industry, we can together find where the opportunities lie for them that are still family supporting and substantive, which is very important. We don't do jobs, we do careers."
At the Employment Expo, Anderson said two to three manufacturers stopped by to learn more about WRTP/Big Step's program, and he felt confident that his colleagues will be able to work with them in the future. As importantly, he met a contractor who provides safety training for job-seekers.
"It's invaluable to have him come and present to the individuals we are preparing because no one can inform on industry like someone from industry," Anderson says.
Anne Haines, Respect Life Director for Urban Ministry, Archdiocese of Milwaukee
The Archdiocese of Milwaukee is a partner in the Milwaukee Transitional Jobs Collaborative, which advocates for the expansion of transitional jobs, short-term subsidized jobs aimed at getting marginalized workers in the workforce. The Archdiocese, along with many faith-based communities and congregations, is supporting the Reentry Expo as a way to bridge the differences between workers and employees and affirm the dignity of work. Haines helped to organize and publicize the expo. Her efforts included distributing a letter from Archbishop Jerome Listecki to his congregation that urged employers to reach out to returning citizens.
"As part of the Urban Ministry Program, we realize that one of the big problems facing Milwaukee is mass incarceration, and people having good paying jobs with the poverty rates being what they are," Haines said. "And what better way to bring together people who are helping people coming out of prison and connecting them with agencies, and then connecting the agencies with businesses that need people who are ready to work. It seemed like a perfect fit."
Leslye Love, Job Developer and Business Account Representative at Wisconsin Community Services (WCS)
"As a job developer, I work with employers," says Leslye Love of Wisconsin Community Services. "I go out into the metro Milwaukee area, I do job fairs, resource fairs, and I meet with the employers to try to develop a relationship with them so that I can bring in their employment opportunities to our employment center and to match those who have the similar skills with that opportunity so that it's a good fit."
WCS trains prospective employees during the job-search process. Trainings are typically two to four weeks and are unpaid. Love watches carefully to see who is dedicated enough to show up every day, on time, and is passionate about completing the training and securing a good-paying job.
"Those are the ones that I take seriously. I would refer or vouch for them with an employer that I have a relationship with," Love says.
Love said she explained WCS's program with employers at the expo and she "absolutely" will be using those connections in the future.
"I've talked to quite a few manufacturers, people in the skilled trades. Sometimes I get home care, personal care workers, [during employment expos] but today it's mostly people working in manufacturing, and companies are willing to train," she says.
James Schatzman, Executive Director, Racine Vocational Ministry
As James Schatzman explains it, the programs at Racine Vocational Ministry aim to help "the poorest of the poor," those who are overlooked and living on the margins who need a job.
"We typically see those who are chronically out of work, perhaps they're in their 30s and have less than one year of work history," Schatzman explained. "We help them begin to understand what it means to function highly in a pro-social environment."
For the Racine Vocational Ministry, that goes beyond helping with job training. Instead, the small staff helps clients address root problems that impact their ability to find and keep a secure job. These issues can stem from the trauma of incarceration, being a victim of crime, substance abuse, and dysfunctional families. Yes, the program helps with the nuts and bolts of solving these issues, performing well on a job interview, and succeeding on the job. But Racine Vocational Ministry's work also impacts the way clients think about themselves.
"If you can't change your narrative, you can't change your trajectory," Schatzman says. "You have to be willing to rewrite it. Your whole worldview needs to change."
He gave as an example Alfred, who'd left incarceration and was apprehensive about coming home and changing his life. He didn't have a solid work history, reliable relationships, or an optimistic view of his future. Rather, he thought that he'd get sent back to prison for a simple rule violation that threatened his probation.
"We helped him build a strong relationship with his parole agent," Schatzman said. "Their meetings were getting shorter and shorter because he was doing so well. He thought, 'Maybe there is hope for me. Maybe I won't go back to prison for no reason.'"
Alfred got involved in Welcome Home Ceremonies, in which returned citizens help those who are transitioning back into the community so that they have a network of support. Eventually, Albert began to change his narrative from being a victim to a leader.
"He'd say, 'I can't believe people want to hear me talk,'" Schatzman said. "He was successful because he was willing to change his worldview and change his life."
Shanesha Weddle, Employment Specialist at Northcott Neighborhood House
Northcott Neighborhood House is a community center that, among other things, helps people train for and find jobs. Currently, Northcott is helping job seekers through the Transform Milwaukee Jobs program, the state's permanent transitional jobs program, to find construction work. The majority of its clients are returned citizens. In fact, that's one of the qualifications for the program. Northcott trains workers, places them in jobs (or hires them directly), and maintains their connection for six months after clients are employed.
"Jobs are out there," Weddle says. "And employers are willing to work with you and give you a second chance. Imagine: They are accepting felons now. Remember 10, 15 years ago, you couldn't work. I think it's beautiful."
Weddle said she spoke to a number of employers who want to work with her, and she also made connections with other agencies that complement her work.
"I met someone at Milwaukee JobWorks today who has a training for one week for 40 hours on soft skills. So imagine someone coming in to my place, they are able to complete the soft skills training first, which deals with appearance, and time management, and issues that you have at home and shouldn't bring to work. That would be wonderful."