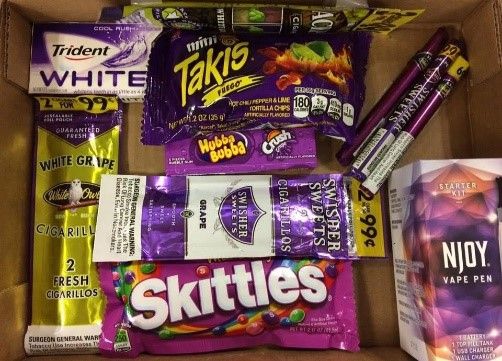 This past summer, FDA commissioner Scott Gottlieb announced that he planned to rework tobacco regulations, focusing on nicotine content. He proposed drastically reducing the levels of nicotine in cigarettes, which research has shown could lower US the smoking rate from 15% to 1.4%. Earlier this month, the FDA announced an advance notice of proposed rule making regarding this initiative. Public comments will be accepted until June 14, 2018. The agency has also said it will review menthol, which has been shown to make cigarettes more addictive and more difficult to quit. The City of Milwaukee Tobacco-Free Alliance and the Wisconsin African American Tobacco Prevention Network (WAATPN) have been working on several initiatives to raise awareness of the addictive power of menthol, particularly in African American and LGBTQ+ communities.
However, the FDA also recently extended the deadline for e-cigarette manufacturers to gain approval for their products. Prior to this extension, all applications were to be submitted by August 2018 for products that entered the market after February of 2007. The extension gives these companies until August 2021 for e-cigars and August 2022 for e-cigarettes. Several organizations have since sued the FDA over this extension, arguing that it allows flavored products that target youth and teens to remain on the market without appropriate regulation. Additionally, the FDA did not allow public comments on this decision.
Despite this extension, beginning August 10, 2018, all hookah, pipe tobacco, vaporizers, e-cigarettes and other electronic nicotine delivery systems, dissolvables, gels, and roll-your-own and cigarette tobacco products must include a nicotine warning label. Currently, e-cigarettes and juices as well as other tobacco products are not required to include this warning, leading many people to misunderstand the nicotine content.
The Tobacco-Free Alliance has also been working to raise awareness of the way e-cigarette flavors appeal to youth and teens. Popular e-cigarette flavors include mango, fruit punch, gummy bear, and crème brulee. Often, e-cigarette juices and other flavored tobacco products are packaged in shiny wrappers that mimic packaging of popular snacks and candies for children.  This marketing technique directly targets children and teens and makes it more difficult for parents to identify tobacco products in their children's belongings. The most popular e-cigarette brand is the JUUL, which looks like a USB flash drive, making it an attractive option for students trying to conceal tobacco use in school. Several local schools have reported issues with students "JUULing" in restrooms, hallways, and even in classrooms when the teacher is not looking.
The FDA is currently accepting public comments on a variety of tobacco-related topics, including e-cigarette flavors and nicotine levels in traditional cigarettes. To submit a comment on these topics or any other tobacco-related topic, click here and select the topic on which you wish to comment.
Anna Goetze is working on her MPH at George Washington University and has worked with CoMTFA to conduct a Community Readiness Assessment about tobacco use in the LGBTQ+ community. She is also interested in health disparities research and maternal/child health epidemiology.