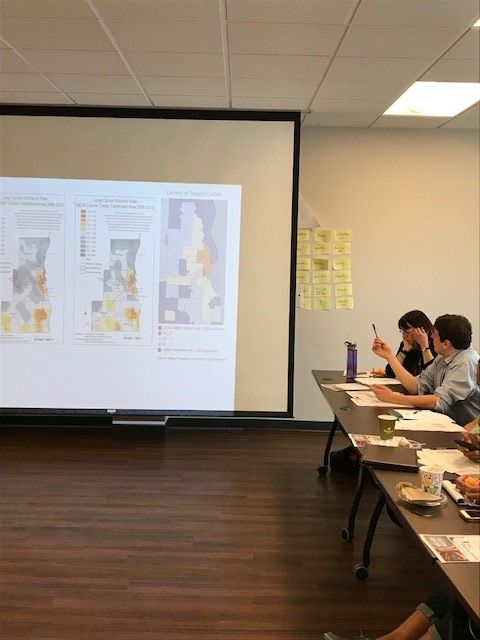 Why are some smokers able to quit, while others try again and again but are never able to give up tobacco, despite knowing how harmful it can be?
The answer might be in their brains.
At last week's quarterly meeting of the City of Milwaukee Tobacco-Free Alliance, Jeff Engelmann, Ph.D., of the Medical College of Wisconsin Cancer Center, provided an overview of a feasibility study he's hoping to launch soon that will look at how smoking cues stimulate the brains of a diverse sample of smokers.
"We have two goals," he told members of the Alliance. "We want to better understand why it is that people smoke with the goal of developing better interventions. We also want to include people from diverse backgrounds and provide them an opportunity to participate in research that might help us understand nicotine dependence, with the ultimate goal of developing and disseminating better interventions."
Since African Americans, Native Americans, and members of the LGBTQ community are more likely to smoke in Wisconsin than other demographic groups, Engelmann is looking for study participants who reflect the realities of smoking and smokers.
The study builds on work he did at the University of Texas MD Anderson Cancer Center in Houston that studied smokers who were actively trying to quit. Engelmann used brain imaging techniques to look at how their brains lit up when they saw images of cues that typically trigger smoking, as well as images of other pleasurable activities. He discovered that smokers whose brains were more reactive in response to the smoking-related images had a more difficult time quitting smoking than smokers who took pleasure in a wider variety of stimuli.
"The higher risk group really had trouble quitting and needed more in-depth interventions, counseling, medication, that sort of thing," Engelmann said.
The first phase of the MCW-based study seeks to find 50 smokers, none of whom will be required to quit. They'll be asked to visit MCW twice, the first time for an hour to fill out a questionnaire, and a subsequent two-hour visit to undergo an MRI brain scan while they view pictures of situations that might motivate them to smoke and complete a computer-based task. They'll be compensated for their time and transportation.
Engelmann said that after documenting the feasibility of this study, he wants to conduct a follow up study of 100 to 300 smokers and potentially incorporate treatment into it.
Alliance members asked him pointed questions about the design of his study.
Lorraine Lathen of the Wisconsin African American Tobacco Prevention Network asked Engelmann how he anticipated providing enough diversity among smokers in his initial group of study subjects, noting that diversity includes African Americans, Hispanics, LGBTQ individuals, and young people.
Lathen also noted that menthol cigarettes, which are disproportionately smoked by African Americans, is "easier to start, more addictive, more difficult to quit." She suggested that he include menthol cigarette smokers in his sample, which he made note of.
Jazzmyne Adams, Prevention Coordinator for the Southeast Region of the Alliance for Wisconsin Youth, also noted that smoking can be a way to cope with stress, especially among socially and economically disadvantaged individuals.
Engelmann agreed, saying that the motivation to smoke has changed since studies were conducted on smokers in the 1970s. Back then, people smoked more and smokers were more physically dependent on nicotine. Now, smokers seem to be more likely to learn to crave cigarettes and are triggered by environmental cues and past behavior. For example, they learn that they can control their stress through smoking.
He said this provides an opportunity for intervention with smokers who are trying to quit by developing strategies that teach smokers new coping behaviors.