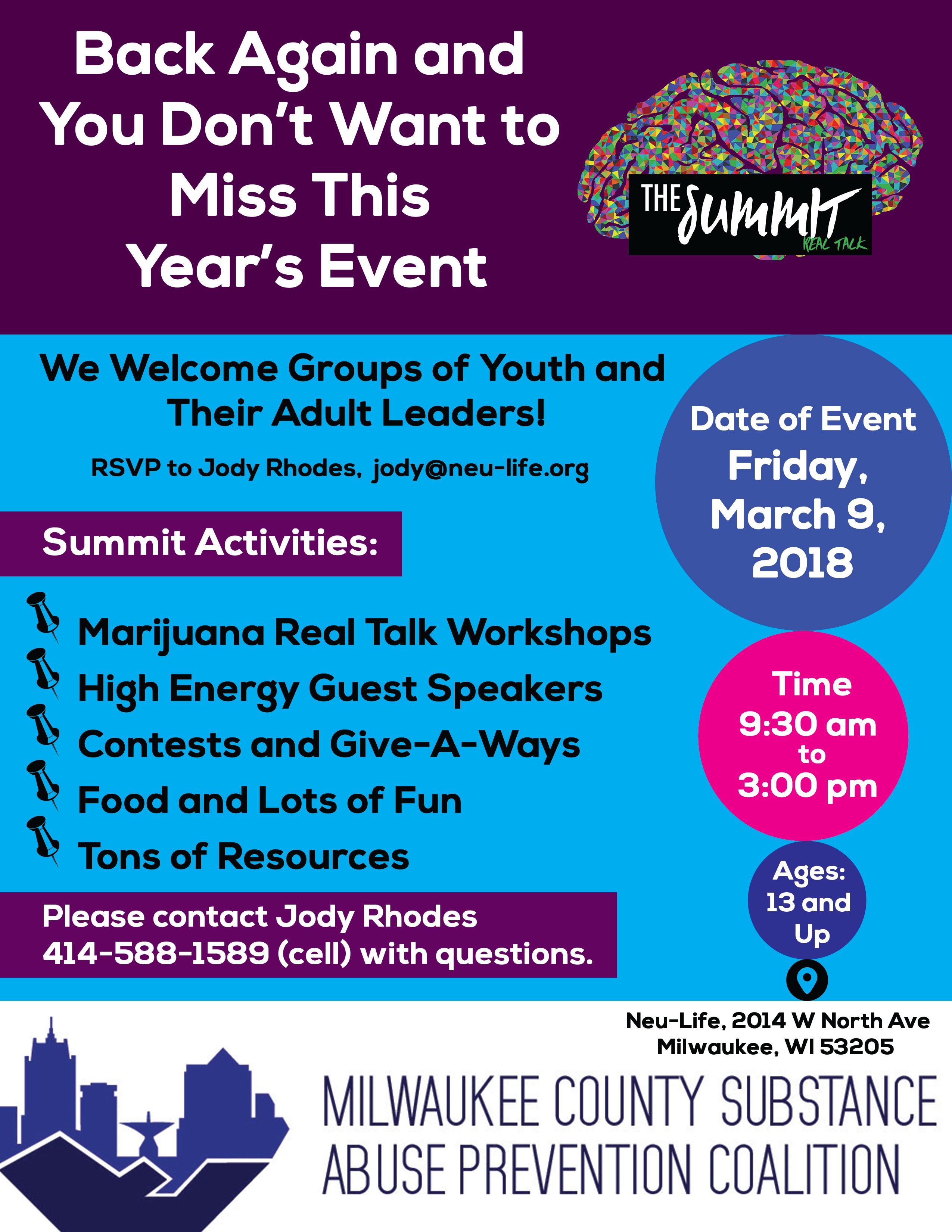 If you work with youth, you know that too many young people believe that there's no harm in smoking marijuana.
 
It's hard to cut through the confusion, thanks to pro-weed messages coming from the media and music, legalization efforts around the country, parents who smoke marijuana, and young people themselves. The relaxed attitude about marijuana could be why more young people are smoking or vaping weed.
 
But marijuana can be harmful to young people. In fact, young people who smoke weed jeopardize their health, their educational opportunities, their ability to find a good job, and their athletic performance.
The Second Annual Youth Summit sponsored by the Milwaukee County Substance Abuse Prevention (MCSAP) coalition will take aim at the myths young people believe about marijuana and provide real talk instead.
 
"Young people are ambitious and want to be successful in life," said Kasaundra Brown, MCSAP coordinator. "Unfortunately, they don't realize that getting high will prevent them reaching their goals. This summit will help them realize that they need to live drug-free if they want to live the lives of their dreams."
 
The MCSAP Youth Summit will take place from 9:30 a.m. to 2 p.m. on Friday, March 9, at Neu-Life Community Development, 2014 W. North Ave., Milwaukee. About 100 high school students are expected to attend. In addition to trivia games, role-playing scenarios, social media activities, free food, and prizes, the summit will feature expert speakers on: 
+ Marijuana and the criminal justice system
+ Marijuana in the media and social media
+ Marijuana's impact on a high school student's ability to pass a drug test and get a job
+ Marijuana's effect on financial aid for college
+ Marijuana and tobacco products
+ Marijuana and athletic performance and college sports
"Every day I work with young people who are so full of potential," said Jody Rhodes, Director of Neu-Life Community Development and Chair of MCSAP's Marijuana Work Group. "But young people's brains are still developing and smoking or vaping marijuana can stunt that physical process. We want the youth who attend this summit to make good choices about how they live their lives now and in the future."
This second MCSAP Youth Summit builds on last year's successful event at which the attendees brainstormed the Let's Be Blunt campaign, which resulted in #NoNeedforWeed messaging on Milwaukee County Transit System buses throughout the summer.