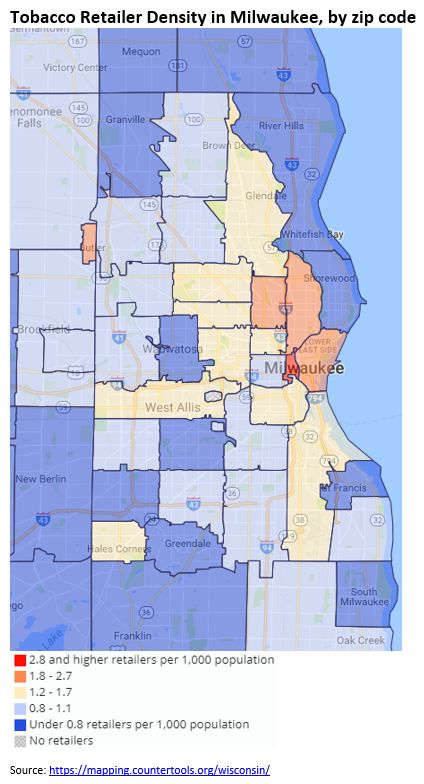 The Food and Drug Administration (FDA) has launched a new marketing campaign called "Every Try Counts" that encourages smokers to keep trying to quit with ads placed where people may be most tempted to continue the habit – at gas stations and convenience stores. Milwaukee is one of 35 markets across the US that will have print, radio, digital, and billboard ads.
This campaign's strategy of reaching people at the point of sale will help provide extra motivation to people who may want to quit but are constantly surrounded by tobacco advertising and sales. As tobacco advertising has been restricted on TV and billboards, tobacco companies have directed their marketing resources to the point of sale. In Wisconsin, for every dollar we spend on tobacco prevention, the tobacco industry spends over $25 on marketing.  
The campaign also includes a text messaging program with tips and challenges to help smokers maintain their motivation to quit.
Tobacco companies have a history of targeting certain groups and certain neighborhoods more than others. In Milwaukee, the City of Milwaukee Tobacco-Free Alliance and partners, including the Wisconsin African American Tobacco Prevention Network, Wisconsin Hispanic Latino Tobacco Prevention Network, Wisconsin Tobacco Prevention and Poverty Network, and Tobacco-Free Suburban Milwaukee and Ozaukee Counties did store assessments that found twice as much advertising and more than twice as many price promotions for menthol cigarettes on the North side compared to the East side and suburbs.
This unfair targeting leads to higher smoking rates, which are nearly double in the African American and LGBTQ communities. Milwaukee has 845 tobacco retailers, with a higher concentration in neighborhoods that are predominantly African American or Hispanic. Zip code 53206 has three times as many tobacco retailers as 53211 (65 tobacco retailers for 28,840 people vs. 27 tobacco retailers for 36,248 people). The cards have been stacked against smokers, especially African American smokers living on the North side who have been bombarded with targeting advertising since the 1960s.
The campaign message that "Every Try Counts" is refreshing because it reflects what most smokers go through as they attempt to quit. It takes most people multiple attempts -- 6, 7, 8 tries -- before they successfully quit. So the message that "Every Try Counts" will help encourage smokers to keep on trying until they're successful. 
Once someone makes the decision to quit, they're more likely to succeed if they make a quit plan and use the Wisconsin Quitline at 1-800-QUIT-NOW or talk to their healthcare provider to get coaching and use one of the seven FDA-approved cessation methods, including the nicotine patch, gum, lozenge, nasal spray or inhaler and prescription medications Varenicline (also known as Chantix) and Bupropion (also known as Wellbutrin or Zyban).
As we approach the New Year, we hope that this will help inspire people to set a New Year's resolution to quit smoking and provide that extra motivation to seek out support through the Quitline or a healthcare provider and keep on trying. This along with along local initiatives that promote tobacco-free living like the Smoke-Free Homes for Strong Babies campaign and the smoke-free public housing ruling that will go in effect in July can help us have a healthier city and a healthier future.