Spotlight On: Place Matters for Tobacco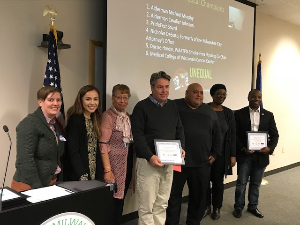 "Place matters."
That's the assessment of smoke-free advocates who presented their work to local and state leaders on November 17 as part of the "Unequal Killer: A Legislative Breakfast," sponsored by the Medical College of Wisconsin Cancer Center. Place matters not only for tobacco marketing and access, but it matters, too, for how we can implement solutions to the problem.
At "Unequal Killer," smoke-free advocates spoke about their successes in 2018, recognized local champions, and heard responses from elected officials. FACT youth advocates also led the group to promise "not in my community" when presented with facts about tobacco.
Throughout 2018, advocates confirmed that place matters especially for young people, communities of color, low-income individuals, and the LGBTQ+ community, because they are more likely to be exposed to cigarettes, e-cigarettes, and cheap cigarillos, as well as their advertising, and therefore disproportionately bear the burden of tobacco and nicotine addiction and exposure.
"Having concrete evidence of what we have suspected -- that tobacco companies prey on communities of color and youth -- is a rallying call for us all to take action. We can no longer accept what we cannot change. We must change what we cannot accept," said Anneke Mohr, City of Milwaukee Tobacco-Free Alliance Coordinator.
Documenting Milwaukee Kids' Exposure to Tobacco
In a landmark initiative, in 2016 and 2017 the Milwaukee Collaborative Project surveyed 264 retailers in three Milwaukee zip code clusters to study the prevalence of various tobacco products, as well as their placement and marketing within stores.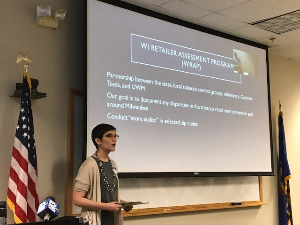 Traditional cigarettes and menthol cigarettes were cheaper in minority neighborhoods
Outdoor menthol advertising was more likely to be found in minority neighborhoods
Retailers in African American neighborhoods were more likely to display e-cigarettes near candy, while shops in Latinx neighborhoods were more likely to display them within three feet of the ground, where kids can see them
Stores that sell tobacco are more likely to be located near schools in African American and Latinx neighborhoods
National Progress
After declaring teen vaping an "epidemic," the US Food and Drug Administration (FDA) announced this month that it would limit sales of fruit- and candy-flavored e-cigarettes to young people and begin banning menthol in traditional cigarettes. Vaping among youth has skyrocketed in the past few years, as the flavors are especially appealing to young people and new e-cigarettes like JUUL are easier to conceal. That said, the amount of nicotine they deliver exceeds traditional cigarettes, making nicotine addiction a reality for a generation that isn't likely to smoke traditional cigarettes.
Another move by HUD will have a great impact on the health of residents of federally owned public housing. In July, all of these housing units went smoke-free, protecting 18,000 Wisconsin residents from smoke and second-hand smoke. Milwaukee resident Dorise Hardin took advantage of smoking cessation support and quit her 20-year smoking habit once and for all.
Local Changes Enhance Health
Closer to home, community organizations had many successes, including: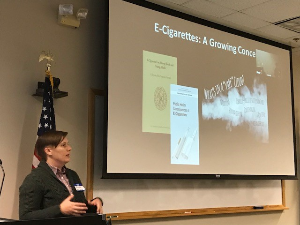 "Loosies" won't pay: In 2016, the Wisconsin African American Tobacco Prevention Network (WAATPN) conducted a community survey that found that most community members think the sale of "loosies," or single cigarettes, is a problem in Milwaukee.  Through a partnership with the Wisconsin Wins program and the City of Milwaukee Tobacco-Free Alliance, they helped to educate community leaders on the illegal sales of loosies. As a result, the municipal court raised the fine for the sale of single cigarettes from $181 to $691, a steep fine for any retailer trying to make a quick buck by illegally selling a loosie.
E-cigs added to Milwaukee bans: Members of local coalitions explained to Common Council members the hazardous substances released by e-cigarettes, including carcinogens, formaldehyde, benzene, and nicotine, among others. In June, the council voted unanimously to include e-cigarettes in the city's smoke-free ordinance, so vaping is no longer allowed in local bars, restaurants, and other workplaces. E-cigarettes were also added to the city's youth access ordinance, which means retailers can be fined for selling them to minors.
PrideFest said no to "Big Tobacco": To affirm PrideFest's commitment to the health and wellbeing of all festival-goers, the Milwaukee Pride board listened to local health, tobacco prevention, and LGBTQ+ advocacy organizations and stopped accepting tobacco funding. To help offset those funds, the groups helped to sponsor the festival and raised awareness of Big Tobacco's targeting of the LGBTQ+ community. Starting in 2017, PrideFest also added several smoke-free spaces to the festival grounds.
More Local Solutions?
But local smoke-free advocates still face challenges posed by the massive tobacco and vaping industries. Each year, roughly $8 billion of tobacco ads and marketing attempt to hook young people, LGBTQ+ individuals, low-income individuals, and communities of color on products that are designed to addict them and, eventually, kill them.
The solutions may be linked to "place," with advocates looking at local and state policy solutions to a global health problem that disproportionately impacts low-income people, people of color, young people, and sexual and gender minorities.
For example, cigarillos, "little cigars," are typically sold in packs of two for less than a dollar, well within the budget of youth and low-income smokers. Retailers are able to charge so little because cigarillos are taxed at a very low rate in Wisconsin. The taxes could be raised at the state level, not the local level.
In addition, in Wisconsin only the state government can regulate tobacco issues related to flavors and placement of products in stores (for example, restricting the sale of menthol products or requiring products to be placed behind the counter and out of the reach of kids) due to preemption. That prevents local communities from creating their own regulations based on the wants and needs of their own residents.
What's more, the state only funds tobacco-control programs at 10% of what the Centers for Disease Control and Prevention recommends, limiting the resources of those working to improve the health of young people and disadvantaged Wisconsinites and making it difficult to reach these individuals with smoking cessation programs.
Did you miss the Unequal Killer legislative breakfast? You can watch it on the City of Milwaukee Tobacco-Free Alliance's Facebook page.
Recognition of Local Champions
Common Council Members Michael Murphy and Cavalier Johnson

Members of the Milwaukee Pride Board

Nicholas DeSiato, formerly of the Milwaukee City Attorney's office

Dorise Hardin, WAATPN Smoke-Free Housing Co-Chair

Members of the Medical College of Wisconsin Cancer Center

FACT youth advocates explained the dangers of tobacco products