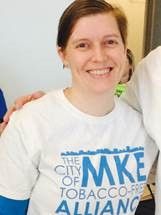 Anneke Mohr, the City of Milwaukee Tobacco-Free Alliance's coordinator, is receiving much-deserved recognition for advancing public health at the grassroots level. The Wisconsin Public Health Association has announced Anneke will receive its Spirit of Public Health Award, which recognizes "the contributions of an individual who is part of the fabric of public health in his/her community and whose goal is to be 'of use.'"
The award description captures Anneke's contributions perfectly. As CoMTFA's coordinator, she has led her coalition on advocating for smoke-free and vape-free indoor and outdoor spaces and tobacco litter-free public spaces; reducing health disparities in tobacco use and exposure, especially among LGBTQ+ individuals and low-income communities of color; and supporting local youth advocates participating in the FACT movement. She has also helped to grow a new generation of public health leaders by serving as a preceptor to UW-Milwaukee Zilber School of Public Health students.
Anneke has devoted her entire career to public health and health equity in a variety of roles. She has addressed HIV prevention and support as a Peace Corps Volunteer in Swaziland and Washington, D.C.; worked as a Wisconsin Population Health Service fellow with the Wisconsin Department of Health Services AIDS/HIV Program and Great Lakes Inter-Tribal Epidemiology Center; focused on LGBTQ health at Diverse & Resilient; and served as the Fetal Infant Mortality Review Assistance at the Milwaukee Health Department.
"Anneke is truly deserving of this award and we're thrilled that the WPHA is recognizing her work," said Kari Southern, Deputy Director of Community Advocates Public Policy Institute. "She is passionate about improving the health of our communities and supporting individuals' ability to make informed decisions about their health and well-being. All of her colleagues at the Public Policy Institute congratulate her on this much-deserved award."