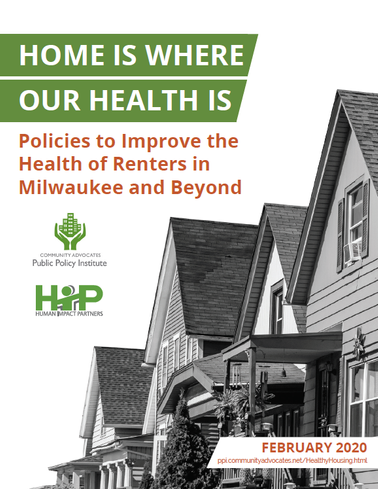 Healthy housing is a basic building block for the health and well-being of people, families, and communities. We all seek to live in a home that is free from hazards and structurally sound, to be able to choose when and why to move somewhere new, and to not have to choose between paying housing costs and buying groceries.
Community Advocates Public Policy Institute's new report, Home Is Where Our Health Is: Policies to Improve the Health of Renters in Milwaukee and Beyond, recommends 32 key federal, state, and local policy changes that would improve housing outcomes, advance racial and economic equity, and cultivate healthier communities.
PPI created Home Is Where Our Health Is in partnership with Human Impact Partners, the lead researchers on the report, and academic partners Geoffrey Swain, M.D., and Marah Curtis, PhD, at the University of Wisconsin.
This new report is the result of two years of quantitative and qualitative research, focus groups, and meetings that included more than 25 community advisors.
The report is focused on improving rental housing conditions by addressing three major themes: the availability of affordable rental housing, the quality of rental housing, and the housing stability of renters. Each of these issues has profound impacts on people's health and well-being, and they are also intricately connected to each other. 
You can download the full report, executive summary, and four policy briefs at this link.